Renew in just 5 mins.
No Inspection.
No Paper Work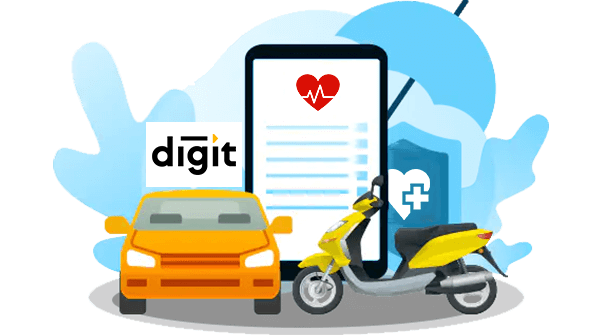 Compare

Car Insurance Plans
About Digit General Insurance
Digit General Insurance Company, founded in 2016, is one of the pioneering insurers in India, financed by Fairfax Financial Holdings Limited (a Canada-based financial services group). With the help of its digital platform, the company provides a wide range of general insurance products, including health insurance, auto insurance, bike insurance, business insurance, shop insurance, and house insurance.
The company employs a one-of-a-kind multi-channel distribution approach for insurance products, as well as a digital platform for resolving claims and providing customer care. Digit General Insurance's objective and vision are to make viewing, purchasing, and claiming insurance products as simple as possible.
Quick Facts About Digit Insurance
| | |
| --- | --- |
| Premium Underwritten | Rs. 1767.86 Crores |
| Solvency Ratio | 3.24 (March 2020) |
| Network Hospitals | 6400+ |
| Incurred Claim Ratio | 75% (2019-2020) |
| Equity Share Capital | 816.84 (As Of March 31, 2020) |
| Corporate Address | Atlantis, 95, 4th B Cross Road, Koramangala Industrial Layout, 5th Block, Bengaluru, Karnataka 560095 |
What Are The Types Of Plans Offered By Digit General Insurance?
One of the most evident and crucial benefits of insurance plans is the payment of losses. And the yearly premium you pay is nothing in comparison to the benefits it provides in the event of, God forbid, an emergency or accident. Go Digit General Insurance company offers the following types of plans to its customers:
1. Digit Motor Insurance Plans
Digit General Insurance offers a wide range of motor insurance policies to protect you and your vehicle from risks and damages resulting from accidents, thefts, and natural catastrophes. The insurer also offers its policyholders a variety of add-on covers to supplement their coverage. Let's have a look at the types of motor insurance provided by Digit General Insurance company.
Digit Car Insurance Plan
Digit car insurance provides coverage to accidents, theft, fire, natural disasters, personal accident, and third-party losses. The premium for the plan starts from Rs. 2072 and you can have cashless repairs at more than 5800 network garages across India. The plan not only covers the personal damages but also provides third-party damage cover. Moreover, 7 add-ons are available to the policyholder to customize the plan as per the needs and requirements.
Digit Two-Wheeler/Bike Insurance Plan
Go Digit's two-wheeler insurance provides coverage against accident, theft, fire, natural disasters, personal accident, and third-party losses. The policy also provides 5 add-on covers that allow the policyholder to customize the plan as per their needs or requirements. The premium amount for Digit's two-wheeler insurance starts from Rs. 752 and the policyholder can avail cashless repair service at more than 2900 garages.
Digit Commercial Vehicle Insurance Plan
Digit's commercial vehicle insurance is a comprehensive commercial vehicle insurance plan that will protect you financially from physical damage to your insured commercial vehicle as well as third-party liability. The premium amount of the plan can be customized according to the number of vehicles to be insured and the type of commercial vehicle. The plan provides coverage for accidents, theft, fire, natural disasters, personal accident, third party, and towing disabled vehicles.
Digit OD Cover For Car
OD car insurance offered by Digit covers damages to your car in an accident, theft of your car, losses caused to your car in a fire, and damages to your car due to a natural calamity. There are 7 add-on covers available with the plan, namely, zero depreciation cover, return to invoice cover, passenger cover, tyre protect cover, breakdown assistance, consumable cover, and engine and gear-box protection cover. Anyone with valid third-party car insurance is eligible to purchase OD insurance for their car.
Digit Rickshaw Insurance Plan
With Go Digit's rickshaw insurance, you can leverage 24 X 7 customer support, super-fast claims and can customize your vehicle IDV.The plan protects your autorickshaw against theft, fire, accident, natural disasters, personal accident, third-party losses, and towing disabled vehicles. The company generally offers two policies based on the needs of your three-wheeler: "Liability Only" and "Standard Package". Some additional coverages are also available with the plan, such as legal liability cover, PA covers, special exclusions and compulsory deductibles, etc. All auto owners must get this auto rickshaw insurance to protect themselves financially from third-party liabilities.
Digit Taxi/Cab Insurance Plan
Go Digit General Insurance company offers two types of taxi/cab insurance as per the needs of your taxi or cab: "Liability Only" and "Standard Package". You can get super-fast claims, round-the-clock customer support, and you can even customize your vehicle's IDV with Digit's taxi/cab insurance. The plan provides coverage against personal accidents, natural disasters, theft, fire, accidents, third-party losses, and towing disabled vehicles.
Digit Truck Insurance Plan
The truck insurance coverage offered by Digit is a comprehensive commercial truck insurance policy that ensures the customer's business works smoothly. It enables truck drivers to manage their businesses successfully and without incurring any unexpected charges. Similar to taxi/cab insurance, Digit's truck insurance policy is available in two forms: "Liability Only" and "Standard Package".
2. Digit Health Insurance Plans
When we talk about Digit health insurance policies, the company provides the following health insurance plans to the people:
Digit Health Insurance Plan
All hospitalization (including for Coronavirus), daycare procedures, room rent capping, road ambulance charges, ICU room rent, complimentary health check-ups, etc. are covered under the policy.
Digit OPD Health Insurance Plan
Digit's OPD health insurance provides coverage for professional fees, diagnostic fees, surgical treatments, medicine bills, dental treatments, hearing aids, and various other benefits. Individuals who are fitness enthusiasts, senior citizens, working professionals with limited coverage of group medical insurance, and individuals between the age of 25 to 40 years should purchase this plan for greater benefits.
Digit Super Top-Up Health Insurance Plan
The Digit super top-up health insurance plan is an add-on to your regular health insurance policy that kicks in after your basic coverage is exhausted due to claims. With Digit's super top-up health insurance plan, you can get treatment at any of the 6400+ network hospitals in India. You can choose between deductibles of 1, 2, 3, and 5 lakhs, as well as a sum insured of Rs 10 lakhs to Rs 20 lakhs.
Digit Arogya Sanjeevani Policy
With Digit's Arogya Sanjeevani policy, you can customize your sum insured as per your needs and requirements. The company also provides minimal co-payment, which means that you just need to pay 5% of the claim amount during a health insurance claim. The sum insured options under Digit's Arogya Sanjeevani Policy range from 3 lakhs to 2 crores in multiples of 50,000.
Digit Personal Accident Insurance Plan
What makes personal accident insurance from digit a great option is that it provides you with various benefits, such as a wide range of coverage, no medical tests, home hospitalization coverage, cumulative bonus, and much more. When you get personal accident insurance from Digit, you and your family will be protected against accidental death, disablement, hospitalization expenses, and loss of income. Moreover, the plan covers the various benefits for children in case the worst happens.
Digit Employee Health Insurance Plan
Digit's Employee Health Insurance plan provides coverage for accidental hospitalization, COVID-19 hospitalization, illness-related hospitalization, daily hospital cash cover, psychiatric benefit, critical illness cover, maternity benefit with newborn baby cover, and various other benefits. The premium of the plan starts with Rs. 1500 per employee and the buying, as well as the claim process, is paperless and digital-friendly.
3. Travel & Corporate Insurance Plans
Digit General Insurance company also provides various other insurance products as follows:
Digit International Travel Insurance Plan
Digit General Insurance company offers two options under its international travel insurance plan: Basic and Comfort. The plan covers accidental death and disability, trip cancellation, loss of passport, trip abandonment, delay of checked-in baggage, to name a few. The premium amount for the plan starts at Rs. 175 and a total of 216 countries and islands are covered under the plan.
Digit Flight Delay Cover
Digit's common carrier delay coverage provides a fixed benefit that covers domestic flight delays. For all flights from February to November, a fixed benefit of Rs. 1000 will be provided to the policyholder. Whereas, for all flights in December and January, a fixed benefit of Rs. 750 will be offered. What makes Digit's common carrier delay cover unique is that the claims are automated and 1½ or 2 hours delay cover is provided to the policyholder.
Digit Property Insurance
Digit's property insurance provides coverage against fires, explosion and aircraft damage, storms, floods, burglaries, and earthquakes. The plan comes in three variants, Option 1, Option 2, and Option 3. Option 1 provides coverage to the content of your home or business, Option 2 covers both the content and building of your home or business, and Option 3 offers coverage to the contents of your home or business, building, and various valuables like shop counter.
Digit Home Insurance
With Digit's Home Insurance plan, you can get complete financial and social security, protection against uncertainty, and protection from natural calamities. The plan covers losses caused due to storms, fires, explosions and aircraft damage, earthquakes, flood, and burglaries.
Digit Shop Insurance
Digit's shop insurance covers fire and natural calamities such as floods and earthquakes. As the plan is a type of property insurance, it is also available in three options: Option 1, Option 2, and Option 3.
Digit Fire Insurance
A fire insurance policy is a crucial component of a property insurance policy that helps protect your home and business properties, such as apartment buildings, office spaces, and businesses, against fire-related losses and damages. Insurance against fire is not a stand-alone product. To get this coverage, you must buy a Digit's SFSP policy with the add-on cover of fire.
Homeowners, small business owners, medium business owners, renters, and large enterprises should consider buying this plan to ensure their home or business is covered against losses due to fire.
Why Plans From Digit Insurance Deserve Your Attention?
Insurance plans from Digit Insurance provide you with several benefits. Some of them are mentioned below:
The solvency ratio is an important indicator for determining a company's capacity to meet debt and other obligations. All insurers must keep a healthy solvency ratio of 1.5, according to the IRDAI. The solvency ratio of Digit Health Insurance was 3.24 as of March 2020. As a result, we may conclude that Digit Insurance company has a healthy net worth and a sustainable debt load.
Interested In COVID-19 Coverage? – Digit Covers It Too
COVID-19 is covered as part of Digit Health Insurance's health insurance; you do not need to get additional coronavirus coverage. If you or a member of your family tests positive with COVID-19, Digit will cover the costs of treatment.
Digit offers over 6400 hospitals in its network where users can access cashless healthcare. While the insured benefit from Digit by paying a lower price to network hospitals, the hospitals benefit from the health insurer's network by gaining more patients. As a result, you won't have to stress about making financial arrangements at the last minute.
Digit has a strong customer support team that works round the clock to solve various queries. For health insurance claims, you can call at 1800-258-4242 or mail at healthclaims@godigit.com. For COVID-19 claims, you can call the same number or reach them at covidclaims@godigit.com. Moreover, for any other queries and claims, you can call 1800-103-4448 or mail at hello@godigit.com.
Hassle-Free Online Process
From acquiring health insurance coverage to reporting claims, everything is straightforward, quick, and paperless with Digit Insurance plans. Even for claims, no hard copies will be required!
Under Digit General Insurance plans, there are no hidden clauses. The documents are in simple language without any jargon. The company provides simple and easy products that you can count on.
Buying Process For Digit General Insurance Policy
One can buy an insurance plan from Digit General either through an online or offline method. Let's take a look at both of the processes:
ONLINE METHOD
Visit the official website of Digit General Insurance company.
Select the type of insurance you want to buy from Digit General Insurance company.
Fill in the details under the "View Prices" tab and click on "View Prices".
A page will be displayed to you in which you need to fill in all of your basic details.
After filling in the required details, choose your respective plan and press "Continue".
Enter your personal details, such as name, pin code, email address, mobile number, etc., and click on "Pay Now" to make the payment for the plan.
You also have an option to purchase these plans from Probus Insurance. Just visit the official website of the company.
OFFLINE METHOD
You can either go to the branch office or call the insurance provider (Digit). The company's customer representative will listen and respond to your questions and will help you in buying a suitable insurance plan. You can choose your plan, submit all the necessary documents, and make payment for the plan respectively.
In case you are not satisfied with the services or policies offered by the insurance provider company, you can reach out to Probus Insurance.
What's The Claim Process For Digit's General Insurance Plans?
For each type of Digit's insurance plan, the claim process is different. Let's take a look at them one by one:
Motor Insurance Claim Process
The claim for Digit's motor insurance can be availed through two methods. They are as follows:
Cashless Claim Process: As quickly as possible, notify the insurer of the accident or the covered event/uncertainty. All you have to do is dial the toll-free number 1800-258-5956, which is available 24 hours a day, seven days a week, and give the Digit representative all the information you have. A self-inspection link will be issued to your registered mobile number as soon as you notify the claim. You will be required to follow the steps and instructions and use your smartphone to photograph the vehicle's damages. The Digit team will evaluate the loss and damage and contact you with an estimate of the costs and claim amount. The company will pay the full cost of the claim, and the insurer will return the vehicle after the applicable deductibles have been paid.
Reimbursement Claim Process: Intimate the insurance company about the vehicle's damage as soon as possible. Simply dial the toll-free number 1800-258-5956 and provide the Digit representative with all of the information you have regarding the accident. Take photos of the damage that your vehicle has received. Digit will investigate the shots you've sent and analyze the damage. Digit's team will contact you as soon as they get an estimate. After the insured policyholder has submitted all invoices and receipts, the company will reimburse the claim amount. After paying the required deductibles, the insured can have the vehicle back.
Health insurance Claim Process
The claims for Digit's health insurance can be availed either through a cashless method or reimbursement method. Let's discuss them one by one!
Cashless Claim: Notify the insurance company at least two to three days in advance of any planned hospitalization, or within 24 hours of any emergency hospitalization. Present your e-health card and request the pre-approval form at the hospital's helpdesk. Fill out the form, sign it, and submit it at the helpdesk. If everything seems good, you can proceed with the treatment using the cashless option. As soon as the treatment is approved, make sure it is completed within 15 days. The claim will be settled directly with the hospital by Digit.
Reimbursement Claim: Within two days after your admittance date, you must contact your insurance company. The company will then send you a link to upload soft copies of all original papers (bills, reports, etc.) as well as bank account information. You must sign all of the documents personally before uploading. You have 30 days from the date of discharge or when you obtain the URL to upload the documents. Within 30 days of receiving the last essential claim document, you will get reimbursement.
Travel/Home/Corporate Insurance Claim Process
After you buy any of the other insurance plans of Digit, you can follow three simple steps to make your claim process hassle-free:
Step 1: Call at 1800-258-5956 (if you are in India) or you can drop a missed call at +91-7303470000. The company will call you back in 10 minutes.
Step 2: A link will be sent to you on your registered mail address or phone number. Upload all the necessary documents and your bank account details.
Step 3: The company will then take care of the rest of the claim process.
Frequently Asked Questions