Renew in just 5 mins.
No Inspection.
No Paper Work
* Subject To Underwriting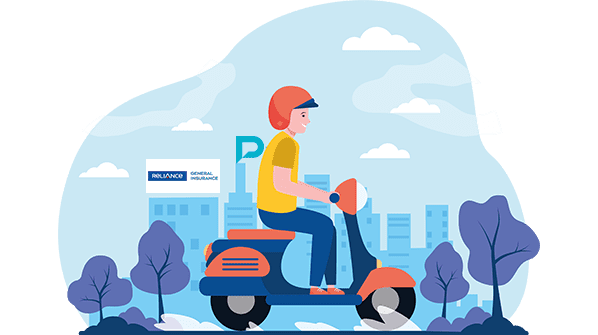 Compare

Bike Insurance Plans
Reliance Bike Insurance Policy Download
According to the Motor Vehicles Act of India, it is mandatory to have a third-party bike insurance policy if you are an owner of a two-wheeler. Apart from this, it is always important to get a standard bike insurance policy for your hard-earned two-wheeler as you need to protect it from all the road risks it is exposed to. When it comes to a bike insurance policy, Reliance General Insurance Company is worth mentioning for its diversified two-wheeler insurance products that have the capability to cater to the varied needs of individuals. But purchasing a bike policy does not end your responsibility. You also need to learn the online facilities that the company offers to minimize your labour. One such important facility is downloading your Reliance Bike Insurance Policy online, which also enables you to keep the policy in hand and to produce it whenever it is required. Therefore, follow this article to know the right steps to get this job done effortlessly.
Steps To Download Reliance Bike Insurance Policy
Follow the below easy steps to download your bike insurance policy from Reliance General.
Go to the official website of Reliance General Insurance Company.
At the extreme right side of the homepage, there will be the Self-help option. Click on that.
Multiple options will appear before you. Go to the last option, View More, and click on that.
On the landing page, the first tab will be the Policy Center.
Under that tab, choose the first option, Check My Policy.
After that, you need to select your policy from the given options.
Once you are done choosing your policy, you need to put your product details.
Here, for product details, you can either put your registered mobile number, policy number, or cover note number.
Then, put the registered mobile number in the right place to generate a One Time Password (OTP).
Put the OTP carefully in the right place, and you are done here.
Your bike insurance policy will be downloaded in PDF format to your device.
Is it mandatory to carry a hard copy of your Reliance Bike Insurance Policy?
The e-Vahan Bima application has been launched by the apex institution (IRDAI), which enables insured people to carry their car insurance policy as a soft copy. Therefore, it is not mandatory to carry your bike insurance policy details in a hard copy. However, Indian Motor Tariff has made it mandatory for all two-wheeler owners to carry their bike insurance policy duplicate while riding their vehicle on Indian roads legally and to avoid any penalty in case of any adverse situation. Therefore, with the help of e-VAHAN bima, you are now no longer bound to carry a hard copy of the insurance policy document.
There comes the importance of keeping a softcopy of your bike insurance policy on your mobile. But there are certain possibilities like theft of the mobile, phone not being in working condition, etc. So, to be on the safer side and to avoid complications, it would be advisable to keep the hard copy with you as well.
How to get a hard copy of the Reliance Bike Insurance Policy?
The moment you purchase a two-wheeler policy from Reliance General, the company sends the hard copy of your policy to your registered address. But if you have bought the policy online, you still have nothing to worry about. You can follow the above steps to download your policy from the official website of the insurer very easily. Once it is downloaded in PDF format, you can make a printout of that to keep it handy. 
Though you should not be facing any problems, still after that if you face any difficulties. for any further assistance, you can contact them using their contact number + 912248903009. Their customer executives are efficient enough to help you.
How can you make changes to your Reliance Bike Insurance Policy details?
It might be possible that you have changed your address or phone number. In that case, you need to keep your insurer updated about these changes. For these minor changes, you can easily modify your policy by yourself, without visiting their official branches physically and standing in a long queue. If you want to modify your Reliance bike insurance policy, follow the below easy steps.
Go to the official branch of the insurer.
At the extreme right side of the homepage, there will be the Self-Help option. Click on that.
There will be multiple options. Among them, choose the fourth one from the first row, Modify My Policy.
On the landing page, you need to put your policy number correctly.
You can also click on the Document Checklist for Endorsement option to find out the necessary documents that you need to submit to make changes to your policy.
Follow the steps as directed by the company carefully.
Once you are done, click on the Submit option.
To be sure, you can log out from your account and log in again to find out if the changes are updated correctly.