Renew in just 5 mins.
No Inspection.
No Paper Work
* Subject To Underwriting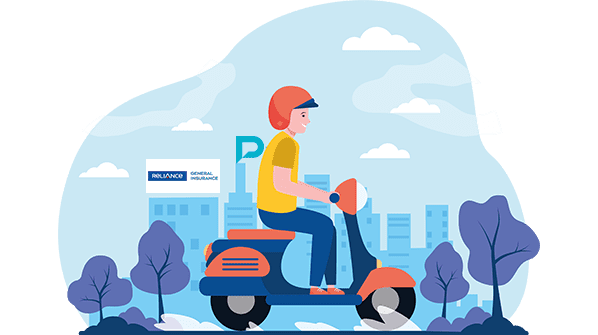 Compare

Bike Insurance Plans
Renew Reliance Bike Insurance Policy
Bike insurance, like all general insurance policies, has a validity period, after which the policyholder must renew it to keep receiving insurance coverage. For renewing bike insurance plans, Reliance General Insurance offers a simple process. 
To help its policyholders save time and effort, it has completely digitalized all of the processes. It has established a functioning helpdesk to offer support at any time of day.
Online Process Of Renewing Reliance Bike Insurance Policy
The procedure for renewing the Reliance Bike Insurance policy online has been made simpler by the company. One must adhere to the steps below.
Visit the official website of the company.
Place your cursor on the "Renew" tab present on the top bar of the page.
Now select "Renew Two-Wheeler Insurance" from the drop-down menu.
Now a page will be displayed asking you to renew your policy with either your mobile number or policy number. If you enter your mobile number, you will receive an OTP (One Time Password) that you may use to access the details of your policy and renew it. If you decide to renew your insurance by providing your policy number and vehicle information like the registration, engine, and chassis numbers, be sure to enter the information precisely before proceeding.
After verifying the details of the policy, you can pay to renew the bike insurance using a variety of payment methods, including debit/credit cards, net banking, NEFT, UPI, or e-wallets.
Offline Process Of Renewing Reliance Bike Insurance Policy
By calling Reliance General Insurance's toll-free number, 1800 3009, you can renew your bike insurance. You can also renew your membership by going to the nearby branch office.
What Will You Miss Out On By Not Renewing Reliance Bike Insurance Policy?
If you fail to renew your Reliance Bike Insurance policy, you will miss out on the following benefits:
No Claim Bonus: If the policyholder does not submit or make a claim for the two-wheeler insurance policy up until the date of the policy renewal, NCB, or No Claim Bonus, accumulates over time. When renewing their coverage, the policyholder can receive a discount thanks to their accrued No Claim Bonus. You risk losing the No Claim Bonus if you can't renew your Reliance Bike Insurance in a timely manner.
Paperless Process: The renewal procedure for Reliance Bike Insurance is paperless. You may easily renew your policy on the website, by calling their helpline, or by going to the closest branch office. 
Financial Safety Net: Getting two-wheeler insurance is mostly done to ensure financial stability in case unanticipated costs rise after a little or severe accident. Your Reliance's two-wheeler insurance coverage may incur a financial loss if it is not timely renewed, which could happen in the event of an accident.
Frequently Asked Questions