Renew in just 5 mins.
No Inspection.
No Paper Work
* Subject To Underwriting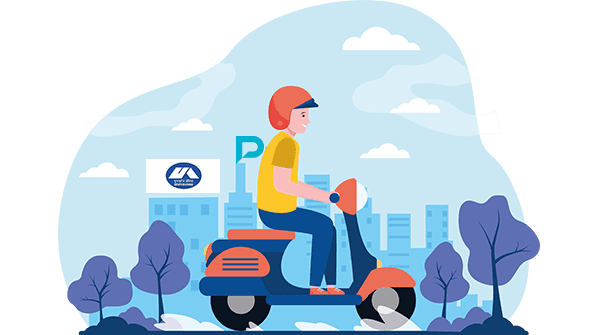 Compare

Bike Insurance Plans
Download United India Bike Insurance Policy
United India Insurance Company offers a variety of insurance plans that protect owners and riders from unanticipated events that could result in loss or damage to their vehicles, a third party, or their property.
Within a few days following your purchase of a bike insurance policy from United India, the policy document will be sent to your registered address. This document is crucial and will be needed for claim renewal and settlement. Every policyholder is recommended to review their policy papers to make sure the details are correct because typos might cause issues down the road.
If you are looking to download your United India bike insurance policy, here are the steps that you should follow.
How To Download United India Bike Insurance Policy Document Using Policy Number?
The following steps will help you download your bike insurance policy online:
Step 1: Visit the United India Insurance website.
Step 2: Choose "customer services" from the list of options on the blue tab that runs horizontally. There will be a drop-down menu. Then click "Check Payment Status/Online Policy Download" after selecting the "Verify your policy" option.
Step 3: Enter your transaction ID, current policy number, or prior policy number. Then select "Search."
Step 4: You can access the specifics of your bike insurance document. The many download choices for the policy paper are located in the left corner. There are four options available- "Two Page Schedule," "Policy Document with T&C," and "Receipt."
Step 5: Click the desired choice, and then click "Start Download."
What Are The Things To Check in Your United India Bike Insurance Policy?
Here is the list of the things that you should check in your two-wheeler insurance policy from United India.
Type of policy
Duration of policy
Policy number
IDV and premium
General exclusions
Features and Benefits
Personal and bike details
Grievance redressal procedure
How Can I Obtain a Hard Copy of the United India Bike Insurance Policy?
A hard copy of your policy will be sent to the address you entered during registration within a few days if you purchase bike insurance with United India Insurance. Even if you misplace or lose the document, you may readily download it and print it off. If you wish to perform the procedure offline, it is a little more complicated. You must first report the loss of your document to United India, file an FIR, and publish a newspaper ad. A duplicate of your paperwork will be sent by your insurance company once you have completed an indemnity bond requirement.
Frequently Asked Questions