Renew in just 5 mins.
No Inspection.
No Paper Work
* Subject To Underwriting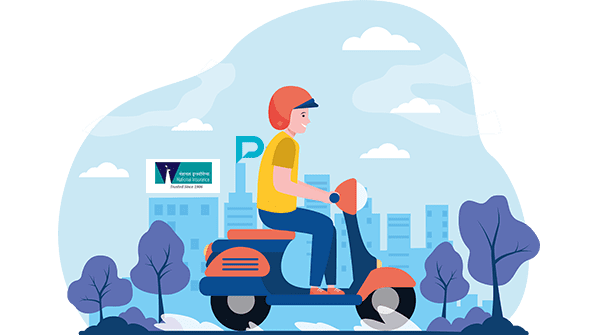 Renew National Bike Insurance Policy
The terrible occurrences of life are successfully protected by National Insurance for its policyholders. The National Bike Insurance Policy offers defense against monetary and legal obligations resulting from accidents on the road, theft, or tragedies caused by the elements or human activity. It does, however, have a deadline. It is necessary to renew the bike insurance coverage in order to continue enjoying the benefits after the expiration date.
National Insurance has established a smooth renewal procedure to make life easier for its policyholders. It offers helpdesk support to address any problem the policyholder is having. Both an online and an offline mode are available for renewing national bike insurance; both options are covered here.
Read on to know more about the National Bike Insurance Policy Renewal Process in detail!
How To Renew National Bike Insurance Policy?
By Official Website:
The digital platform from National Insurance has been launched to make the renewal procedure simpler. All you need to do to renew your national bike insurance coverage is adhere to the instructions provided below.
Step 1: Go to the policy renewal page on the official website
Step 2: On the top, you will find the option of "Quick Renewal". Click on it.
Step 3: You will then be redirected to the page where you must enter your policy number and the Captcha code.
Step 4: Once you are done entering your details, click on "Renew Policy".
Step 5: Through its payment channel, you must make the final payment using a debit card, credit card, or net banking. You will receive the policy documents within a few days.
The policyholders can renew their policy offline in the following ways:
Visiting the Branch:
Renewal of national bike insurance is a time-honored practice. Simply present your insurance information at the nearby branch, pay with a check or bank draft, and leave.
By calling on their official number:
You can renew the National bike insurance policy by dialing their number, i.e., 1800-345-0330.
What If You Fail to Renew Your National Bike Insurance Policy on Time?
Listed below are the consequences that you will face if you fail to renew your National Bike Insurance on time.
Costs of Repair – Your automobile insurance company will not cover any motor repairs if you don't renew it before it expires. You would be the one to pay for the repairs. For some autos, auto repairs can be very expensive. Before it expires, you should renew your auto insurance. You can renew your auto insurance online or through your insurance agent.
Legal Issues – You must be insured when operating a two-wheeler on public roads. All vehicle owners are required by the Motors Vehicle to carry auto insurance. You can be stopped by a policeman who will ask to see your insurance documents. You may encounter many legal problems if you don't have one. Two-wheeler insurance coverage is necessary to safeguard you from the financial strain brought on by accidents.
Inspection – If you renew your auto insurance after the deadline, your insurer might inspect your automobile once more. This is carried out to look for any damages that might have happened following the initial expiration of the auto insurance coverage. It can take days or even weeks for these inspections to be completed, which adds time to the process for both you and your insurance company.
Frequently Asked Questions