Renew in just 5 mins.
No Inspection.
No Paper Work
* Subject To Underwriting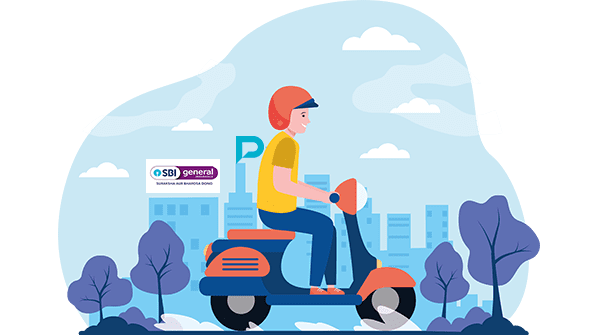 Compare

Bike Insurance Plans
SBI Third-Party Two-Wheeler Insurance
Two-wheelers account for nearly 75% of total vehicles that are in operation in India. However, nearly 60% of vehicles (including mostly two-wheelers) are uninsured across the nation, as per the data of the Insurance Information Bureau of India.
Although purchasing two-wheeler insurance is seen as a private decision, the government has made it mandatory for all two-wheeler owners to carry at least third-party insurance. SBI General's Third-Party Two-Wheeler Insurance is specifically designed to offer multi-layered protection on the road and off it.
Since a two-wheeler owner is exposed to a variety of risks on roads, it becomes important to know more about such insurance products. Therefore, this post will highlight some important details of Third-Party Two-Wheeler Insurance from SBI General.
Key Features & Benefits Offered By SBI Third-Party Two-Wheeler Insurance
Anyone who purchases the insurance can leverage the following features and benefits:
Strong Network Of Cashless Garages:
SBI General has more than 7000 network garages, where the policyholders can easily receive cashless repair services for their two-wheelers. These garages are present across the country to provide convenience and accessibility.
Great Experience In Claim Handling:
SBI General holds great experience in handling any type of claim, with over Rs. 24,000 crores worth of claims already tackled to date. This indicates that if someone purchases Third-Party Two-Wheeler Insurance from SBI General, he/she can rest assured of a fair, fast, and transparent claim process.
PAN India Presence:
The insurance provider has a strong network of more than 23000 branches that are present at every nook and corner of India. This offers unmatched accessibility to anyone who has purchased Third-Party Two-Wheeler Insurance from SBI General. 
Personal Accident Cover:
The insurance also offers a compulsory personal accident cover of Rs. 15 lakhs for the owner/driver. Also, pillion riders can be covered under the insurance for a maximum sum assured of Rs. 1 lakh.
Easy Purchasing & Renewal Process:
The insurance provider offers simple and fast purchasing as well as a renewal process for its third-party two-wheeler insurance. Just visit the official website of SBI General, enter the required information, and one can easily complete the process. 
Mobile Application Support:
The insurer also offers a mobile app to its customers that can be downloaded from the Play Store. The application is a one-stop solution for all the requirements regarding SBI's Third-Party Two-Wheeler Insurance, including purchasing the product, renewing the product, tracking claim status, downloading the policy document, and much more.
Coverage Details Of SBI Third-Party Two-Wheeler Insurance
The insurance product offers the following coverage to its customers:
Damage To Third-Party Property:
Any damage to third-party property brought on by an accident or other incident involving the insured bike is covered by the insurance. 
Bodily Injury To OR Loss Of Life Of Third-Party:
The SBI's Third Party Two-Wheeler Insurance provides full or partial coverage for any bodily injury or death to a third party caused by an insured bike. The law system sets the amount of compensation.
What's Not Covered Under SBI Third-Party Two-Wheeler Insurance?
Any loss or damage to the vehicle and/or its accessories that results from any of the following will not be covered:
Normal deterioration and aging of the vehicle
Depreciation or any other subsequent losses
Electrical or mechanical failure
Unauthorised usage of a vehicle in relation to its permitted uses
Damage to or by a driver who is not in possession of a valid licence
Damage to or caused by a person operating a vehicle while under the influence of alcohol or drugs
Damage or loss brought on by mutiny, war, or nuclear peril
Frequently Asked Questions