Renew in just 5 mins.
No Inspection.
No Paper Work
* Subject To Underwriting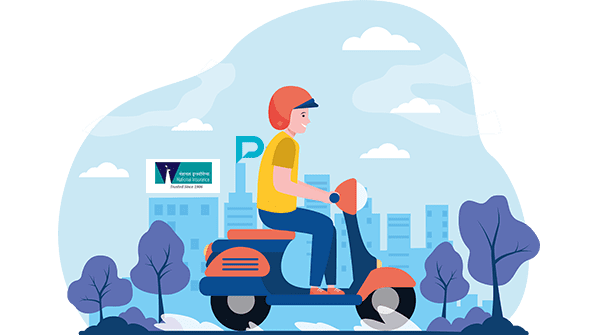 Compare

Bike Insurance Plans
National Third-party Two Wheeler Insurance
It is no secret that you will always see people on two-wheelers a lot more than cars. The prime reason behind their popularity is that not only are they economically affordable, but they are also very quick and convenient. But when you buy a bike for yourself, it is not just a privilege that you enjoy- it also comes with a few responsibilities and considering third-party bike insurance is one of them. It is required by law to have third-party insurance under the Motor Vehicle Act of 1988. This insurance would provide coverage and cover the monetary obligations that result from an accident in which your bike injures or kills a third party or damages property belonging to a third party.
National Insurance Company Ltd. (NIC) is one of the largest & oldest general insurers that offer third-party two-wheeler insurance (Liability Only Policy) to provide maximum protection from Legal Liability arising from the death or disability of a third party due to an accident with your bike. It provides coverage for third-party property damage up to Rs. 1 lakh, personal accident insurance for owner drivers, and bodily injury and/or death of third parties.
Let's dig deep into the key features & benefits and exclusions of National Third-Party Two-Wheeler Insurance.
Major Features and Benefits of Considering the National Third-Party Bike Insurance
The following are the things included under the National Third-Party two-wheeler insurance.
Legal Requirement:
Third-party insurance is required by law. Being uninsured may result in fines and legal issues for you. Thus, owning National Third-Party bike insurance is a must for you.
Easy Renewals:
National Insurance offer processing of renewals, claims, and more online, making the entire process very easy and convenient.
24X7 Assistance:
In addition, the third-party bike insurance by National Insurance provides convenient customer service, which streamlines the purchasing, claims, and renewal processes.
Lowest Price:
One of the key features and benefits of choosing the National Third-Party bike insurance is that it comes at incredibly lower prices, unlike comprehensive two-wheeler insurance. Remember that IRDAI regulates the prices.
Continuous Cover:
On September 1, 2018, bikes will be continuously covered for a period of five years.
Exclusions Under the National Third-Party Two-Wheeler Insurance
Though there are many things not included under the third-party bike insurance by National Insurance, we have listed a few of them.
Own Damages:
Third-party two-wheeler insurance by National Insurance will not cover the damages to your bike.
Unauthorised Driving:
Your two-wheeler insurance claim will be denied if you are discovered to have been driving without a valid license at the scene of an accident.
Negligent Driving:
The insurer is likely to deny your National third-party bike insurance claim if it is determined that your careless driving caused the collision and the resulting damages.
Drunken Riding:
It would be impossible for you to file a claim if it is discovered that you were operating a vehicle while intoxicated.
Intended Accident:
The insurer will not approve the claim if you intentionally damage your two-wheeler.
Illegal Use:
The claim would be denied if you broke your bike while using it for illicit purposes.
Careless Riding
The coverage does not extend to losses resulting from your carelessness.
Frequently Asked Questions
Listed below are the frequently asked questions related to the National Third-Party bike insurance.