Renew in just 5 mins.
No Inspection.
No Paper Work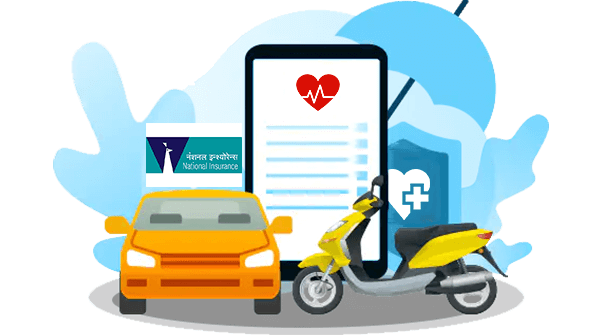 Compare

Car Insurance Plans
About National Insurance Company
National Insurance Company Limited is one of the oldest general insurance providers in India. It is fully owned by the government of India and managed by the Ministry of Finance. 
The company was founded in late 1906. However, it was in 1972, after India's independence, that the company became National Insurance Company, a subsidiary, along with three other companies, of the General Insurance Corporation of India.
In 2002, the National Insurance Company became a standalone company focused solely on offering various insurance products to Indian citizens. The company also offers services in the neighboring country of Nepal. 
The company offers both online and offline methods of purchasing an insurance policy. All information about the insurance policies is available on the website of the National Insurance Company for policy purchasers to view at their convenience.
Quick Facts About National Insurance
Started in

1906

Headquarters

Kolkata, West Bengal

Became a separate entity in

August 2002

Founder

Gordhan Das Dutia

No. Of offices

1730

Product offerings

Motor insurance, health insurance, fire insurance, engineering insurance, marine insurance, and rural insurance

Available in countries

India and Nepal

Stats and figures about the company

Incurred claim ratio – 116.44%

CRISIL Rating: AAA
Why National Insurance Company For Your Insurance Needs?
National Insurance Company Limited is one of the oldest companies offering an array of insurance policies. If their experience in the insurance sector doesn't convince you, here are five reasons why you should choose National Insurance for all your insurance needs:
Efficient Claim Settlement: With round-the-clock chat support, getting your claim filed and settled is incredibly easy. The team offers assistance with all steps of the claim filing process.
Brand Value: National Insurance has been around since 1906. They have an incredible brand value because of their 100+ years of experience in the insurance industry.
Numerous Awards and Accolades: The company has been awarded multiple times over the last few years by well-known organizations such as the Times of India, Economic Times, SKOCH, etc. for their work in the insurance industry.
Number of Product Offerings: With over 200 insurance products, the company is a leader in insurance coverage, be it for your vehicle, your manufacturing unit, or your rural venture.
Sectors Covered: National Insurance offers policies for personal, commercial, rural, industrial, marine purposes. This means that the company's insurance policies cover a wide range of sectors.
Product Offerings By National Insurance Company
1. National Health Insurance Plans
i. Corona Kavach Policy National
In light of the recent pandemic, the National Insurance Company is offering this health insurance policy. Citizens between 18 to 65 years are eligible for the policy. The policy insured sum can be between Ra. 50,000 to Rs. 5,00,000. The policy can be for 3.5 months, 6.5 months, or 9.5 months. There is no renewal for this policy. Coverage for individuals includes pre-hospitalization for 15 days and post-hospitalization for 30 days, as well as allopathy and AYUSH treatments.
ii. National Mediclaim Policy (Individual Plan)
The insured sum ranges from Rs. 1 lakh to Rs. 10 lakhs. Homeopathy, ayurveda and allopathy are covered under this plan along with coverage for modern treatments as well. Furthermore, the coverage also includes charges for room in a hospital, charges by specialist doctors, and pre and post hospitalization expenses. The plan offers treatment for injuries in adventure sports, based on certains terms and conditions.
iii. National Mediclaim Plus Policy (Individual Plan)
The national mediclaim policy allows the policyholder (including spouse, children, or parents) to purchase the policy with an insured sum between Rs. 2 lakhs and Rs. 50 lakhs. The plan covers allopathy, homeopathy and ayurvedic treatment plans, room and ICU rent for hospital stay, and charges incurred from specialist treatment. Ambulance charges are also covered along with a host of modern treatments (eg: robotic surgery, oral chemotherapy etc.). This plan also offers maternity and newborn cover, outpatient treatment and mental illness and HIV/AIDS.
iv. Overseas Mediclaim Business and Holiday
This health insurance policy is for travel emergencies. You can purchase this policy for countries like the USA, Canada and for countries other than two these two as well. The plan covers illness or medical evacuation, personal accidents, loss or delay of baggage, loss of passport and third party liability. Dental treatment is also covered based on the terms of the plan.
v. Overseas Mediclaim Employment and Studies
This health insurance policy is geared towards students and employees abroad. The plan covers illness, medical evaluation, medical emergencies, and contingency insurance for sponsored students. Plans are available for all countries including the USA and Canada, as well as for all a range of other countries excluding the two mentioned.
vi. Arogya Sanjeevani Policy
A standard plan for those between 18 to 65 years. This policy is available in individual as well as a floater plan. Apart from the policyholder, the spouse, parents, in-laws, children, and a new-born can get protection. The policy offers lifelong renewal along with a cashless facility.
vii. National Senior Citizen Mediclaim Policy
A policy for those between the ages of 60 to 80 years. The coverage includes a range of offerings like room rent, ICU, specialists fees, and even modern treatments like robotic surgery. The policy offers lifelong renewal along with a cashless facility.
viii. National Super Top Up Mediclaim Policy
On a floater basis, each member or individual sum insured basis, you can get coverage for yourself and your family with this high threshold health insurance product under a single sum insured.
ix. Vidyarthi Mediclaim Policy For Students
Aimed at students, this policy provides personal accident and health cover. Furthermore, the cover also enables students to continue education without any stress of finances in case of permanent total disablement or death of the guardian.
x. National Parivar Mediclaim Policy and National Parivar Mediclaim Plus Policy (Floater Policy)
This policy under a single sum insured protects members of a family. The entry age is 18 to 65 years. And if you opt for a long-term policy, you get discounts.
xi. National Critical Illness Policy
Critical illnesses like stroke or cancer can not only take a toll on your health but also finances. To combat that, this policy covers the treatment cost and the recovery process related to critical illnesses.
2. National Motor Insurance Plans
i. Commercial Vehicle Insurance Policy
The company offers a liability only as well as a package policy for goods carrying or passenger-carrying commercial vehicles. Under this policy, damage to third party (property or person) is covered along with coverage for damage due to fire, natural calamities, terrorist acts, fire, theft, road accidents and during transit. Add-on options include nil depreciation, engine protects and invoice protection. Wear and tear from regular use, damage caused due to driving under the influence of illegal substances or without valid documents are not covered by the policy. 
ii. Private Car Insurance Policy
The company offers a liability only and a package policy for private cars. In the liability only policy, injuries to third party, person or property are covered. In the package policy, the customer's vehicle is protected from damages arising from fire, natural disasters, terrorist acts, theft, riots or strikes, or any roadside accident. The policy allows for add-ons, such as zero depreciation, no claim bonus, and engine protection. 
iii. Two Wheeler Insurance Policy
Customers who own a two-wheeler can either opt for a third party liability policy or a comprehensive package policy. In the latter, the two-wheeler is protected from damages caused due to floods, earthquakes, landslides, storms, typhoons, and more. The policy also offers protection in case of theft of vehicle or damage to the vehicle during transit. Customers can take advantage of the no claim bonus discounts while renewing their insurance policy. Some add-ons available for this policy include invoice protection, engine protects and nil depreciation.
3. National Fire Insurance Plans
i. Standard Fire and Special Perils Policy
The policy can be purchased by homeowners, business owners, shop owners, manufacturing companies, etc. This type of policy covers damages due to fires as well as due to explosions or other natural calamities. The policies also offer protection for buildings as well as furniture, household items, machinery, and electrical fittings. Different policies are available based on the requirements of the purchaser. This includes discounts on long term policy for individual homeowners and discounts for commercial units for fire extinguishing appliances.
ii. Industrial All Risk Policy
This policy safeguards the assets of a manufacturing unit from different risks like electrical/mechanical breakdown, burglary, riots, flood, fire, etc. It's a sure shot way to cover multiple risks under one policy.
4. National Marine Insurance Plans
i. Marine Insurance Open Cover
This 12 month policy offers continuous cover to the insured individual in terms of their shipments, goods, etc. This policy is ideal for those who dispatch goods via waterways frequently. Every shipment leaving or arriving must be declared. Damage due to an accident or fire is covered. Additional cover can be purchased for damage due to war, riots, civil unrest, theft and non-delivery of goods. Any deliberate damage to the goods, improper packaging of goods or regular wear and tear are not covered in this policy.
ii. Marine Insurance Open Policy
The yearly marine insurance policy is the right choice for companies that deal with imports and exports regularly. All shipments coming in or going out must be declared. The policy offers coverage for damages occurring due to fire or accident. By paying an additional amount, the insured can also obtain protection in case of damages due to war, riots, strikes, and theft. Any improper packaging leading to damaged goods will not be covered by the policy. 
iii. Marine Insurance Specific Policy
The specific policy works on a case by case basis. Coverage is obtained under this policy for shipments as and when needed by the insured. This means that the shipment is insured for a specific time and a specific route only. The policy covers any damages to the goods caused due to a fire during the journey or any other accident. For additional protection from theft, pilferage, non-delivery, war-like situations, customers can be extra. 
iv. Marine Insurance – Sales Turnover Policy (STOP)
Companies registered under the Companies Act 1956 can avail this policy to protect any sales turnover like procurement, stock transfer, import, export, etc. The sum insured is dependent on the annual turnover of the organization.
v. Marine Insurance – Duty Insurance Policy
This policy is always issued in conjunction with a cargo policy. The Duty sum insured is determined by the actual duty to be paid.
vi. Marine Insurance – Increased Value Policy
A policy that aims at covering the rise of the market value of cargo. This is always issued in conjunction with the cargo policy.
vii. Marine Delay In Start-Up Insurance Policy (Marine DSU)
If start-up of the project is delayed beyond the scheduled date, the actual loss of gross profit is indemnified by this policy.
5. National Engineering Insurance Plans
i. Erection All Risk Insurance
This insurance policy is geared towards covering damages that arise during the testing phase of any equipment. The policy is for manufacturing units or individual machines. The policy covers damages caused due to fire, lightning, flood, storm, landslide, theft, riots, lack of skill, collision or any electrical or mechanical breakdown during installation or testing of the machinery. Add-ons offer protection from earthquakes, terrorist activities, third party liability, custom duties, and maintenance visits to the plant. 
ii. Contractor's Plant & Machinery Insurance
This insurance policy is suitable for machinery used in an industrial plant, such as cranes, earthmovers, dumpers, excavators, etc. The policy covers both stationary and movable equipment. This policy is ideal for short term purchases, but you can renew it as well. Damage due to fire, theft, riots, terrorist acts, earthquakes, storms, etc. is covered in the policy. A premium can be paid for third party liability coverage, and insuring the property the machines are working on. 
iii. Contractor's All Risk Insurance
This policy specifically covers risks that can occur during the construction period in commercial or residential projects. Damages that occur in storage of materials, assembly of parts, or during construction due to fire, theft, flood, etc., are covered in the policy. The insured can also opt for add-on protection from terrorist acts, third party liability, and clearance and removal of debris. Any inventory loss due to deliberate negligence, regular wear and tear, and any loss to essential paperwork (drawings, bills, stamps, deeds, etc.) is not covered in the policy.
iv. Electronic Equipment Insurance (EEI)
This policy covers electronic equipment for any breakdown or damage due to short circuits, accidental voltage fluctuation, fire, theft, etc.
v. Machinery Insurance
This plan covers machinery and plant in a factory. Even single machines can be covered. It's a suitable plan for all types of plants and machinery.
6. National Rural Insurance Plans
Package Insurance For Tribals
Kisan Agricultural Pump Set Insurance
Insurance For Animal Driven Cart/Tonga
Duck Insurance Scheme
Cycle Rickshaw Insurance
Sericulture (Silkworm) Insurance
Pedal Cycle Insurance
Inland Fresh Water Fish Insurance
Lift Irrigation/Sprinklers Insurance
Aquaculture (Shrimp/Prawn) Insurance
Failed Well Insurance
Honey Bee Insurance
Salt Work Insurance
Gramin Accident Policy
Hand Drawn Vehicle
Group Personal Accident Insurance
Plantation/Horticulture/Floriculture Insurance
Package Policy For Milk Producers' Co-Operative Society/Collection Centre
Poultry Insurance Scheme
Dog Insurance
Farmers' Package Policy
Rabbit Insurance
Janata Personal Accident Policy
Cattle Insurance
Calf/Heifer Rearing Insurance Scheme
Foetus Insurance Scheme
Sheep/Goat Insurance Scheme
Pig Insurance Scheme
Camel Insurance Scheme
Horse/Pony/Donkey/Yak Insurance
Elephant Insurance
7. National Other Insurance Plans
Shopkeepers Insurance
Directors And Officers Liability Insurance
Householders Insurance Policy
Public Liability Insurance Act Policy
Office Package Policy
Public Liability (Industrial/Non-industrial Risks) Policy
Vyapar Suraksha Policy
Professional Negligence/Errors Ans Omission Insurance Policy
Doctor Package Policy
Product Liability Insurance Policy
Personal Accident
Professional Indemnity For Doctor And Medical Practitioners
Burglary
Fidelity Guarantee
Money Insurance
Carriers Legal Liability
Commercial General Liability
How To Purchase A National Insurance Policy?
Purchasing a National Insurance Company policy is a straightforward process. The first thing to do is to read all the information available on the company website. The website lists all different insurance products offered by the company, along with coverage, inclusions, exclusions and other important details. 
The online process: 
Visit the official National Insurance Company website 
On the homepage, select the type of insurance you're looking for like motor, health, fire, engineering, rural, etc. 
Then click on "buy policy" 
You will be redirected to a page where you have to login with your credentials. First time users can register too. 
Once you register and login, all you have to do is follow the steps, make your payment and the policy is your. 
The offline method: 
Head to the nearest National Insurance Company office
Ask for the relevant form based on the policy you would like to purchase
Enter all the details in the form correctly
Submit the form either via email or in person by heading to the NIC office or your insurance agent
In case of any survey, investigation, etc., an appointment will be set up for you
The premium will be set for you based on your policy, coverage, etc. 
Once you accept the terms, you can make the payment and directly get the policy from the NIC office or via registered post.
Renewal For A National Insurance Policy
To renew your National Insurance Company policy you must: 
The online process: 
Visit the official National Insurance Company website 
On the homepage, click on 'quick renewal' 
Since it's renewal, you have to keep you previous policy details handy
Enter the details on the page and click on renewal.
Within a matter of minutes, the policy is renewed. 
 The offline method: 
Visit the nearest NIC office or your insurance agent
Obtain the relevant form required to renew your policy
Fill up the form correctly 
Submit the form and check if you are eligible for any discounts 
Submit all relevant documents and make the required payment
You can either obtain the policy in person or via registered post.
How To File A Claim For Your National Insurance Policy?
Filing a claim is an important detail to know in case of an accident. The National Insurance Company has an efficient system in place to assist you with the entire process. 
As soon as the event/ accident occurs, get in touch with your insurance office
In case required, please register an FIR with the nearest police station
Collect the claim form from your agent or the NIC office
FIll up the form ensuring all details are correct
Submit the claim form along with all relevant documents (police report, doctor's report, medical prescription, etc.)
An enquiry will be set up to investigate the claim
If the claim is approved, the payment will be made by the insurance company based on the terms of your insurance policy
This is the general process for filing a claim with the National Insurance Company. The process and documents required may vary based on your policy.
Frequently Asked Questions