Cover Your Health in 5 mins
Compare Premium.
Buy Now.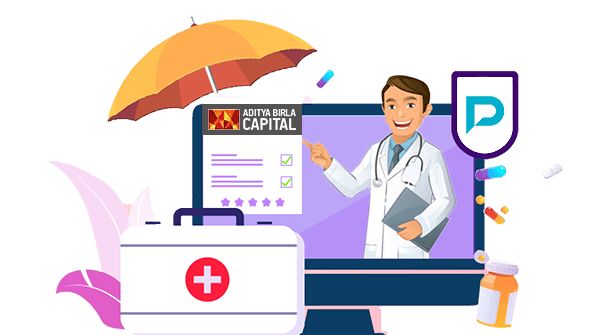 Compare

Individual Health Insurance Plans
Aditya Birla Activ Care Premier Plan
Our chances of developing medical issues increase as we age. Moreover, paying for a high-quality procedure in a respectable hospital can drain all of your savings. To assist you in handling such a situation, particularly as you approach retirement, Aditya Birla Capital offers the Activ Care Premier plan, which is one of three options available under the Aditya Birla Activ Care Plan.
Continue reading to know more about the plan in detail!
| | |
| --- | --- |
| Minimum Entry Age | 55 Years |
| Maximum Entry Age | 80 Years |
| Sum Insured Options | 5L, 7.5L, 10L, 25L |
Key Attributes Of Aditya Birla Activ Care Premier Plan
The plan provides coverage for the following expenses:
Basic Covers
Premier Plan
In-Patient Hospitalization
Covered
Room Type
Single Private AC Room
ICU
Covered Up To Sum Insured
Pre-Hospitalization Expenses
30 Days
Post-Hospitalization Expenses
60 Days
Daycare Treatment
586 Daycare Procedures Covered
Road Ambulance Cover

Network Providers: Covered

Hospitalization Up To Actual Expenses

Non-Network Providers: Up To Rs. 5000 Per Hospitalisation

Domiciliary Hospitalisation
Covered Upto Sum Insured
Organ Donor Expenses
Up To Sum Insured
Reload Of Sum Insured
100% Of Sum Insured Once A Year
Home Treatment
Sum Insured 5L & Above: Rs. 50000
AYUSH Treatment
Up To 25% Of SI
Domestic Emergency
Available
International Emergency
Available
OPD Treatment
Available Up To Rs 2500 Over & Above S.I
Benefits Offered By Aditya Birla Activ Care Premier Plan
Aditya Birla Activ Care Premier Plan offers the following benefits to the policyholder:
No Claim Bonus: If you don't file a claim during the course of your policy, you'll get 10% of the insured amount as a No Claim Bonus. 50% of the insured amount is the upper limit for the bonus.
Free Health Assessment: When the policyholder renews the plan, he/she gets a free health assessment once a year. This allows the policyholder to keep a track of his/her health status. 
Health Returns: When you stay healthy during the policy period, you can earn up to 21% of the premium as Health Returns. This will help you to save money on your premiums. 
Second E-Opinion: The plan also offers you to have second e-opinion from the company's panel of world-class medical practitioners.
Family Discount: You will get a 5% family discount on the premium paid if you opt for an individual sum insured for 2 members in the policy.
Long-Term Discount: In case you choose the policy for 2 years, you will get a long-term discount of 7.5% on the premiums paid.
Tax Benefits: As per Section 80 D of the Income Tax Act, 1961, you can save up to Rs. 50,000 as a deduction under the policy.
Optional Care Benefits: The policy provides various optional care benefits to the policyholder including, lifestyle support equipment, nursing at home, portable medical equipment, and advanced health check-up.
Co-Payment: The plan offers a 20% co-pay for all domiciliary, in-patient hospitalization, AYUSH, and daycare treatments. 
How Much Aditya Birla Activ Care Premier Plan Will Cost?
Before you decide to zero in on Aditya Birla Activ Care Premier Plan, let's check out its premium calculations so that you can have a fair idea of how much this plan will cost you!
| | | | | |
| --- | --- | --- | --- | --- |
| Name Of The Insured | Avantika Mishra | Dilip Singh | Surabhi Mishra | Johny Dahiya |
| Age Of The Insured | 55 Years | 60 Years | 65 Years | 70 Years |
| Policy Type Chosen By The Policyholder | Individual | Individual | Family Floater | Family Floater |
| Sum Insured | Rs. 10,00,000 | Rs. 5,00,000 | Rs. 25,00,000 | Rs. 7,50,000 Lakhs |
| Premium Amount | Rs. 38,632 | Rs. 30,207 | Rs. 1,19,381 | Rs. 1,37,423 |
Exclusions Under Aditya Birla Activ Care Premier Plan
The policy's permanent exclusions are listed below; it is advised that you see the policy document for a comprehensive list. The following expenditures are not covered:
Expenses related to hearing aids, spectacles, contact lenses
Treatment for baldness, wigs, and alopecia
Cosmetic and aesthetic surgeries
War, revolution, uprising
Illness, injury, or accident due to the influence of intoxicants.
Frequently Asked Questions