Cover Your Health in 5 mins
Compare Premium.
Buy Now.
* Subject To Underwriting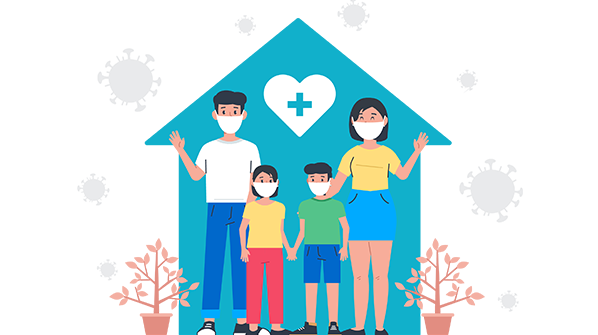 Health Insurance Plans for Women in India
Today, the term Feminism, which refers to gender equality, has gone mainstream across the country. It's past time for us to pull your socks up and give women's health and hygiene equal priority. She, who is responsible for the entire family, is also entitled to adequate health care. Never put off purchasing health insurance for women to secure entire coverage and defend the backbone of our family.
Importance of Health Insurance for the Indian Woman
Women's health insurance plans are designed to meet the special health insurance needs of women. These plans can be obtained at inexpensive health insurance rates for the sum insured, depending on the policy buyer's needs and budget. These policies protect women from a variety of medical expenses such as serious illnesses, hospitalisation, and so forth.
Cover Illness: Some illnesses, such as breast cancer and cancers of the reproductive system, are only found in women. When these illnesses occur, the costs of treatment can be rather high. Women may face financial hardship if they do not have health insurance to afford the costs of treatment, so health insurance for women that covers these specific disorders is critical.
Maternity Expenses are on the Rise: Maternity care is one of the reasons why women require more healthcare services than men. With the growth in caesarean deliveries in the country, maternity treatment expenditures have skyrocketed. The mother usually stays in the hospital for three to five days after caesarean delivery. Even in the case of routine delivery, the cost of delivery can reach Rs. 1,00,000. Health insurance coverage can assist women and their families in managing the costs of maternity care.
Tax Advantage: Aside from providing insurance coverage, having a health insurance plan allows you to save money on taxes under Section 80D of the Income Tax Act of 1961. Women under the age of 65 can get a tax deduction of Rs. 30,000.
What To Know Before Buying Health Insurance for Women?
Choosing The Appropriate Insurance Coverage Amount
When choosing a health insurance plan, the cost should be carefully considered because it covers medical bills for a year.
Consider your age; the younger you are, the lesser the amount of insurance you'll need.
To determine whether a premium is affordable, one should check his or her income levels. Add-ons are also important because they affect premium amounts. Make sure you get a sum insured that won't leave you short in an emergency and has a reasonable price.
Diseases That Affect Just Women
Women become more susceptible to ailments such as arthritis, diabetes, and abnormal blood pressure beyond the age of 40. Women are more vulnerable to bone diseases and breast cancer than men. The majority of typical health insurance plans do not cover diseases that affect women. Check to see if your health insurance covers diseases that affect women, such as breast cancer, vaginal cancer, ovarian cancer, cervical cancer, arthritis, and other conditions.
Maternity Leave Advantages
Pregnancy costs have increased in tandem with rising medical costs. Women must have a health insurance plan that includes maternity coverage. When it comes to maternity benefits, it's important to check the waiting time for claiming maternity expenditures as well as the sub-limit. Outpatient charges should also be covered by the coverage, and any policy exclusions should be checked.
Top Health Insurance Plans for Women in India
Here's the list of the health insurance plans for women in India.
1. HDFC Life Smart Woman Plan
Looking for a health insurance plan for women? If so, you can choose Life Smart Woman Plan by HDFC! This popular insurance plan is an insurance cum investment plan designed specifically for women. The plan includes benefits to help you through many phases of life, such as pregnancy, cancer treatment, and grieving the loss of a loved one. This plan ensures that your savings continue to grow as you adjust to new seasons of life and maintain your confidence in your ability to enjoy life the way you want.
Features:
Here's the list of the features of the HDFC life smart woman plan
The plan offers a sum Assured of up to 40 times your annualised premium
You can choose from 3 convenient Benefit options, including Classic, Premier and Elite
When you choose the policy, you will take the advantage of Additional periodic cash payouts under Premier and Elite Option
Premium Waiver Benefit – Waiver and payment of three annual premiums in the event of a child being born with a congenital condition or pregnancy problems, a diagnosis of cancer of the female organs, or the death of a spouse.
From the 11th year onwards, the allocation rate is increased.
Eligibility Criteria:
| | | |
| --- | --- | --- |
| Eligibility Criteria | Minimum | Maximum |
| Proposer Entry Age | 18 years | None |
| Entry Ages for Female Life to Be Assured | 18 Years | 45 Years |
| Annual Premium | ₹ 24,000 | ₹ 1,00,000 |
| Entry Ages Of Spouse For Elite Option | 21 years | 50 years |
| Age Of Risk Cessation For Spouse In Elite Option | 31 years | 60 years |
2. Bajaj Allianz Women Specific Critical Illness Insurance
If you are looking for an insurance policy for women that may cater to critical illness while keeping the cost low, look no further than Bajaj Allianz Women Specific Critical Illness Insurance.
Bajaj Allianz has created a specific women's health insurance plan, taking into account the essential illnesses and other dangers that women experience in particular. The women's Critical Illness Insurance plan protects against the danger of eight life-threatening diseases that can affect women. If they are diagnosed with a life-threatening condition, they can take advantage of the plan's benefits in the form of a guaranteed cash payment. The cash is paid in one lump sum to the insured so that she can schedule her treatment correctly.
Features:
Here is the list of the features of Bajaj Allianz Women Specific Critical Illness Insurance.
Additional benefits include coverage for a newborn baby's congenital diseases, a children's education bonus, and job loss coverage.
No-hassle in-house claim procedure.
Premiums paid are tax-free under Section 80 of the Income Tax Act.
Premium rates are extremely competitive.
Eligibility:
| | |
| --- | --- |
| Eligibility Criteria | Minimum/Maximum |
| Entry Age | Min- 21 years, Max.- 65 Years |
| Policy Period | Min: 1 year, Max: 3 years |
| Sum Insured Options | Min: Rs 50000/-, Max.: Rs 200000/- |
| Payment of Premium | Basis-Annual, Half Yearly, Quarterly or Monthly |
3. Care Joy maternity health insurance policy
Care Joy Health Insurance is a one-of-a-kind coverage that covers hospitalisation costs as well as maternity and health needs throughout pregnancy. The individuals and families planning to start a family will benefit from the scheme. The plan also covers all of the essential charges required in the event of a medical emergency, in addition to maternity care.
Features:
Here is the list of the features of Care Joy Health Insurance
Expenses incurred before and after admission to the hospital
Inpatient coverage for a single private AC room
Coverage for day-care procedures that do not need a 24-hour stay in the hospital.
Up to Rs. 1000 in ambulance coverage is offered.
Maternity coverage, as well as pre-and post-natal costs. The extent of coverage is determined by the policyholder's chosen sum insured.
The plan also covers a newborn baby up to a certain limit, which is determined by the sum insured chosen.
Eligibility:
Eligibility Criteria
Minimum
Entry Age

Minimum: Adult- 18 years, Child: 1 day, New Born: 1 Day

Maximum: Adult- 65 years, Child: 24 years, New Born: 90 Days

Policy Period
3 years
Grace Period
30 days from the date of expiry to renew the policy.
Waiting Period

· 30 days or any illness except incident

· 9 months of maternity

· 2 years for specific treatments/illnesses

· 4 years for pre-existing diseases.
4. Reliance Health Gain Policy
Finding the right woman's policy that can cover multiple medical tests with ease? If so, Reliance General offers HealthGain insurance could be an ideal option! It is a specially designed health insurance coverage for women. It offers a 15% discount to independent women and includes consultations, daycare procedures, examinations, and a variety of other costs. A lady can enjoy cashless health insurance claims across India with the HealthGain plan.
Features:
Low Premium: When you are young, the premium for a health insurance policy is substantially lower.
Tax Benefits: Under Section 80D of the Income Tax Act of 1961, health insurance is one of the finest methods to save money on taxes.
Pre-hospitalisation Coverage: Medical expenses spent before hospitalisation are covered under pre-hospitalisation coverage. You will be covered for 60 days under the HealthGain policy.
Donor Expenditures: These are expenses that the organ donor has to pay. The insurance will pay up to 50% of the base sum insured, up to a maximum of Rs. 5 lakhs/-.
Investment: If you acquire health insurance when you're young, you're more likely to get the greatest deal and have your coverage approved quickly.
Eligibility:
Eligibility Criteria
Minimum & Maximum
Age

Minimum: Dependent children can be covered from 91 days to 25 years of age under the Floater plan. Children above 5 years can be covered as an Individual with at least one member aged 18 years or above as a proposer.

Maximum: 65 Years

Individual Policy
Can cover maximum 6 members individually under the same policy
Floater Policy
Can cover maximum 6 members under the same floater = 4 (children) + 2 (adults)
Policy Tenure Discount

7.5% discount* for a 2 years policy.

Note: (Total of all discounts shall not exceed 15% in aggregate)
5. SBI Smart Women Advantage
The SBI Life Smart Women Advantage Plan is a standard, participating Endowment Assurance plan that is tailored to women's specific insurance needs. Women can profit from the plan in two ways: they can save money and they can get insurance protection. This SBI Life policy also focuses on providing financial protection to women in the event of pregnancy and childbirth problems.
Features:
Here is the list of the advantages of SBI Smart Women Advantage
Life insurance protection
In-built Premium Waiver benefit for in-force plans in the event of Major Stage CI
Regular bonuses, as well as a guaranteed sum at maturity
There are two plan options: Gold and Platinum.
Select the level of death and critical illness coverage.
Additional Pregnancy Complications and Congenital Anomalies as an option (APC&CA).
Eligibility:
Eligibility Criteria
Minimum and Maximum
Age (Base Plan)
Min- 18 years, Max- 50 years
Age (APC & CA Plan)
Min: 18 Years, Max: 35 years
Basic Sum Assured
Min- Rs. 2,00,000, Max: Rs. 10,00,000
Policy Term
10 & 15 years
Premium Frequency Loading

Half-Yearly: 51.00% of annual premium

Quarterly: 26.00% of annual premium

Monthly: 8.50% of annual premium
6. New India Asha Kiran Policy
New India Asha Kiran policy is meant for parents who have solely girl children. This policy can cover a maximum of 2 dependent daughters. If a boy is born or if a daughter or daughter becomes independent after the policy is purchased, the company will provide an option to migrate to a more appropriate health insurance coverage.
Features:
Here's the list of the features of the New India Asha Kiran Policy
11 critical ailments are covered.
The family's hospitalisation costs may be paid.
Pre- and post-hospitalization charges, critical care, organ transplantation (organ cost not included), non-allopathic treatment, and emergency ambulance expenses are all covered.
Proposer and spouse are covered by personal accident insurance.
Discount on premium if a daughter is added to the insurance.
Eligibility:
| | |
| --- | --- |
| Eligibility Criteria | Minimum & Maximum |
| Age | Min- 18 years, Max- 65 years |
| Sum Insured bands | 2, 3, 5 & 8 Lakhs. |
Tips on Choosing Best Health Insurance For Women
Are you interested in buying health insurance for women? If so, just wait for a while and consider the factors before you choose one.
Look for the appropriate insurance coverage.
Choose a health plan that covers a wide range of medical issues and includes advantages such as pre-and post-hospitalization treatment, daycare costs, transportation, and illnesses that you may be at risk of owing to your family's medical history, among others. When purchasing health insurance for your family, make sure that the policy matches the needs of each family member. Consider your criteria, compare plans based on features and pricing, and do your homework to find a plan that fits your requirements.
Check to see if the health insurance plan is within your budget.
 When it comes to choosing a health insurance plan, one of the first things to consider is affordability. While it is critical to select a plan that provides the most coverage, you must also check that it is within your budget.
One of the most important elements to consider when selecting an insurance cover is your budget. Ascertain that the premiums you pay for the coverage are affordable and do not place a financial strain on you.
Don't Forget About Maternity Coverage
Young women should think about getting health insurance that includes maternity coverage. Prenatal care has become prohibitively pricey. The high cost of hospitalisation should not discourage anyone from seeking high-quality medical treatment. Maternity health coverage will cover a variety of medical charges, including delivery fees, maternity expenses before and after hospitalisation, and newborn baby care.
Maternity health insurance is a safety net for both the mother and the child, and a woman should think about it as part of her financial planning for parenthood.
Note the Claim-to-Settlement Ratio.
One of the most crucial things to keep an eye on is a high claim settlement ratio. The total number of claims settled by the insurance provider divided by the total number of claims received is known as the claim settlement ratio.
If you purchase your policy from a company that has a high claim settlement ratio, you can rest assured that your claim will not be denied unless there is a solid reason.
Hospitalisation before and after
You go to the doctor, obtain medicines, and have tests done before being admitted to the hospital. After you've been admitted to the hospital, you'll have to pay for follow-up visits with the doctor, medications, and other costs. Choose an insurance plan that includes these features as well.
Choose a plan that may be renewed indefinitely.
When purchasing a health plan, it is important to examine how long it will cover you and whether it offers restricted renewability. Why? Because you will be most in need of a health plan as you get older. As a result, go for health policies that can be renewed indefinitely.
Frequently Asked Questions