Cover Your Health in 5 mins
Compare Premium.
Buy Now.
* Subject To Underwriting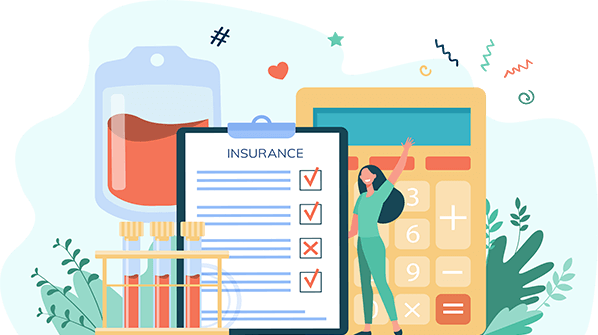 Compare

Individual Health Insurance Plans
Waiting Period In Health Insurance
Purchasing health insurance is a requirement of modern life. Despite this, many people make this purchase without fully understanding the numerous aspects of health insurance policies. The waiting period in health insurance is one such feature. Keep your doubts at bay and read on to learn everything you need to know about health insurance waiting periods.
The waiting period in health insurance plans refers to the time you must wait before receiving insurance benefits. It starts on the day the policy is issued, and the insured is not eligible for health insurance benefits during this time. The duration of the waiting period, as well as its terms and conditions, differ from one company to the next.
For example, most health insurance companies include a waiting period of 2-4 years for the maternity cover. This simply means that you need to wait for 2-4 years before you can actually get benefits from your maternity cover. 
Thus, a waiting period is a set amount of time that must pass before a claim may be filed under a health insurance policy. If you purchase health insurance on August 1 and it has a 30-day waiting period, you will be unable to file a claim during that time. You can file a claim only on the 31st of August.
Types Of Waiting Period In Health Insurance
In health insurance plans, there are various sorts of waiting periods. Read on to learn more about what they mean:
Pre-Existing Diseases (PED) Waiting Period
If you have a pre-existing disease, you must wait the required waiting period before claiming for any hospitalization or treatment associated with the condition. 
A pre-existing disease, according to the IRDAI, is any condition, ailment, injury, or disease that was diagnosed up to 48 months prior to purchasing your health insurance policy, such as diabetes, hypertension, thyroid illness, etc. Depending on your health insurer and the type of health insurance plan you choose, the waiting time for a pre-existing disease might range from one to four years.
Initial Waiting Period
The initial waiting period, often known as the cooling period, is the time you must wait before your health insurance coverage becomes active. To receive benefits from your health insurance policy, you must wait until the initial waiting period expires. 
With all health insurance policies, the industry standard for initial waiting periods is now 30 to 90 days. This means that if a person is hospitalized within the first 30-90 days of their health insurance coverage, they will not be eligible for any claim benefits from their health insurance policy. If you want to receive benefits under your health insurance plan, you must first go through an initial waiting period.
Waiting Period For Specific Diseases
Waiting periods for specific diseases mean that you will have to wait for the specified amount of time, when it comes to claiming for treatment and hospitalization related to a list of certain conditions, such as tumors, osteoporosis, hernias, cancer, strokes, ENT disorders, cardiac problems, etc. Generally, the waiting period for such diseases is from 2 to 4 years. 
Maternity Benefit & New Born Baby Cover Waiting Period
For those who are expecting a baby soon, there is an option to go for a 'Maternity & New Born Baby Cover' that most health insurance companies provide to their customers. 
Most health insurance policies have a maternity waiting period that runs from one to four years. Some health insurance companies, on the other hand, provide shorter waiting periods, but policyholders must pay higher health insurance rates to the insurance company.
Waiting Period For Bariatric Surgery
Bariatric surgery is a process in which the stomach and/or intestines are surgically removed to help a patient with severe obesity-related diseases. Those who have a BMI of over 40 and are having health difficulties as a result of it are usually surgical candidates.
In most cases, there is a 2- to a 4-year waiting period for bariatric surgery in health insurance. This means that if you want your bariatric surgery expenditures covered, you'll have to wait 2-4 years from the commencement of your insurance.
Critical Illness Waiting Period
The waiting period for health insurance policies that cover critical illnesses, such as tumors, cancer, etc. is 90 days. This means that the benefits under the insurance will only be paid if the insured is initially diagnosed with a defined critical illness after 90 days from the start of the policy period.
Waiting Period For Coronavirus
Many people are purchasing coronavirus-related health insurance plans for their families as the pandemic continues to spread. However, in order to receive the benefits of these policies, such as hospitalization and treatment, the policyholder must wait 15-30 days.
Importance Of The Waiting Period In Health Insurance
Let's take an example to consider! 
Mr. Ram, 40 years old, working as a software engineer has already been diagnosed with cancer. The doctor advised him to go through chemotherapies that he could not afford on his regular pay check. As a remedy to this problem, he purchased a health insurance plan without informing the company about his illness. 
To avoid such unethical tactics, nowadays, health insurance companies have a waiting period before which the policyholder cannot receive any benefits from their health insurance plan. Therefore, a waiting period in health insurance is implemented to prevent individuals from claiming benefits under a health insurance policy with the wrong motive.
More Details About Waiting Period In Health Insurance
The duration of any health insurance waiting period is determined by the health insurance plan you select. Your health insurance company may also recommend a waiting period based on your age, overall health, and medical conditions.
A claim may be refused if the policyholder fails to disclose a pre-existing condition at the time of policy issuance.
Various insurance companies have eliminated the waiting period for senior citizens with the help of a co-pay clause. The provision of co-pay states that the policyholder will be responsible for a portion of the claim amount. Therefore, if the claim amount is Rs. 2 lakhs and the co-pay is 40%, the policyholder will be responsible for Rs. 80,000. 
In case the insured contracts a disease during the waiting period for the first time, the insurance will cover the cost of the disease and the waiting period will not be applicable.
Frequently Asked Questions