Cover Your Health in 5 mins
Compare Premium.
Buy Now.
* Subject To Underwriting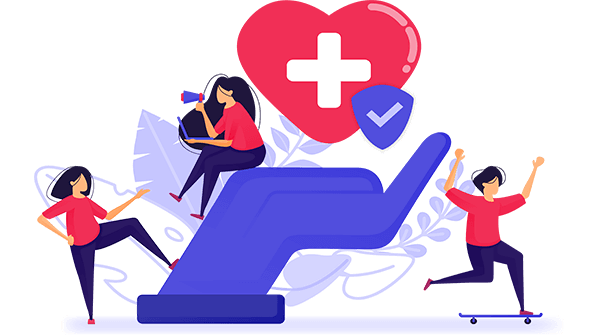 Compare

Individual Health Insurance Plans
Is Omicron Variant Covered Under Your Health Insurance Coverage?
Just as people were easing back into their lives with COVID-19 vaccines, a new coronavirus variant known as 'Omicron' raised its head again. Also known as B. 1. 1. 529, the omicron variant was first identified in South Africa. As the variant contains more than 30 mutations, it is more contagious than the previous Delta variant. 
More than 50 countries have confirmed the cases of this new variant and the number is expected to rise, according to WHO. India now has at least 171 omicron cases. As the infection is likely to increase, WHO has already warned of the rise in the rate of hospitalization. 
While keeping the catastrophic second wave in mind, one of the prominent questions that are lingering in the minds of people is whether or not the omicron variant is covered under health insurance plans. If you already have health insurance, it's a good idea to double-check it to be sure you're protected in the event of an emergency.
Is Omicron Variant Covered?
The majority of health insurance plans that cover COVID-19 also cover its variants under the same umbrella. Any new COVID variants, including omicron, are covered by health insurance coverages that are tailored specifically for COVID sufferers. This is due to the fact that novel variants of COVID-19 all belong to the same disease. 
Just as importantly, the Insurance Regulatory and Development Authority of India (IRDAI) has directed that all existing health insurance plans must cover COVID-19, regardless of its versions. Simply put, if a person has health insurance before being diagnosed with the omicron virus, the insurance company will cover all of his or her treatment costs.
Benefits For Availing Health Insurance Against The Threat Of Omicron Virus
The past two years have taught us that why it is important to avail health insurance against COVID-19 variants. Everyone is at risk during this pandemic, and because the illness is still new to the world, treatment is currently being developed and optimized. Health insurance is quite vital at this time, and the following reasons will emphasize why.
Protection Against COVID-19 Variants: Choosing the health insurance plans would provide comprehensive protection against COVID-19 and its related variants that might emerge in the future.
Saves From High ICU Costs: One of the difficulties with COVID-19 treatment is that a large number of hospitalized cases eventually require critical care and ventilator support. Without a proper health insurance plan, both of these are scarce and expensive, rapidly driving treatment costs higher.
Protection Against Expensive Supplies: Even when critical care is not required at the hospital, general treatment of COVID-19 requires the availability of expensive protective gears, such as gloves, masks, etc. The final bill could still be in the lakhs of rupees without a health insurance policy.
Emergency Coverage: When oxygen levels drop suddenly, it's common to need to be admitted to the hospital right away. Ambulance coverage included in a healthcare plan might be a lifesaver in such situations.
Income Benefits: Some healthcare plans include income benefits that might assist families in coping with financial hardships caused by unemployment (due to hospitalization) as a result of the pandemic.
What Expenses Are Covered Under Omicron Variant Cover?
Some of the most common expenses covered by the omicron variant cover are as follows:
Pre-Hospitalization Expenses: Medical costs incurred by the insured before admission to a hospital are known as pre-hospitalization expenses.
Post-Hospitalization Expenses: Medical fees incurred after being discharged from the hospital are known as post-hospitalization expenses.
AYUSH Treatment: Ayurveda, Yoga, Unani, Siddha, and Homeopathy are all part of the AYUSH treatment. Under AYUSH, a person can be covered for any of these alternative treatments to allopathic medicine.
Home Treatment Expenses: In case the insured need not be treated at home and doesn't require hospitalization due to COVID-19, many health insurance plans cover home treatment expenses.
Road Ambulance Expenses: Expenses for transporting the insured individual from home to hospital or from one hospital to another hospital are also covered under the health insurance plans against COVID-19.
Day Care Procedures: In case there is a surgery or medical procedure that used to necessitate a lengthy stay in the hospital but can now be finished in under 24 hours, health insurance plans cover them too.
Daily Hospital Cash: In the event of hospitalization, a daily hospital cash benefit gives a lump sum payment that can be spent as needed by the insured.
Organ Donor Expenses: The fees incurred by an organ donor are reimbursed by some health insurance plans.
Frequently Asked Questions