Cover Your Health in 5 mins
Compare Premium.
Buy Now.
* Subject To Underwriting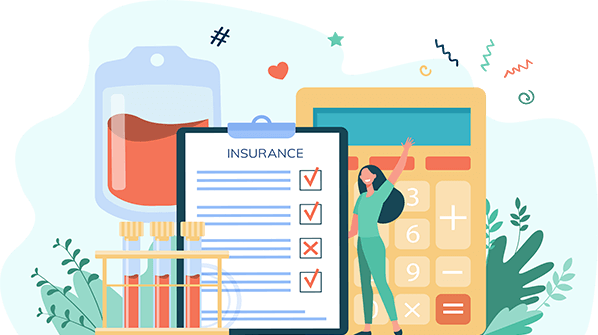 Compare

Individual Health Insurance Plans
Health Insurance OPD Cover
It is not necessary that every injury or illness necessitates admission to the hospital. There are some common injuries, such as dislocated bones and sprained ankles, which do not require hospitalization. In such cases, an OPD (Outpatient Department) appointment can be taken that lasts for at least 24 hours and does not need to admit the patient to the hospital for longer than that. 
Despite the fact that in-patient care expenditures are often greater, outpatient costs can add up over time and burn a hole in your wallet. With escalating healthcare costs, it's a good idea to have a medical insurance plan that includes outpatient care. This article explains the meaning, features, advantages, and more of OPD coverage in health insurance.
What Is An OPD Cover In Health Insurance?
Many illnesses and ailments may not necessitate hospitalization and can be cured by contacting a doctor without having to stay at the hospital. You might need to go to the OPD to address a minor illness or injury, for example. In such scenarios, you may go to the hospital's OPD to have a doctor diagnose your condition and purchase medications for the treatment of the problem. 
The OPD cover is a type of health insurance that covers the cost of outpatient care. With OPD coverage, the policyholder may rest assured that any medical expenses incurred outside of the hospital will be reimbursed. The OPD coverage is available as an add-on benefit in most health insurance plans.
Key Features Of OPD Cover In Health Insurance
The following are some of the important features of OPD coverage in health insurance:
Higher Tax Benefits: OPD charges are often covered at a higher tax benefit than normal health insurance. The claim amount acquired from this policy is also eligible for tax relief, in addition to the premium payments paid.
Multiple Claims During Same Year: Because OPD expenses occur at different times throughout the year, it is possible to file multiple claims in an OPD policy during the same year.
Wide Range Of Coverage: This policy includes prescription pharmaceuticals and over-the-counter treatments. This coverage can help people who need to take medications on a regular basis save money.
Sub-Limits: There is usually a sub-limit for various routine medical expenses in typical health insurance policies with OPD coverage.
What Are The Benefits Of OPD Cover In Health Insurance?
Because most of the time we face minor health problems, having OPD coverage in health insurance has various advantages. So, let us go over the advantages in detail:
Wide Range Of Clinics: You gain access to a wide range of clinics as well as hospitals with a consultation room if you buy health insurance with OPD coverage.
Claim Pharmacy Bills: You may be able to claim pharmacy bills and medicine costs under your health insurance with OPD coverage, depending on your insurance provider.
Covers Minor Surgical Procedures: Specific minor surgical procedures that do not necessitate a 24-hour hospital stay can be covered under OPD coverage.
Beneficial For Frequently Visiting Individuals: It's ideal for people who need to go to outpatient consultations on a regular basis for things like simple viral fever, eye tests, and so on. Individuals with pre-existing medical conditions such as thyroid, asthma, arthritis, and others who require frequent medical advice will also benefit from it.
Claim Other OPD Expenses: Apart from the cost of hospitalization, you can claim other OPD expenditures incurred during the insurance period.
Who Should Choose OPD Cover In Health Insurance?
OPD coverage in health insurance plans is beneficial for people who want to expand their primary plan's coverage beyond hospitalization coverage. If you fall into any of the three categories, a health insurance plan with OPD cover is a good idea.
Individual Between 25 To 40 Years Of Age: If you are between the age of 25 to 40 years, you may need more out-patient treatments than in-patient hospitalization.
Individuals Who Are Above 60 Years Of Age: If you are above 60 years of age, you may require OPD treatment for minor cases, such as root canal treatment, minor surgeries, etc.
Fitness Enthusiasts: For those who have workout-related injuries should consider going for OPC coverage rather than in-patient services.
Covered & What's Not Covered Under OPD In Health Insurance
The following things are covered under the OPD in a health insurance policy:
Consultation Expenses: All consultation fees incurred by the medical practitioner during the examination to assess one's health are reimbursed. 
Diagnostic fees: These fees cover medical procedures such as blood testing, X-rays, and scans, among others. The majority of them are performed at a diagnostic center to confirm the diagnosis of an ailment. Expenses such as pharmaceuticals and prescriptions are also covered by the OPD.
Minor Surgical Procedures: Minor surgical procedures such as POs, accident dressings, and animal bites do not require hospitalization and are covered by the coverage.
Fractures: In most circumstances, a fracture does not necessitate hospitalization. They do, however, require expert assistance in the majority of cases. Having OPD coverage is therefore an added benefit at these times.
Pharmacy Expenses: The expenses occurring due to the purchase of required medicines from a pharmacy store are also covered under the OPD coverage. 
Here are the exclusions of OPD coverage in health insurance:
Expenses occurring due to the treatments for beautification, purification, detoxification, etc.
Costs associated with infertility, sterility, and various other related conditions.
Complications due to pregnancy or miscarriage.
Routine examination.
Treatments availed for pleasure, rejuvenation, etc.
OPD treatment outside the country.
Cost of hearing aids, spectacles, lenses, implants, braces, etc.
Vaccination costs, except after the case of animal bite treatment, such as dog bite.
Dental treatment.
Claim Settlement Process For OPD Cover In Health Insurance
For OPD expenses, there are two alternative ways to file a claim. Let's take a closer look:
Reimbursement Claim: After obtaining OPD treatment, the insured must send the bills and supporting documentation to the insurer. The claim amount will be reimbursed to the policyholder's account once the insurer has verified all of the papers.
Cashless Claim: By requesting a cashless claim, the policyholder can receive OPD care at any of the insurance company's network hospitals. The claim will be settled by the company directly with the hospital.
Frequently Asked Questions