Cover Your Health in 5 mins
Compare Premium.
Buy Now.
* Subject To Underwriting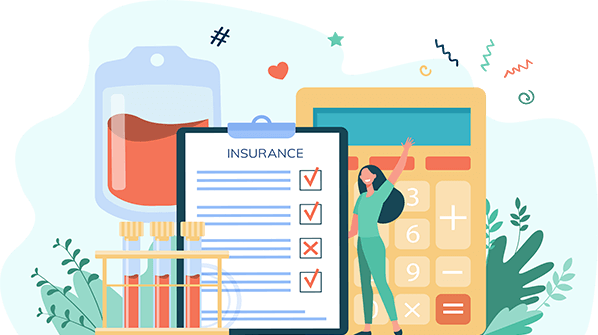 Compare

Individual Health Insurance Plans
How To Port Health Insurance Policy Online?
The last time you heard the word portability was probably when you were considering switching your telecom network service providers; however, you'll be pleased to learn that not only telecom network services, but also health insurance may be easily transferred from one insurer to another. When you switch your health insurance policy from one company to another, you don't have to give up any of your benefits. 
In the past, such a move would have resulted in you losing your health insurance benefits. You can now port from one insurer to another under the new IRDAI (Insurance Regulatory and Development Authority) guidelines, and you preserve the right to transfer the credits you've earned so far with your current insurance. This holds true not only when switching insurers, but also when switching plans within the same insurer.
Let's know more about the portability feature in health insurance policies!
What Is Health Insurance Portability?
Health Insurance Portability refers to the ability to switch from one insurance company to another without losing benefits. If you believe your current health insurance isn't good for you and want to be covered by another company's health insurance, you can port it if you haven't had any gaps in your previous plans with the other insurer. When someone wishes to port their insurance policy, they should contact a new health insurance company 45-60 days before the current insurance plan expires.
Benefits Of Porting A Health Insurance Plan
When it comes to the benefits of health insurance portability, we have –
Benefits Will Be Continued: If you switch insurers, you will continue to get the benefits of your previous plan. Furthermore, when requesting portability, you won't have to worry about time-bound exclusions.
Lower Premiums: Due to the great level of competition among insurance companies, you are more than likely to receive all of the advantages of your current coverage at lower premiums.
Transparency: You can always switch to a provider who provides transparent services and policies, with no hidden terms or limitations. It also assures that no additional or unauthorized charges are imposed in the future.
Better Service: One of the main reasons for switching health insurance policies is the improved service. You might choose an insurer that provides excellent customer service and pays close attention to its clients.
Customization: A health insurance portability's customization option allows you to tailor the policy to your own health and lifestyle needs. Adding more nominations, opting for a second cover, and other options are examples.
Faster Claim Settlement: If your current insurance provider's claim settlement process is slow enough to put you in a financial bind, you can always switch to one that reimburses claim amounts promptly.
How Does Health Insurance Portability Work?
Let's understand the functioning of health insurance portability with an example!
Mr. Mukesh, 30 years old, was seeking a new age health insurance plan with advanced coverage. His present health insurance plan didn't provide enough coverage, and he felt the need to switch to a plan that would cover him according to his current medical needs. As a result, he made the decision to switch his policy to another insurer in order to receive updated benefits that were created with contemporary medical needs in mind. This was never an option before, but thanks to IRDAI's excellent guidelines, he can easily transfer to a new health insurance provider and continue his old healthcare coverage with a new insurer that offers superior benefits.
Reasons To Port Health Insurance Policy
Take a look at some of the most typical reasons why a policyholder would choose to port their health insurance:
Poor Service Quality: If your health insurance provider fails to deliver on its promises, it's time to switch. Companies may frequently fail to deliver on quality assurances, thus holding on to them is pointless.
Slow Claim Settlement: If your provider has a history of slow claim settlements, it may be time to look for a new provider.
Hidden Clauses & Conditions: When it comes to insurance companies, transparency isn't the first thing that comes to mind. During an emergency, hidden clauses can be a huge issue, so it's best to switch to a provider who is open and honest, with no hidden clauses and conditions.
Insufficient Coverage: Your current health insurance provider may not give adequate coverage for specific health conditions that you are concerned about. It may be time to switch to a service provider that can meet all of your needs in such scenarios.
Better Offerings: If you're paying extravagant prices for services that can be had for less at another company, it might be time to switch. Because of the fierce competition, you can get more value for money and get some fantastic offers.
Steps To Port Health Insurance Policy Online
If you want your insurance coverage ported, you must take the following steps:
Select A New Insurance Company: To choose a new insurance company, start by searching online for available insurance that is better than the current policy or provides additional advantages for the same price. The best insurance coverage available should be chosen for the new policy.
Applying Process: The next step is to apply for a new insurance policy. The consumer can quickly fill out the application online. To make it work, they must complete the application for porting 45-60 days prior to the insurance policy's expiration date.
Fill Out The Portability Form: After completing the application form, the consumer must complete the portability and proposal forms provided by the new insurance providers.
Select A Suitable Plan: After filling out the portability form, you will need to select a suitable health insurance plan from the new insurance provider.
Verifying Information: This is maybe the most important stage in the porting process. The consumer's information is confirmed with the new insurance company, and if any errors or erroneous information is found, the portability request may be denied. The consumer's overall health is assessed once their medical history is verified, and they are then qualified for the insurance coverage.
Exchange Of Information: This procedure entails the transfer of insurance information from the former insurance company to the new insurance company. The Insurance Regulatory and Development Authority (IRDIA) portal mandates that this be done.
Framing The Proposal: Following satisfactory verification of the customer's information, the new insurance company forms and drafts the proposal, which includes information about the proposer and the life assured such as name, age, address, education, and employment.
Acceptance Of Portability Request: Once the above procedures are completed, the new insurance company will either accept or reject your portability request.
Documents Required For Porting Health Insurance Policy
You must contact your current and former insurers to determine the specific set of documentation required for the policy moving process. To begin the procedure, you may be required to submit the following documents:
IRDA portability form
Proposal form
Identity proof
Address proof
Insurance policy
Documents related to medical history
Claim history (if applicable)
Declaration of no claims, if applicable
Conditions For Porting Health Insurance Policy
The IRDAI has set rules for health insurance portability that must be followed by both policyholders and insurers. Let's have a look at some of them:
There are no porting charges included in porting of a health insurance policy.
Only policies that are identical in nature can be ported. For example, you can port from one top-up plan to another top-up plan.
Only during the current policy renewal period is health insurance portability allowed. It is not possible to do so in between policy periods.
To take advantage of the portability feature, policyholders must renew their health policies without interruption.
People who seek to transfer their health insurance must notify their existing insurance company in writing of their decision, as well as the company to which they wish to port.
Policyholders should also submit a portability request to their insurance provider at least 45 days before their current policy expires.
Within three days of receiving a portability application, health insurance carriers must accept it.
If the porting is still in progress or the new insurer's decision is still waiting, applicants are given a 30-day grace period to renew their policies.
Things To Consider Before Porting Health Insurance Policy
Here are some of the things that you should always take into account before porting your health insurance policy:
Examine ICR & CSR: Make sure to look for ICR (Incurred Claim Ratio) and CSR (Claim Settlement Ratio) of the new insurance company. This is because you would not like to end up porting to an insurance company whose claim settlement process is not that fast.
Evaluate Features & Benefits: Analyze and evaluate the features and benefits of the new health insurance policy, such as waiting period, premium amount, etc.
Look For Conditions: Look for any terms and conditions that your new health insurance company might put in front of you for porting to their health insurance plan.
Take Time To Research: It is very important to give enough time for researching the best available health insurance plans for porting. Therefore, research well and port to the best plan for better benefits.
Frequently Asked Questions