Cover Your Health in 5 mins
Compare Premium.
Buy Now.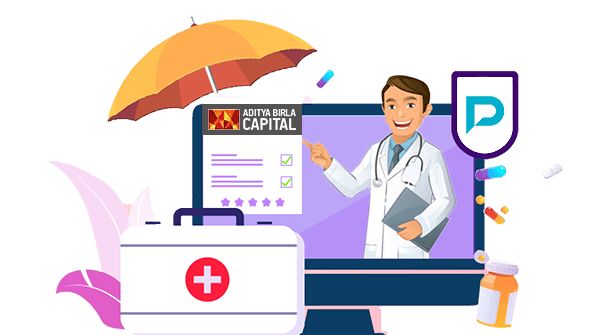 Compare

Individual Health Insurance Plans
Aditya Birla Activ Fit Plan
Specifically created for the needs of young people, the Aditya Birla Activ Fit health insurance plan protects you at all pertinent times and rewards you for maintaining a healthy, active lifestyle. With the Aditya Birla Activ Plan, you will receive a variety of features and advantages, such as an upfront good health discount of up to 10% based on classification under good health risk, up to 50% Health Returns on remaining active, 100% sum insured refill, maternity cover, in-patient hospitalization, and many more.
The plan encourages people to maintain a healthy lifestyle and provides insurance coverage for hospitalisation, maternity costs, ambulance services, and treatments received at home. The plan also includes enticing benefits like the ability to binge refill from day one, a health check-up program, EMI protection, a premium waiver, etc.
Read on to know more about Aditya Birla Activ Fit Plan in detail!
Here are the eligibility criteria for Aditya Birla Activ Fit Plan.
Parameters
Details
Age

Minimum age at entry

For adults- 18 years

For children is 5 years.

Maximum age- 45 years.

Policy Tenure
1, 2, and 3 Years
Sum Insured

5 Lac, 7 Lac, 10 Lacs, 15 Lacs, 20 Lacs, 25 Lacs, 30 Lacs, 40 Lacs,

50 Lacs, 75 Lacs, 1 Cr

Policy Type
Individual, Multi Individual & Family Floater
Instant Early Bird Discount
10%
Features and Benefits of Aditya Birla Activ Fit Plan
Here are the key features and benefits of considering Aditya Birla Activ Fit Plan that you should know. 
Upfront Good Health Discount
If the customer (18 years of age or older) completes the Health Risk Assessment at the time of purchasing the first policy from the company, the plan will offer an upfront 10% discount for good health.
Early Bird Discount
Take advantage of the Early Bird Discount, which is available if the insured person is under 35 years old when the first policy is initiated.
Binge Refill
If the Sum Insured, along with any accrued No Claim Bonuses and Super No Claim Bonuses, is completely depleted or is not enough to cover a claim due to prior claims, the plan will allow for a refill of the Sum Insured an unlimited number of times during the Policy Year.
Maternity Benefit
Obtain coverage for pre-and postnatal care, newborn costs, immunisations, and stem cell preservation.
Travel Protect
Optional coverage for a set payment if check-in luggage is lost entirely or is delayed, along with trips that are interrupted, delayed, or miss their connections.
Pre & Post Hospitalisation Medical Expenses
Before or after being hospitalised, you might have to pay for consultations, medications, or diagnostic tests. These expenses will be covered for up to 180 days following your discharge from the hospital where the hospitalisation claim was approved by the company, as well as for up to 90 days before your hospitalisation.
Home Treatment
You may receive cashless home care treatment costs for any illnesses or injuries up to the Sum Insured. This can only be accessed through the network provider or authorised service provider designated by the company to provide such a service.
Organ Donor Expenses
Up to the Sum Insured, the plan will pay for the medical costs associated with organ donation and transplantation as well as the costs associated with organ transplant surgeries.
OPD Expenses
The plan provides coverage for medical costs related to any illness or injury that occurred during the policy period for outpatient consultation. These services must only be offered cashlessly through the Empanelled Service Provider in the designated cities.
AYUSH Cover
Your in-patient hospitalisation costs for receiving AYUSH (Ayurveda, Yoga and Naturopathy, Unani, Siddha, and Homoeopathy) treatment will be covered by the plan. Charges that are reasonable and customary will be reimbursed under the plan.
Domiciliary Hospitalisation
The plan provides coverage up to the Sum Insured for medical care received at home for a length of time exceeding at least three days that would have required hospitalisation.
Tax Benefits
Under Section 80D of the Income Tax Act of 1961, tax deductions may also be made for the premium paid to purchase an Aditya Birla Activ Fit plan.
EMI Protection
If an insured person is hospitalised and the claim is admissible under In-patient Hospitalisation, the company will pay 3 EMIs towards any current loan account.
Domicilary Hospitalisation
Protects the Sum Insured for medical care that would have required hospitalization but was instead provided at home for a period longer than three days straight.
Exclusions Under the Aditya Birla Activ Fit plan
Each insured person will be subject to their waiting periods and permanent exclusions, and claims will be evaluated accordingly. We shall not be obligated to provide any payment under this Policy for any of the following, whether caused directly or indirectly, resulting from such causes or arising out of such causes;
Treatment for alcoholism, drug abuse, or any other addictive condition, as well as its effects.
Treatments received at spas, health hydros, and other similar facilities.
Substances and dietary supplements that are available over the counter.
Hazardous or Adventure sports.
Cosmetic or plastic Surgery
Change-of-Gender treatments
Obesity/ Weight Control
Rest Cure, rehabilitation, and respite care
Behavioral Exclusions
suicide or attempted suicide, purposeful self-harm;
Unlawful conduct by the insured individuals
Any treatment for injuries brought on by drinking alcohol or using other intoxicants, as well as their abuse
the use of drugs (other than those taken as part of a medical professional-prescribed and-directed treatment plan but not to treat drug addiction).
Medical Exclusions
Every standard checkup and preventative healthcare examination
circumcisions (except when required by illness or injury and included in the course of treatment);
Conditions that could have been treated without requiring hospitalization on an outpatient basis (c).
Any physical, psychiatric, or psychological examinations or testing; preventive care; vaccination, including immunization and inoculation; and post-bite treatment, if applicable.
Admission for nutritional and electrolyte supplements unless the attending medical practitioner certifies that they are necessary as a direct result of another claim that is otherwise covered.
External congenital diseases, defects, or anomalies.
Surgery, growth hormone therapy, hormone replacement therapy, or stem cell therapy (except hematopoietic stem cells for bone marrow transplant for haematological conditions).
Activities and Profession Exclusions
Treatment received from a person who is not a registered medical practitioner with any state medical council or the Indian Medical Council.
Treatment costs or fees billed by any medical professional acting outside the parameters of the license or registration that any medical council has granted him.
Treatments provided by a medical professional who is a member of the insured person's immediate family or resides in the same home as him, unless the company has previously given its approval.
Premium Illustration Of Aditya Birla Activ Fit Insurance Plan
Let's take an example to understand!
Mr. Dilip Ahuja looking to buy a plan that can protect him from health ailments in the future. Since his cousin expired at a very young age, he decided to keep himself fit and active. After getting abundant suggestions and conducting thorough research, he stumbled upon Aditya Birla Activ Fit Insurance. Currently, he lives in the New Delhi area with his family. Here is the premium illustration according to his age and premium amount.
| | | | |
| --- | --- | --- | --- |
| No. of Adults | Age | Pre-Existing Conditions | Premium Amount |
| 1 | 30 Years | No | Rs. 8, 732 (Including GST) |
| 1 | 40 Years | No | Rs. 10,737 (Including GST) |
| 1 | 45 Years | No | Rs. 13, 691 (Including GST) |
How To Buy the Aditya Birla Activ Fit Plan?
An insurance policy for health care serves as a reliable source of funding in times of need. Your financial situation may suffer significantly as a result of the costs of critical illnesses. You can receive substantial financial protection from a health insurance plan like the Aditya Birla Activ Fit Plan, which can pay for the costs of medical care in India. If you are looking to buy Aditya Birla Activ Fit Plan, you will need to follow the steps mentioned below:
Step 1: To start, use your laptop or smartphone to access the official Aditya Birla Capital.
Step 2: Then, you will need to find "Protecting" in the middle. You can easily see "Health Insurance" in the list. Then, click on it.
Step 3: After that, you will see a range of health insurance plans on the screen. Find "Activ Fit". Then, you will need to click on "View Plan".
Step 4: You can calculate the premium by entering your mobile number in the "Get a Free Quote" box on the plan page. Enter your mobile number after that, and then click "Calculate Premium" to proceed.
Step 5: Then, the plan page will open. After that, you will need to click on "Get a Quote".
Step 6: Once you click on it, you will see a new page asking you to select the person you want to cover, and enter your age, mobile number, and mobile number. Ensure all the entered details are correct. Then, click on "Buy Product".
Step 7: After that, you will see the premium amount that you will need to pay if you buy the policy. If you are satisfied with your policy, then you need to click on "Buy Plan". Once you click, you will see a new page asking you to select your policy tenure, sum insured, age, gender, and more. Also, if you want additional cover, then you will need to select the ones that you will need in your plan.
Step 8: Once you are done with everything, click on the "Proceed" button in red colour at the bottom.
Step 9: After that, you need to select your ID type, first name, middle name, last name, date of birth, address, city, marital status, select your nationality, and more. Once you are done entering the details, then click on "Save and Continue".
Step 10: Verify the information you provided is accurate to prevent future misunderstandings.
Step 11: Once all the information has been verified, you must pay for the insurance policy online with Nett Banking, a credit card, or a debit card.
How to File a Claim for Activ Birla Activ Fit Plan?
The only goal of an Aditya Birla Activ Fit plan is to cover the cost of healthcare services. To obtain this financial assistance when needed, a health insurance claim must be filed. Two different kinds of Aditya Birla Activ Fit health insurance claims may be made by a policyholder. These are:
1. Cashless Claims:
The following is the step-by-step process to submit a cashless claim under the Aditya Birla Activ Fit plan:
Step 1: Obtain admission to a hospital affiliated with your insurance provider, then get in touch with the facility's insurance help desk.
Step 2: Present your insurance company's health card as proof of identity.
Step 3: You will receive a pre-authorization form from the hospital and have your identity confirmed by the facility.
Step 4: Complete and turn in the pre-authorization form at the insurance desk.
Step 5: Your Aditya Birla insurance company will receive the pre-authorization form from the network hospital.
Step 6: According to the terms and conditions of your health insurance policy, the insurance company will examine your pre-authorization request along with the submitted documents and approve your cashless claim. To facilitate the authorization process for cashless claims, some insurers will also assign a field physician.
Step 7: Pay for any medical costs that are not covered by your health insurance at the time of discharge.
Step 8: According to the terms and conditions of your policy, your insurance provider will make a direct payment to the hospital for the amount of the claim.
Reimbursement Claim Settlement Process
Follow the steps given below to raise a reimbursement claim under the Aditya Birla Activ Fit plan:
Step 1: As soon as possible, let your Aditya Birla health insurance company know that you are in the hospital.
Step 2: Attend a hospital for treatment
Step 3: Pay all hospital bills upon discharge and gather all paperwork.
Step 4: Send all the necessary paperwork to Aditya Birla.
Step 5: Aditya Birla Group will examine all the supporting documentation and handle the claim by your health insurance policy's terms and conditions.
Step 6: The claim amount will be paid to you after your claim has been approved.
Documents Required for Filing Reimbursement Claim:
Listed below are the documents needed for filing a reimbursement claim for your Active Fit Plan by Aditya Birla.
Original Hospital Discharge Summary
Investigation Reports like scans, X-rays, blood reports, etc
Cash Receipts from Hospitals
If an accident happens, then FIR or medico-legal certificate (MLC)
Doctor's Consultation Papers and Pre-Admission Investigations
Contact Info, NEFT details
Invoices of pharmacy supported by respective prescriptions.
How to Renew Your Aditya Birla Activ Fit Policy?
You will have the choice to change the coverage itself, add more coverage, or alter the plan's sum insured when renewing. However, if you don't renew the policy right away, it will expire. Any claims for hospitalization or medical emergencies during this time will be denied if the policy's coverage has ended because you won't be eligible for any health benefits.
If you don't know how to renew it, here are the steps to renew your Aditya Birla Activ Fit Policy.
The first thing you should do is visit the official website of Aditya Birla Activ Fit.
Then, you will need to find "Protecting" in the middle. You can easily see "Health Insurance" in the list. Then, click on it.
After that, a page will open wherein you will need to find "My Account" on the top. Hover over it and then click on "Renew Policy" in the list.
Then, you will see a page asking you to enter your policy number and date of birth. Alternatively, you can enter your mobile number to proceed with the renewal process.
Following that, your policy's specifics will show up. Before using a credit card, debit card, or net banking to make the payment, double-check that the information is correct.
Your Aditya Birla Activ Fit will be renewed after you complete these steps.
Frequently Asked Questions