Cover Your Health in 5 mins
Compare Premium.
Buy Now.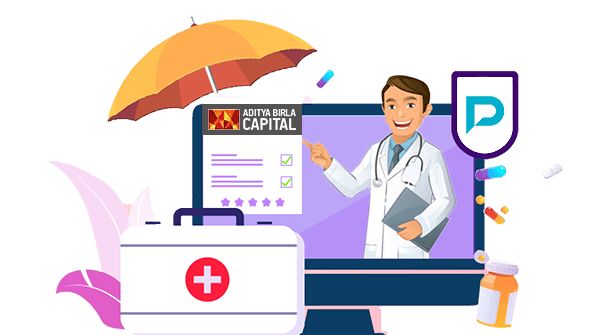 Compare

Individual Health Insurance Plans
Aditya Birla Activ Health Platinum Plan
Health insurance plans promise to give you and your family protection and security against the ailments and health risks that you or your family may face. Due to its nature, it is one of the most popular and important insurance products. to give you maximum financial security against health risk Aditya Birla Health Insurance Company has come up with three different plans, Activ Health Platinum Enhanced, Essential, and Premiere, which share many similar benefits and facilities. These plans are designed to not only just protect you but also to enrich you in your journey towards well-being as these plans offer many unique advantages that the usual standard health insurance plans lack. For this, these plans are gaining popularity among consumers and have become an important part of the health insurance market. To know more about these plans in detail, have a look at the following mentions.
Parameters
Activ Health Platinum Enhanced
Activ Health Platinum Essential
Activ Health Platinum Premiere
Minimum entry age

Family floater policy: Dependent child – 91 days,

Adult – 18 years, Individual policy: 5 years

Maximum entry age
No upper limit
No upper limit
65 years
Relationships covered

Family floater policy – Self, legally married spouse, dependent children up to 3 (natural or legally adopted),

Individual policy – Self, legally married spouse, children, parents, parents-in-law, brother, sister, nephew, niece, sister, brother, grandparents, grandchildren, son-in-law, daughter-in-law, brother-in-law, and sister-in-law.

Policy tenure
1, 2, and 3 years
Waiting period

Initial – 30 days (Not applicable in case of an accident)

For specified diseases or procedures – 24 months.

For pre-existing diseases – 36 months

Cashless facility
Available
Healthcare network

6000+ network hospitals in more than 650 cities spread all over the country.

800+ fitness centers including gyms, yoga, dance classes, and more
Features & Benefits Of Activ Health Platinum Plan
These three plans have come up with a sack full of benefits and facilities that can cater to your medical needs. the following table details the advantages of these three plans. Have a look.
Parameters
Activ Health Platinum Enhanced
Activ Health Platinum Essential
Activ Health Platinum Premiere
In-patient hospitalization
If your health condition requires hospitalization for more than 24 hours, the policy covers expenses such as room rent, doctor's fees, operation theatre expenses, medicines, drugs, and other consumables. You will also get a choice to select your room category in the hospital.
Pre-hospitalization medical expenses
60 days
30 days
60 days
Post-hospitalization medical expenses
60 days
Day care treatment
Covered
Domiciliary hospitalization
Covers medical expenses for treatments at home for a period exceeding three consecutive days which would otherwise have necessitated hospitalization
Road ambulance cover
The policy will cover the expenses incurred due to emergency transportation of the patient
AYUSH in-patient Hospitalization
Covered
Health check-up program
The company provides a free health check-up for each adult once in a policy year customized to the life stage you are in
Organ donor expenses
Covered
Obesity treatment
It covered the medical expenses for bariatric surgery. However, prior approval has to be taken from the company, and the patient has to be of the age 18 years or above.
Second e-opinion on critical illness
In case of critical illness such as cancer, kidney failure, etc. the policy provides you with a second e-opinion through a consortium of a well qualified international specialist.
Mental illness hospitalization
Up to the sum insured
Homecare treatment expenses
It is covered up to the sum insured for illnesses or injuries such as chemotherapy, dengue, gastroenteritis, hepatitis, and peritoneal dialysis on a cashless basis.
Chronic management program
The company provides expert health coach who designs a special program to control chronic illnesses like diabetes, hypertension, high cholesterol, asthma,
Health assessment
It measures MER including BMI, BP, HWR, smoking status, blood sugar, and total cholesterol.
OPD cover
The policy will cover medically required consultations, visit(s) to a recognized medical practitioner, and diagnostic tests which are incurred on an out-patient basis at the network providers of the company.
Not available
Available, and same as the Enhanced Plan.
Premium waiver
To fight against the financial crisis, you can avail of a policy year premium waiver, for the detection of listed illnesses for adults aged 18 years and above. This facility can be taken only once in the lifetime of the policy.
Not available
Available, and same as the Enhanced Plan.
HealthReturnsTM
The policy rewards you for staying fit and healthy, and these awards are accumulated in the form of health returns.
Cumulative bonus
You can get up to a 50% increase in your sum insured without an associated increase in premium that is subject to the maximum limit of 100% of the sum insured.
Modern treatment methods and advancements in technology
Modern treatment methods such as robotic surgeries, oral chemotherapy, stem cell therapy, etc. are covered as a part of in-patient hospitalization or day care procedure.
Hospital cash benefit
For each day that you get hospitalized, you get an added benefit of a per day allowance with the policy. A deductible of 24 hours will apply under this benefit. It will be paid for a maximum limit of 30 days in a policy year and 10 days for each claim. You can choose the amount of Rs. 500 to Rs. 5000 based on your needs. it is an optional cover.
Not available
International coverage for major illness
The plan covers planned in-patient hospitalization expenses for 16 major listed illnesses. This benefit is applicable only for the insured person who is an Indian citizen residing in India, and with a base sum insured of Rs. 10 lakhs and above. You can get covered for the sum insured Rs. 3 crores and Rs. 6 crores. This is an optional cover
Critical illness cover
20 listed critical illnesses are covered. A short survival period of 15 days is required following the initial diagnosis of a critical illness.
Personal accident cover
This is an optional cover. The payout will be as per the sum insured. Both accidental death and permanent total disability are covered.
Dental consultation and investigation
You can avail of cashless dental consultation and investigation services at the network providers of the insurer. This covers comprehensive oral evaluation, oral prophylaxis, and the cost of X-rays. All these services will be availed of on a single appointment scheduled by the company.
Not available
Available, and same as the Enhanced Plan.
Super re-load
Not available
The policy will provide for a reload of the sum insured, unlimited times during the policy year, for same and unrelated treatments, only in case the sum insured is insufficient for covering a claim under the policy
Post-hospitalization physiotherapy
Not available
This facility can be availed of on a reimbursement basis. For this, you need a written prescription of physiotherapy by the treating medical practitioner as a medically necessary treatment.
General Exclusions of The Three Plans
Understanding a policy is not complete if you do not go through its exclusions of it thoroughly. Therefore, to give you a comprehensive idea and to avoid future complications, here are the general exclusions of these three policies.
Anything that does not satisfy the terms and conditions of the company or the policy will be excluded.
If there is any kind of breach of law, the policies will not pay compensation for that.
If the injury is self-inflicted or the injury occurs due to suicide or suicide attempts, the company will not take any liability for that.
If you file a claim against any benefit which is still within the waiting period, your claim will not be approved by the company.
Taking participation in hazardous activities or adventurous sports such as ballooning, scuba diving, hiking, etc, will fall under the category of exclusions.
Injuries incurred due to war, war-like situations, civil war, invasion, public unrest, etc, will be excluded from the policies.
If you receive any injury arising out of the consumption of drugs, alcohol, or any other intoxicating substances, the company will not pay for the medical expenses.
Injuries received due to radioactivity, ionizing, nuclear activity will not be covered.
Any procedure related to a change of gender, plastic surgery, cosmetic surgery, or anything that sort of will be excluded from the policy.
Activ Health Platinum Plan Premium
After knowing the inclusions and exclusions of the policies, the next important thing is to know about the premium value that you need to pay to purchase the policies. Therefore, for your better understanding, here are three examples of three different plans.
Activ Health Platinum Enhanced
Mr. Sharma, a 36-years old, Kolkata-based businessman, bought Active Health Platinum Enhanced Plan for himself. Let us find out how much premium amount he has to pay for the given credentials to avail of the benefits of this policy.
Activ Health Platinum Enhanced
Parameters
Details
Age
36 years
Cover for
Self
Sum insured
Rs. 15 lakhs
Policy type
Multi-individual
Policy tenure
1 year
High cholesterol
Yes
Optional cover
Personal accident cover of the sum insured Rs. 15 lakhs
Premium amount including GST
Rs. 16,155 per annum
Activ Health Platinum Essential
Now, the same Mr. Sharma bought the Activ Health Platinum Essential plan for himself and his wife. As the parameters have changed, therefore the premium amount will certainly change. Here is the detail of that in the following table.
Activ Health Platinum Essential
Parameters
Details
Age

Self – 36 years

Spouse – 34 years

Cover for
Self and spouse
Policy type
Family floater policy
Sum insured
Rs. 20 lakhs
Policy tenure
2 years
Optional cover
Critical illness cover, both self, and spouse
Any chronic disease for both self and spouse
No
Premium amount including GST
Rs. 62,698 per annum
Activ Health Platinum Premiere
Again, the same Mr. Sharma bought Activ Health Platinum Premiere Plan for himself, his wife, and their daughter. In that case, the following table denotes the premium amount that he has to pay to purchase the policy for the given data.
Activ Health Platinum Premiere
Parameters
Details
Age

Self – 36 years, Spouse – 34 years, Child – 4 years

Cover for
Self, spouse, and 1 child
Policy type
Family floater policy
Sum insured
Rs. 25 lakhs
Policy tenure
3 years
Any chronic disease
No
Premium amount including GST
Rs. 271,106 per annum
Frequently Asked Questions