Cover Your Health in 5 mins
Compare Premium.
Buy Now.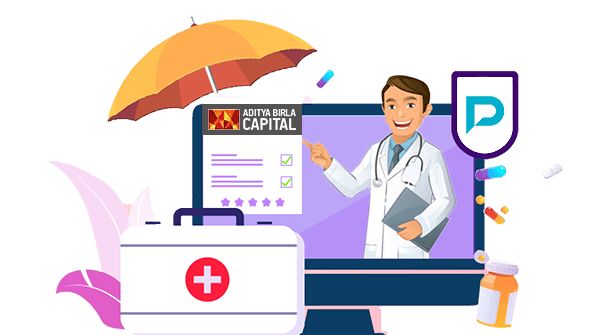 Compare

Individual Health Insurance Plans
Aditya Birla Health Insurance Customer Care
Aditya Birla Health Insurance Co. Limited (ABHICL), a part of Aditya Birla Capital Ltd (ABCL), is a joint venture between Aditya Birla Group and MMI Holdings of South Africa. ABHICL was incorporated in 2015 wherein commenced its operations in October 2016 and is engaged in the business of health insurance. The company's current product portfolio includes unique chronic care and incentivized wellness offerings. ABHICL has a nationwide distribution presence in over 2800+ cities through branches and partner offices, 14 bancassurance partners, and over 68,000 direct selling agents. ABHICL has scaled and diversified digitally enabled distribution through 131 branch locations, bancassurance available through 17,000+ branches, and 43 digital partners.
The company has a customer-centric approach and always takes enough initiative to improve the consumer experience. The company's customer service is open 24×7 to help the consumers, as the company keeps the customer experience at its top priority level.
Different Ways To Get Connected To Aditya Birla Health Insurance Customer Care
There are several ways in which you can get connected to the customer care service of the company. Choose any of the following options to avail of the customer service facilities of Aditya Birla Health Insurance.
Phone number
Toll-free number – 1800-270-7000
Email ID

care.healthinsurance@adityabirlacapital.com

WhatsApp service

+91 8828800035

(Only for WhatsApp, do not call on this number)

Mobile App
Download the Activ Health app for availing of multiple self-service options that is available for 24×7 support.
Fax
+91 22 6225 7700
Social media

Facebook – https://www.facebook.com/abchealthinsurance/

Twitter – https://twitter.com/abhealthin

Instagram – https://www.instagram.com/abchealthinsurance/

LinkedIn – https://www.linkedin.com/company/aditya-birla-health/

YouTube – https://www.youtube.com/c/AdityaBirlaHealthInsurance

Other
One can reach out to the company by describing his/her problem using the official website of the insurer.
Important Branches With Contact Details of Aditya Birla Health Insurance Customer Care
The company has more than 17000 official branches spread all over the country to make the customer experience better. Among these, a few important branches, along with their contact details, are mentioned in the following table.
| | | | | |
| --- | --- | --- | --- | --- |
| State | Location | Address | Email ID | Phone number |
| Maharashtra | Mumbai | MBC Park, 5th A, 6th A-B, 7th A-B Floor, C building, Ghodbunder road, Kasarwadavli, Thane, Maharastra 400615 | gro.healthinsurance@adityabirlac apital.com | 022-68847892 |
| West Bengal | Kolkata – Apeejay Tower | Aditya Birla Health Insurance Co. Ltd. 3rd Floor Apeejay House Park street 15 Kolkata-700016 | Tapan.Das2@adityabirlacapital.co m | 033-44083102 |
| Delhi | Delhi – Nehru Place | 2nd Floor of Ghanshyam House, Plot No 25, Nehru Place, New Delhi – 110019 | priya.mishra@adityabirlacapital.c om / Shivam.Shukla2- v@adityabirlacapital.com | 7039076006 |
| Uttar Pradesh | Lucknow – Park Road | 1st Floor, Plot No. 7, Park Road, Lucknow, U.P. 226001 | deepak.kumar65@adityabirlacapi tal.com | 7039135052 |
| Rajasthan | Ajmer | 2nd Floor, Yadav Complex, Makarwali Road, Vaishali Nagar, Ajmer – 305 001 | rishi.sharma1@adityabirlacapital. com | 7304520305 |
| Himachal Pradesh | Shimla | Ground floor, Sarab Complex, Sanjauli, Shimla NEAR LAL PATH LAB 171006 | vidushi.Kashyap@adityabirlacapital.com | 8097464105 |
| Madhya Pradesh | Jabalpur | Regal Tower, 3rd Floor, Adjacent to Aditya Birla Sun Life Insurance office, Napier Town, Jabalpur-482001 (Will get completed by 25th Aug 2019) | siddhant.mishra@adityabirlacapi tal.com | 7304520349 |
| Assam | Jorhat | Aditya Birla Health Insurance Co. Ltd.|4th Floor, Jiwan Geet Building, A. T. Road, Opposite Chowk Bazar, Jorhat (Assam) – 785001 | Plabita.Dutta@adityabirlacapital. com | 9706679930 |
| Bihar | Gaya | 2nd Floor, Nandan Nikiten Nagmita Road, Gaya, Bihar 823001. | Sunny.Kumar5@adityabirlacapital .com | 7304520331 |
| Jharkhand | Jamshedpur | 2nd floor, OM Plaza, 96, SNP AREA, SAKCHI, JAMSHEDPUR- 831001 | Apurva.Mukherjee@adityabirlaca pital.com | 7304520314 |
| Gujarat | Ahmedabad – Prahlad Nagar | 603/A,6th Floor, Dev Auram, Prahladnagar, Ahmedabad, Gujrat- 380015 | Satish.Patel@adityabirlacapital.co m | 7939135279 |
| Andhra Pradesh | Vizag – Dwarka Nagar | 1st Floor, Door No. 47-14-3, Potluri Classic, Main Road, Dwarka Nagar, Vizag 530016 | Sravan.Kumar@adityabirlacapital. com | 7039135689 |
| Karnataka | Chennai Anna nagar | NEW NO 73 OLD NO 1 M BLOCK, 3rd Avenue, Anna Nagar E Chennai 600040 | GOPALLINGAM.1@adityabirlacapi tal.com | 7039102286 |
| Tamil Nadu | Coimbatore | 25-A/3, 2nd floor, A M I Midtown, D B Road, R S Puram Coimbatore 641002, TN | Palanisamy.V@adityabirlacapital. com / Shiju.Bv@ adityabirlacapital.com | 7039134825 |
How Can Aditya Birla Health Insurance Customer Care Help You?
You can get different customer care services from the company if you are an Aditya Birla Health Insurance customer. The important mentions are as follows. 
To Do The Renewal of a Policy:
One cannot skip this step as without renewing the policy on time, the policy will become void and no benefits will be available. However, many insurers have come up with online renewal policy, which has made the procedure seamless and easy. But if any customer faces any issues while doing this renewal procedure, he/she can contact the customer care company to fix his/her problem. The company will address the problem as soon as possible.
To Have Some General Information About the Company of the Products:
If anyone wants to do any general inquiry regarding any policy of the company. he/she can seek help from the customer care desk of the company. The inquiry can be related to the buying procedure of a policy, filing a claim, knowing information about any policy, getting information about the background of the company, etc. 
To Intimate the Insurer About Changes:
It is very much possible that the customer has changed his/her address or phone number. In that case, intimating the insurance company is mandatory. Otherwise, the insured person may have to face difficulties in the future. This can be easily done using the official website of the company.
Frequently Asked Questions