Cover Your Health in 5 mins
Compare Premium.
Buy Now.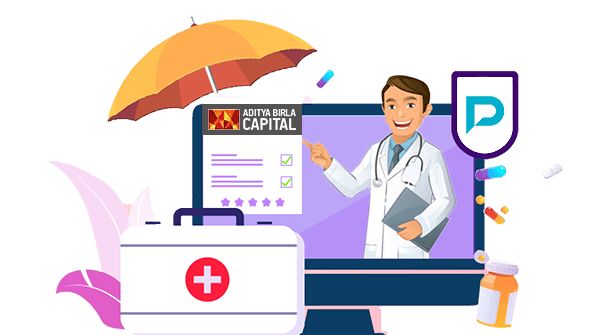 Compare

Individual Health Insurance Plans
Aditya Birla Health Insurance Renewal
In order to receive continuous benefits under your Aditya Birla Health Insurance, you are required to renew it at regular intervals. No matter whether the policy term of your Aditya Birla Health Insurance plan is one year, two years, or three years, you must renew your policy on a timely basis.
If you fail to renew your health insurance coverage, your policy will lapse and you will have to wait for 30 days to restart the policy. Aditya Birla Insurance makes it easy for the policyholders to renew their health insurance policies either through an online or offline method.
Learn how to renew your Aditya Birla Health Insurance policy online or in person by reading on.
How Can You Renew Aditya Birla Health Insurance?
When it comes to renewing your Aditya Birla health insurance policy, you can choose any of the three methods at your convenience.
If you are looking to renew your Aditya Birla Health insurance policy via the website, you can simply follow these steps:
First of all, go to the official website of Aditya Birla Capital.
You will then see different options on the status bar. Hover over "Protecting" and click on "Health Insurance".
After that, you will then be directed to the page of health insurance. On the page, you will see a "Renew" option on the top. Click on it.
You will then need to enter your policy number and date of birth or mobile number. Once you are done filling in all the details, simply click on "Proceed to Renew".
After that, you may be required to pay the health insurance premium.
After making the payment, you will receive an email stating that you have successfully made the payment and your policy has been renewed.
If you want to renew your Aditya Birla Health insurance plan, then you can do it via an app. All you need to do is simply download the app "Activ Health" from the app store and renew your policy without any hassle.
This is another method that you can consider to renew your policy. Simply text "Hi" to +91-8828800035. Simply consider the appropriate option and renew your policy accordingly.
Why You Should Renew Your Aditya Birla Health Insurance Plan?
Listed below are the reasons to renew your health insurance plan to enjoy seamless benefits. 
To Enjoy Uninterrupted Coverage
One of the most significant advantages of renewing your Aditya Birla health insurance policy on time is uninterrupted coverage. If you do not renew your health plan on time, though, you run the risk of having coverage gaps. And it is no denying that Aditya Birla has 10051+ cashless hospitals with a presence in 2300+ cities, nobody wants to ignore this extensive coverage offered by Aditya Birla.
There's always the possibility that a medical emergency will occur during one of these intervals, in which case you'll have to foot the payment yourself.
Earn Significant HealthReturn Benefits: 
One of the prime reasons to renew your Aditya Birla health insurance is that you will likely to get "HealthReturns" benefits. Under the section, you will get 30% of your premium back by just maintaining good health. You can use HealthReturns to pay medical bills if the coverage gets exhausted during the Policy Year. It simply means that you just need to keep your habits healthy to earn better rewards. 
Provides you Tax Benefit
When a policyholder purchases Aditya Birla health insurance, they become eligible for considerable tax benefits or income tax rebates under Section 80D. To keep your tax benefits, make sure you renew your Aditya Birla health insurance on time.
Things To Consider Before Renewing Your Aditya Birla Health Insurance Plan
Here's the list of the things that you must keep in mind before you consider renewing your health insurance policy. 
Increase the Sum Insured Amount
Individuals can request a higher sum insured on their health insurance coverage at the time of renewal. It's a good idea to review your sum insured amount every year, whether you've added new family members or not. You may have health problems as you become older. As a result, it is essential to increase your sum insured amount regularly. Your insurer will likely raise your coverage in either case if you have a No-Claim Bonus (NCB), but you may make it even better.
Add Family Members 
Over the previous insurance year, you will likely add more members to your family. Maybe you got married or welcomed a child into your family. It's a great opportunity to add your new family members to your insurance policy. Children under the age of 90 days can usually be added to a medical insurance policy. As a result, you can insure your baby even before he or she reaches the six-month mark.
Add Critical Illness Cover
Critical illnesses are on the rise these days as a result of inactive lifestyles and rising levels of pollution in urban centres. Cancer, liver failure, lung or, limb paralysis, and other critical conditions are examples. At the time of renewal, you can add critical illness coverage to your health insurance plan. 
If you or a family member is diagnosed with a critical illness, a critical illness benefit will pay medical expenses. Long-term and, in certain cases, life-long treatment is required for life-threatening disorders. This might deplete your funds in a matter of months. As a result, purchasing a critical sickness policy is sensible.