Cover Your Health in 5 mins
Compare Premium.
Buy Now.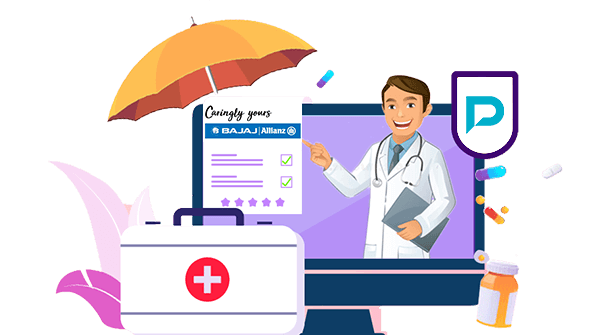 Compare

Individual Health Insurance Plans
Bajaj Allianz Health Insurance Customer Care
The European financial services firm Allianz SE and Bajaj Finserv, which is controlled by the Bajaj Group, formed a joint venture to create Bajaj Allianz General Insurance. One of the best private insurance companies in India, Bajaj Allianz General Insurance, provides health insurance plans with the broadest coverage at competitive rates. Customers can also take advantage of a variety of extras, including pre-and post-hospitalization costs, room rental, cashless treatment, ambulance costs, and many other things. The cost of a premium is mostly based on the total amount insured under the health insurance policy, as well as the number of people who are covered.
You can get in touch with Bajaj Allianz Health Insurance customer service by phone, email, or by going to the insurance provider's nearest branch.
How To Contact Bajaj Allianz Health Insurance Company?
The company has a reputable customer service department that deals with consumers and effectively addresses their complaints or inquiries. Customer service can be reached by phone or mail.
Parameters
Details
Call

BSNL: 1800- 209- 5858

Bharti: 1800- 102- 5858

Other: 020-30305858

Corporate Office:

Phone: +91 020 66026666

(Standard STD rates apply)

WhatsApp

Say 'Hi' on WhatsApp

+91 75072 45858

Missed Call

Missed Call – 80809 45060

Short code – SMS < WORRY > to 575758

Email Id

For General Public:

bagichelp@bajajallianz.co.in

 

For senior citizens:

seniorcitizen@bajajallianz.co.in

Fax no:
020-30512246
Registered Address:
Bajaj Allianz House, Airport Road, Yerawada, Pune-411006
Social Media Handles

Facebook:

https://www.facebook.com/BajajAllianz

Twitter:

https://twitter.com/BajajAllianz

LinkedIn:

https://www.linkedin.com/company/bajaj-allianz-general-insurance

Instagram: https://www.instagram.com/bajajallianzgeneral/

Website

https://www.bajajallianz.com/general-insurance.html
Bajaj Allianz Insurance Branches & Their Office Codes
Though there are multiple branches across India, we have listed a few major yet popular ones to get an idea. If you want to locate the nearest branch, visit https://www.bajajallianz.com/branch-locator.html today!
| | |
| --- | --- |
| Branch Location | Branch Address |
| New Delhi | Block No 4, DLF Tower, 15, Shivaji Marg, New Delhi 110015. |
| New Delhi | 12th floor Dr. Gopaldas Bhawan, 28 Barakhamba Road, Connaught Place, New Delhi 110001 |
| Goa | 112, 113, First Floor, Guru Sai Plaza, Near Adarsh Vanita Vidyalaya High School, Emilio Isidoro Baptista Road, Pajifond, Margao, Goa 403601. |
| Himachal Pradesh | Mohal Tarna 366/5 Tehsil Sadar District, Mandi, Himachal Pradesh-175001 |
| Haryana | 3rd Floor JMD regent plaza Sikanderpur MG Road Gurgaon-122001. |
| Jammu & Kashmir | 2nd Floor, Opp. BSF Camp, Akhnoor Road, Paloura, Jammu 181124. |
| Maharashtra | Commerce Zone, 1st Floor, Tower 1, Samrat Ashok Path, Yerwada, Pune 411006 |
| Bhubaneshwar | Plot No 9/10, Satyanagar, Bhubaneshwar – 751007. |
| Punjab | 2nd Floor, Satnam Complex, BMC Chowk, GT Road, Jalandhar, 144001 |
| Rajasthan | 4, Hatroi Fort, Ajmer Road, Jaipur – 302001 |
| Coimbatore | Raagavis Center, Ground, 1st and 2nd Floor, 21A, Nethaji Nagar, Nanjudapuram main road, Ramanathapuram, Coimbatore – 641045. |
| Tripura | Unit No. 414, 3rd floor, Aitoma Agartala Sentrum, Shakuntala Road, West Tripura, Agartala – 799001, Tripura |
| Uttrakhand | 1st Floor, Guru Govind Singh Tower, Tikonia, Nainital Road, Haldwani – 263139 |
| Uttar Pradesh | Plot No 311/1, Mangal Pandey Nagar, Meerut – 250004 |
| West Bengal | Akshara, Plot No C 100, 2nd Floor, Beside Junction Mall, City Centre, Durgapur, District-Burdwan, State-West Bengal, Pin-713 216 |
What are the Services You'll Get With the 24/7 Call Assistance of Bajaj Allianz Health Insurance?
Let us understand each of these in detail.
Member ID Card Query
Contact the customer care representative for more help if you have any general questions about the health card issued under the Bajaj Allianz Health Insurance plan at Bajaj Markets. Your allocated expert will walk you through the health card's features, explain your plan's terms and conditions, and answer any other questions you may have about the card.
Health Insurance Claim Process
People who need assistance with the health insurance claim process can get in touch with the on-call support service. Whether it is a cashless claim or a reimbursement process, the expert will help you through it at Bajaj Markets. For its clients, Bajaj Allianz strives to make the process of filing a health insurance claim simple and quick.
Status of Health Insurance Claims
If you are experiencing trouble finding the claim status online, call the customer service representative for assistance. The decision made about your claim application is what determines the claim status. You can better understand how far your application is from getting approved by speaking with an executive.
Documents Submission
To find out what paperwork needs to be completed when you request claim reimbursement at Bajaj Allianz, get in touch with a customer service representative. You can acquire a list of the required paperwork in addition to a quick rundown of the reimbursement procedure. This will make it easier for both you and the insurer for the entire claim procedure to run smoothly.
Network Hospitals
The customer service representative can also assist you in locating the name, address, and phone number of the closest network hospitals in your neighborhood.
Register a Service-Related Request
Additionally, you can call the on-call support service number if you want to add some top-ups to your basic health insurance plan, purchase another health insurance policy, or sign up for any other service-related request. The expert is at your disposal 24/7 and will assist you with your stated requirement.