Cover Your Health in 5 mins
Compare Premium.
Buy Now.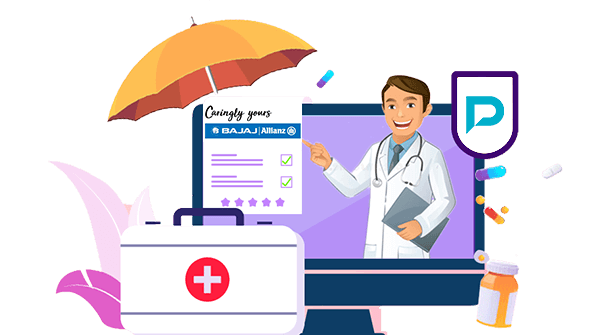 Compare

Individual Health Insurance Plans
Bajaj Allianz Extra Care Plus Plan
To fight against the skyrocketing medical costs, Bajaj Allianz General Insurance Company has come up with a top-up plan, Extra Care Plus, that acts as an additional cover to your existing health insurance cover. It acts as a cushion as this top-up plan provides wider health protection for you and your family in the case of higher medical expenses arising out of illness or accidents. Even if you have a standard medical health insurance policy, you require this additional coverage, as the standard health cover may not be sufficient in the face of rising inflation. On top of that, if you want to buy a large insurance cover under your health policy, the premium amount will rise as well; therefore, it might not be affordable for you. There, this plan kicks in as it is a perfect fit for a wider health insurance cover to take care of the rising health care expenses at an affordable price. This policy can be opted for even if there is no existing health insurance policy. To know more about this policy, have a look at the following mentions.
Parameters
Description
Minimum entry age

For proposer, spouse, dependent parents – 18 years

For dependent children – 3 months

Maximum entry age

For proposer, spouse, dependent parents – 80 years

For dependent children – 25 years

Who can be covered
Self, spouse, dependent children, and dependent parents
Maximum limit
6 persons under a single floater policy
Policy years
1, 2, and 3 years
Renewal age

For proposer, spouse, dependent parents: Life time Renewal

For dependent children policy: Up to 35 years,

Who can avail of the policy

Indian nationals residing in India.
Non-Resident Indians (NRIs) only if the premium is paid in Indian currency & by Indian Account only

Free look period
15 days
Grace period
30 days
Waiting period

In general – 30 days

For maternity expenses – 12 months

For specified diseases or procedures – 12 months

Pre-existing diseases – 12 months

Sum insured options
Rs. 3 lakhs, Rs. 5 lakhs, Rs. 10 lakhs, Rs. 15 lakhs, Rs. 20 lakhs, Rs. 25 lakhs, and Rs. 50 lakhs
Income tax benefit
It is available under Section 80D of the Income Tax Act on premiums paid for this policy, subject to changes in the tax laws.
Benefits of Bajaj Allianz Extra Care Plus Top Up Policy
This policy has come up with a sack full of benefits. The following table describes the details of those benefits.
Parameters
Details
Medical expenses

In-patient hospitalization expenses:

Room Rent/Boarding and Nursing Expenses.
ICU Rent/ Boarding and Nursing Expenses.
Fees of Medical Practitioner, Surgeon, Anaesthetist, Nurses, and Specialist Doctor.
Operation theatre charges, Anaesthesia, surgical appliances, diagnostic tests, medicines, blood, oxygen, and the cost of prosthetics and other devices or equipment if implanted internally like a pacemaker during a surgical Process.

Pre-hospitalization expenses – 60 days

Post-hospitalization expenses – 90 days

Day care treatments
The company will pay the medical expenses as listed under In-patient Hospitalisation Expenses for Day care Procedures or surgeries taken as an inpatient in a hospital or day care center but not in the outpatient department.
Modern treatment procedures
Modern Treatment Methods and Advancement in Technologies are covered up to Base Sum Insured which is subject to the terms and conditions of the policy.
Maternity expenses
The company agrees to pay the medical expenses related to pregnancy, childbirth or medically recommended and lawful termination of pregnancy, limited to a maximum of 2 deliveries or termination(s) or either, during the lifetime of the insured person.
Road ambulance benefit
The insured person is eligible to avail of the road ambulance expenses benefit up to a maximum limit of Rs. 3000 per valid hospitalization for transferring the patient to or between hospitals in the hospital's ambulance or in an ambulance provided by any ambulance service provider.
Organ donor expenses
The organ donor expenses mean the harvesting of the organ, which includes the surgery to remove organs from a donor. It is subject to the terms and conditions of the policy.
Bajaj Allianz Extra Care Plus Super Top-up Policy Covers
Apart from the above general benefits and facilities of the policy, it has come up with several unique advantages that have made the policy popular among consumers. The followings are the mentions.
Air Ambulance Cover:
This is an optional cover that you can avail of by paying a little extra premium. Under this benefit, you will be paid the expenses incurred for ambulance transportation in an airplane or helicopter for rapid ambulance transportation from the site of the first occurrence of the illness or accident to the nearest hospital during the policy period of active policy.
Free Medical Check-ups:
This is an additional benefit that promises to pay the free medical check-up expenses at the end of every continuous period of 3 years as below:
The actual amount of medical check-up expenses is up to Rs. 1000 for a policy covering 1 member.
The actual amount of medical check-up expenses is up to Rs. 2000 for policies covering more than 1 member under the same policy.
Different Discounts Under This Policy:
This policy offers several discounts on the following grounds.
Long Term Policy Discount: A 4 % discount is applicable if the policy is opted for 2 years, and an 8 % discount is applicable if the policy is opted for 3 years. However, this facility is not applicable to the policies where the premium is paid in installments.
Employee Discount: 20% discount is offered on published premium rates to employees of Bajaj Allianz & its group companies. This discount is applicable only if the policy is booked in the direct office code.
Pre-policy Medical Check-up:
The followings are the criteria for a pre-policy medical check-up:
No Medical tests are required up to 55 years, subject to no adverse health conditions
Medical tests are applicable for members 56 years and above.
The validity of the test reports would be 30 days from the date of the medical examination.
If a pre-policy check-up is conducted, 50% of the medical test charges would be reimbursed, subject to acceptance of the proposal and policy issuance.
Portability:
You are allowed to port the policy to other insurers by applying to such insurer to port the entire policy along with all the members of the family, if any, at least 45 days before, but not earlier than 60 days from the policy renewal date as per IRDAI guidelines related to portability.
Migration:
Like portability, the insured beneficiary will also have the option to migrate the policy to other health insurance products/plans offered by the company by applying for migration of the policy at least 30 days before the policy renewal date as per IRDAI guidelines on Migration.
Exclusions of Bajaj Allianz Extra Care Plus
Understanding a policy is not completed if you do not go through its exclusions. Therefore, to offer you a comprehensive idea of the policy, and to avoid future complications, here are conditions that are excluded from the Bajaj Allianz Extra Care Plus.
Any medical expenses of the newborn baby.
Dental treatment or surgery of any kind unless requiring hospitalization and as a result of accidental Bodily Injury to natural teeth.
Any expenses related to Investigation & Evaluation.
Any diagnostic expenses which are not related or not incidental to the current diagnosis and treatment.
Rest Cure, rehabilitation, and respite care.
Custodial care either at home or in a nursing facility for personal care such as help with activities of daily living such as bathing, dressing, moving around either by skilled nurses or assistant or non-skilled persons along with any services for people who are terminally ill to address medical, physical, social, emotional, and spiritual needs.
Any kind of gender treatment, plastic, or cosmetic surgery.
 Obesity or weight control-related treatments are excluded if they do not fulfill the criteria of the policy.
If you take part in any hazardous activities or adventurous sports such as mountaineering, rafting, motor racing, horse racing, scuba diving, sky diving, etc., that will be excluded from the policy.
Treatment for alcoholism, drug or substance abuse, or any addictive condition and consequences thereof.
Treatments are received in health hydros, nature cure clinics, spas, or similar establishments or private beds.
Dietary supplements and substances that can be purchased without a prescription, including but not limited to vitamins, minerals, and organic substances, unless prescribed by a medical practitioner as part of a hospitalization claim or day care procedure.
Refractive error less than 7.5 dioptres.
Unproven treatments, a non-registered medical practitioner.
Expenses related to sterility and infertility.
Self-inflicted injury, suicide, or suicide attempt.
Venereal disease or any sexually transmitted disease or sickness.
Injuries arising out of war, war-like situations, rebellion, public unrest, etc.
Premium Calculation of Bajaj Allianz Extra Care Plus
After having a comprehensive idea of the inclusions and exclusions of the policy, the next important thing is to know about the premium amount. Therefore, here is an example.
Suppose Mr. Agarwal, a 36-years old, businessman, bought Bajaj Allianz Extra Care Plus Policy. Let us find out how much premium amount he has to pay for the given data to avail of the benefits of the policy.
Parameters
Credentials
Age
36 years
Gender
Male
Plan for
Self
Sum insured
Rs. 15 lakhs
Aggregate deductible
Rs. 3 lakhs
Policy period
1 year
Any additional cover or optional benefit
No
Total premium amount
Rs. 2254
Premium break-up

Basic premium – Rs. 1910

GST 18% – 344
Frequently Asked Questions