Cover Your Health in 5 mins
Compare Premium.
Buy Now.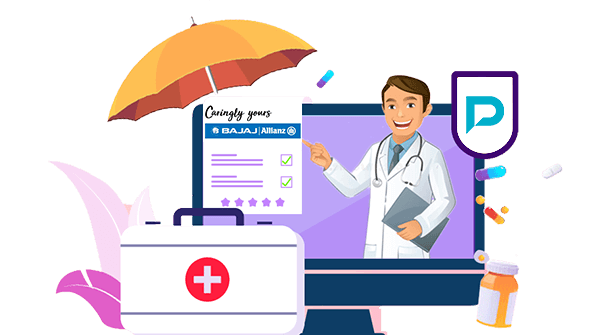 Compare

Individual Health Insurance Plans
Bajaj Allianz's Health Guard Plan
Bajaj Allianz's Health Guard is designed to suit all your health care needs. It covers the costs of medical care incurred while a patient is hospitalized due to a major sickness or accident. This insurance is inexpensive and offers a wide range of advantages that can meet your demands. You value your health because it gives you the freedom to live your life how you choose. However, an unexpected illness or disaster might end your way of life and deplete your savings.
With the Bajaj Allianz Health Guard Policy, you may shield yourself from the cost of hospitalization. You are now free from the constant anxiety of not having enough money for therapy should something go wrong. The policy offers the Silver Plan, Gold Plan, and Platinum Plan as its two available plans.
Read on to know about Bajaj Allianz Health Guard's eligibility, benefits, inclusions, exclusions, and more.
Here is the eligibility criteria for Bajaj Allianz Health Guard.
Parameters
Details
 
Silver
Gold
Platinum
Age

Dependent Children/Grandchildren: 3 months – 30 yrs

Proposer /Spouse /Parents/Sister/ Brother/Parents-in-law/ Aunt/ Uncle 18 yrs to 65 years

Policy period
1 year/2 year Or 3 years.
Sum Insured Options
Rs.1.5 / 2 Lacs
Rs. 3 / 4 / 5 / 7.5 / 10 / 15 / 20 / 25 / 30 / 35 / 40 / 45 / 50 lacs
Rs. 5 / 7.5 / 10 / 15 / 20 / 25 / 30 / 35 / 40 / 45 / 50/ 75 lacs/ 1 Crore
Premium Paying Term
Annual (for long-term policies), Half-yearly, Quarterly, or Monthly
Policy Options
Individual as well as Floater sum insured options under all three plans.
Coverage Under Bajaj Allianz Health-Guard
Here are the major details covered under Bajaj Allianz Health Guard.
| | |
| --- | --- |
| Inclusions | Details |
| Pre & post hospitalization expenses | Takes care of pre and post-hospitalization expenses up to 60 and 90 days respectively. |
| Daycare treatment | It covers 130 daycare procedures that call for a minimum of 24 hours in the hospital. |
| Organ donor expenses | The plan pays for the costs related to treating organ donors to harvest them. |
| Convalescence benefit | The firm will pay a benefit sum of Rs. 5,000 for the Sum Insured up to Rs. 5 lacs and Rs. 7500 for the Sum Insured 7.5 lacs and above each policy year if the insured is continuously hospitalized for a disease, illness, or injury for a period exceeding 10 days. |
| Ayurvedic / Homeopathic Hospitalisation Expenses | The company will compensate you if you are hospitalized for at least 24 hours in a government-run Ayurvedic or Homeopathic hospital or in any other facility that has received official government recognition and/or accreditation from the Quality Council of India or National Accreditation Board. |
Features & Benefits of Bajaj Allianz's Health Guard
Here is the list of the features and benefits of Bajaj Allianz Health Guard. Let's take a look at them. 
In-patient Hospitalization Treatment
The insurance provider is responsible for paying You if You are admitted to a hospital against the recommendation of a physician as specified by the policy due to an illness or an accidental bodily injury that occurred within the policy period. However, it will be subject to room, board, and nursing costs given by the hospital or nursing home, up to 1% of the sum insured per day (excluding cumulative bonus) or actual, whichever is lower.
Pre-Hospitalization
The medical expenses incurred in the 60 days before your hospitalization, provided that: The company has accepted a claim for inpatient hospitalization under Inpatient Hospitalization Treatment Cover, and Such Medical Expenses were incurred for the same illness/injury for which Subsequent Hospitalization Was Required.
Post-Hospitalisation
The Medical Expenses incurred during the first 90 days after you were released from the hospital, provided that: The company has approved an inpatient hospitalization claim under Inpatient Hospitalization Treatment Cover, and The Medical Expenses are related to the same illness or injury for which the earlier hospitalization was necessary.
Free Look Period
The policy's terms and conditions may be reviewed by the insured person during a free look period of fifteen days following the date of receipt of the policy document. The insured is entitled to a refund of the premium paid, less any costs incurred by the company for the medical examination, if they have not filed any claims within the Free Look Period.
Wellness Benefit
The Bajaj Allianz Health Guard policy also offers a wellness benefits discount of up to 12.5% on renewal if you continue to maintain good health.
Portability Benefit
According to IRDAI portability guidelines, the insured beneficiary will have the choice to port the policy to other insurers by applying to the such insurer to port the entire policy along with all of the family members, if any, at least 45 days before, but not earlier than 60 days from the policy renewal date.
Health Check-ups
You'll probably receive free health examinations if you choose Bajaj Allianz's Health Guard, which is one of the main advantages. Speaking of the plan, it provides free health examinations for a list of pre-defined tests after every three claim-free years.
Tax Benefits
You can deduct Rs 25,000 annually from your taxes when you choose a Family Health Insurance coverage for yourself, your spouse, your kids, and your parents (provided you are not over 60 years).
Co-Pay Discount
The insured will be entitled to an additional 10% or 20% off the coverage premium if they want to do so willingly. If a claim has been approved for in-patient hospitalization treatment, the insured person is responsible for paying 10% or 20% of the eligible claim amount that is covered by this insurance, accordingly.
Exclusions Under Bajaj Allianz's Health Guard
The following are the things that are not included under Bajaj Allianz's Health Guard.
Until the end of the first 36 months of continuous coverage following the date of the first Health Guard Policy's introduction to the company, expenses linked to the treatment of a pre-existing disease (PED) and its direct complications shall be excluded.
Any dental procedures including aesthetic surgery, dentures, dental prosthetics, dental implants, orthodontics, or surgery of any sort, unless they are necessary due to an accident involving the body that results in damage to the teeth that would necessitate hospitalization.
Commotion, unrest, rebellion, revolution, insurrection, military or usurped power, confiscation or nationalization, requisition of or damage by or under the order of any government or public local authority.
Any diagnostic costs not directly associated with the present diagnosis or course of therapy are eliminated.
Medical costs directly related to or resulting from any insured person breaking the law with criminal intent or attempting to break it.
Costs associated with receiving care from a hospital, a doctor, or any other provider that has been specifically excluded by the insurer and made known to policyholders through email or notice on its website are not admissible.
Costs for any unproven treatments, services, or supplies used in or related to treatments. Unproven treatments are those that do not have a substantial body of medical evidence to support their efficacy.
If the amount insured is increased, the exclusion will reapply to the new amount insured.
Even when contracted after the Policy or proclaimed and accepted without an explicit exclusion, the waiting period for the abovementioned circumstances shall apply.
Premium Illustration- How Does it Work?
Let's take an example to understand!
A man, named Mr. Priyank Sharma, who is 6' ft tall and weighs 90 kgs working as a software engineer at Cognizant, Gurgaon, is looking to buy a plan that perfectly caters to his retirement financial goals. As he is working in a private firm, he wants to safeguard the financial future of his family members. When he was searching for the best retirement plan, he then stumbled upon Bajaj Allianz Health Guard on the internet. Also, he even asked his relatives, family, and friends, and many people in his circle suggested he buy Bajaj Allianz Health Guard for maximum financial protection after retirement.
| | | | |
| --- | --- | --- | --- |
| Cover Type | Sum Assured | Plan Type | Premium (including GST & Taxes) |
| Individual health cover | Rs. 5 Lakhs | Gold plan (1 year)- Rs. 6, 764 (Excluding GST) | Rs. 9197 per annum (including taxes) |
| Individual health cover | Rs. 20 Lakhs | Gold plan (1 year)- Rs. 9, 424 (Excluding GST) | Rs. 12, 336 per annum |
Frequently Asked Questions