Cover Your Health in 5 mins
Compare Premium.
Buy Now.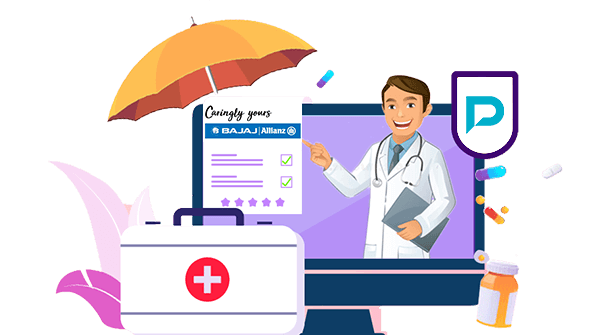 Compare

Individual Health Insurance Plans
Bajaj Allianz Health Infinity Plan
Our family's sound health is extremely important for us; thus, we want the best when it comes to health insurance. The Health Infinity Policy from Bajaj Allianz is the ideal solution to cover your family's medical costs in the unfortunate event of hospitalization due to illness or injury because it offers new comprehensive features at affordable prices.
If you want to know about the policy in detail, continue reading!
| | |
| --- | --- |
| Minimum Entry Age | For Adults: 18 Years, For Dependent Children: 3 Months |
| Maximum Entry Age | For Adults: 65 Years, For Dependent Children: 25 Years |
| Policy Period | 1/2/3 Years |
| Type | Individual Policy |
Focal Points Of Bajaj Allianz Health Infinity Plan
Bajaj Allianz Health Infinity plan has the following features:
| | |
| --- | --- |
| In-Patient Hospitalization Treatment | Covered |
| Pre-Hospitalization Expenses | 60 Days |
| Post-Hospitalization Expenses | 90 Days |
| Road Ambulance | Up To Rs. 5000 Per Hospitalization |
| Daycare Procedures | Covered |
| Free Look Period | 15 Days |
Why Should You Buy Bajaj Allianz Health Infinity Plan?
There are many reasons why you should choose the Health Infinity plan from Bajaj Allianz. Some of the benefits offered by the plan are mentioned below:
Preventive Health Check Up:
You are qualified for a free preventive health checkup at the conclusion of each continuous term of three years during which you have held the Health Infinity policy from Bajaj Allianz. For each member of the individual policy over the course of the three-year period, the plan will repay the sum equal to the daily room rent chosen (up to a maximum of Rs. 5000), whichever is lower.
Wide Range Of Discounts:
The plan offers the following discounts to the policyholder:
Wellness Discount: If the insured person submits the medical test results as specified in the policy brochure and all of the results are within the normal range, they are eligible for a 5% discount at each renewal.
Long-Term Policy Discount: In case you opt for the policy for 2 years, you will get a 4% discount. Whereas, if your policy is for 3 years, an 8% discount will be applicable.
Family Discount: If two or more qualified family members are covered under a single policy, a 5% family discount will be given.
Employee Discount: Employees of Bajaj Allianz and its group firms are eligible for a 20% reduction on published premium rates; however, this discount is only valid if the policy is booked using a direct office code.
Online Discount: For insurance bought online, through a website, or directly from a consumer, a 5% discount is given. Direct consumers are given this perk in place of a commission.
Reduction In Waiting Period:
If the proposed insured is currently insured and has never experienced any gaps in coverage, the number of consecutive years the insured had coverage in the years prior will be deducted from the waiting periods listed in the brochure.
Portability Option:
The plan also offers portability benefits to the policyholder. The insured beneficiary will have the choice to port the policy to other insurers at least 45 days before, but not earlier than 60 days from the policy renewal date.
Migration Benefit:
According to IRDAI migration guidelines, the insured beneficiary will have the choice to migrate the policy to other health insurance products or plans offered by the company by requesting for migration of the policy at least 30 days prior to the policy renewal date.
Tax Benefits:
Under Section 80 D of the Income Tax Act, 1961, you can avail of tax benefits on the premiums paid for the policy. This will help you out in saving a great deal of money.
Premium Calculation Of Bajaj Allianz Health Infinity Plan
Before you purchase the Bajaj Allianz Health Infinity plan, you need to have an estimate of how much the plan will cost you. This table will illustrate the sample premium amounts on the basis of various criteria, such as gender and age.
Name
Age
Gender
Premium Amount
For 1 Year
For 2 Years
For 3 Years
Sunil Kaundal
29 Years
Male
Rs. 9310
Rs. 17,875
Rs. 26,220
Vanita Rana
35 Years
Female
Rs. 9,880
Rs. 19,380
Rs. 28,055
Mohit Singh
55 Years
Male
Rs. 18,003
Rs. 39,216
Rs. 58,602
Sakshi Kumari
60 Years
Female
Rs. 22,848
Rs. 49,020
Rs. 72,935
What's Not Covered Under Bajaj Allianz Health Infinity Plan?
The following expenses are not covered under the plan:
Any illness due to alcohol or drug
Unrelated diagnostic and treatment expenses
Expenses arising out of cosmetic or plastic surgery
Dental treatment unless medically required
Diseases like gastrointestinal ulcers, cataracts, Parkinson's disease, etc.
War, invasions, hostilities, etc.
Obesity or weight control treatment
Coronary heart disease
Change of gender treatments
Injury arising out of the hazardous or adventurous sport
Congenital external diseases
Intentional self-injury
Refractive error
Treatments related to birth control, sterility, and infertility
Maternity expenses
Breach of law
Frequently Asked Questions