Cover Your Health in 5 mins
Compare Premium.
Buy Now.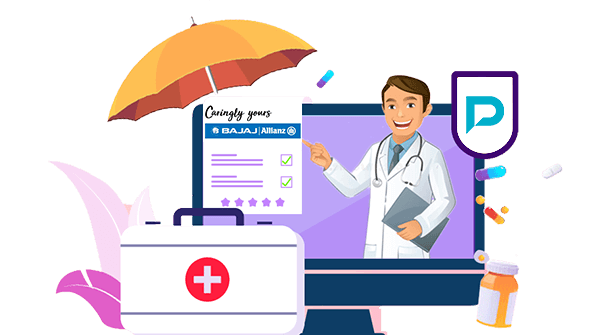 Compare

Individual Health Insurance Plans
Bajaj Allianz Health Insurance Renewal
In the fast-paced world, it is essential to have a dedicated health insurance policy to safeguard your health and prevent huge medical expenses. In addition to having a policy, you should know how to renew your health insurance before it expires. Thanks to the renewal process, you can easily protect your family against any medical emergency. Besides designing a simple renewal process and making its customer service available 24/7 to address customers' needs, Bajaj Allianz General Insurance gives a grace period of 30 days from expiry to renew health insurance after the deadline has passed. Read on to know more about the Bajaj Allianz health insurance policy renewal process in detail!
How To Renew Your Bajaj Allianz Health Insurance?
If you are looking to renew your Bajaj Allianz health insurance for your policy, make sure you follow these steps:
Step 1: Go to the official website of Bajaj Allianz.
Step 2: After that, you will need to hover over the "Renew" option on the top of the blue-coloured ribbon. Click on "Health Insurance".
Step 3: You will then be directed to the page wherein you will need to renew the health insurance plan you have.
Step 4: Among all the plans listed, you will need to renew your respective Bajaj Allianz health insurance plan. Click on it.
Step 5: After that, you need to enter your existing policy number and your date of birth, and then fill in the solution for (calculation like 2+2=, 3+2=). Click on "View Premium Details".
Step 6: You will be directed to a new page wherein you will need to review the policy renewal quote. Modify it as per your budget and requirement before moving ahead.
Step 7: After that, you are required to pay for the renewal premium amount online from the available modes of payment.
Step 8: Finally, you will get a confirmation mail about the successful renewal of the policy.
Things To Remember While Renewing Your Health Insurance Policy
Here are the things that you should be kept in mind when you are renewing your health insurance policy.
You failed to renew by the deadline. You'll be relieved to learn that you have 30 days from the expiration date to renew your health insurance.
You don't completely understand the value something offers you unless you give it a shot and test it out for yourself. You should modify your insurance upon renewal if any modifications are required. For instance, you can raise it at renewal time if you feel the quantity covered was insufficient.