Cover Your Health in 5 mins
Compare Premium.
Buy Now.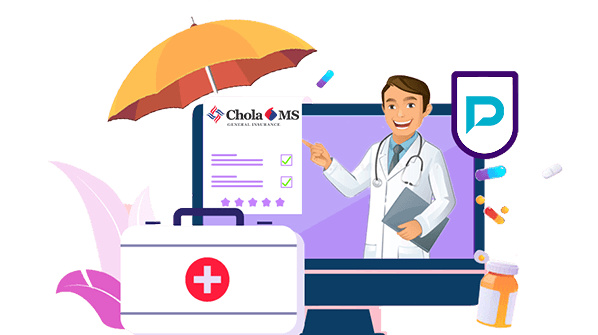 Compare

Individual Health Insurance Plans
Cholamandalam Health Insurance Claim Status
When you buy a health insurance policy to protect yourself and your beloved ones from different types of health hazards, your responsibility does not end here. Rather, you need to keep an eye on the claim status once you file a claim against your health insurance plan. For most policy-seekers, Cholamandalam is the ideal insurance company to invest in a health plan as it has come up with a sack full of transparent and customer-friendly health insurance plans with different variants to cater to the varied needs of the customers. As checking your health insurance claim status regularly is a pivotal part of availing of any claim process smoothly, here, everything is discussed in detail regarding the checking procedure of Cholamandalam health insurance claim.
Importance of Keeping Track Of Health Insurance Claim Status
Your claim approval goes through different steps. You need to keep track of every step so that you can plan your future dealings accordingly. The following mentions talk about the importance of tracking your health insurance claim status.
To avoid any error – If you check your claim status regularly, you can reduce the likelihood of errors that may slow down the pace of your claim approval.
To make a planner – When you will be getting the claim amount for your health plan depends on the status of your claim and other factors. If you can track the pace of your claim approval, you can make your future plans accordingly.
To reduce financial burden – As in the case of reimbursement type of health claim, you need to pay the claim amount out of your pocket, and later, you receive the money, it is highly possible that you are in need of money. In that scenario, checking the claim status offers you the estimated time frame of when your financial burden may be lessened.
To find out the commitment of the insurer – If you are tracking your claim status regularly and have provided the insurer with all the needed documents, but still after that, your insurer is taking more than the stipulated time to approve your claim, it denotes the lack of commitment of your insurer.
To have peace of mind – Tracking your claim status and watching it nearing approval always provides solace and peace of mind as you become sure that you will be reimbursed for the loss or damage.
To remain aware – It is not necessary that always your claim will be approved. If any discrepancy is found, your claim might be denied. So, tracking your claim status means remaining aware of the situation of your claim.
How To Track Your Claim Status For Cholamandalam Health Insurance Policy?
Cholamandalam has come up with both online and offline processes for tracking health insurance claim status for the convenience of its customers. Here, both the procedures are discussed in detail including the steps.
Online Process:
For availing of a smooth and hassle-free process of checking your claim status for Cholamandalam Health Insurance Policy, follow the below steps.
Go to the official website of Chola MS General Insurance Company.
On the top of the homepage, you will find the Claims tab. Click on that.
After that, go to the Health Insurance section and click on the Track a Claim option.
If your health insurance policy is of an individual type, you need to fill up the next landing page with certain details such as either the Claim Reference Number or date of birth and policy number.
If you have a corporate health insurance plan under Cholamandalam, then you need to put either the unique claim reference number or policy number and employee ID or member ID to log in to your portal.
Then, click on the Continue option.
Your job is done. Now, you can successfully view the claim status of your Cholamandalam health insurance policy.
Note: Usually Cholamandalam intimates its customer about every step of the health claim process through the registered phone number and email ID of the customer. For a reimbursement claim, it usually takes 7 days to get approved the health insurance claim and for a cashless claim, the time frame is 2 hours for initial approval.
Offline Procedure:
Apart from the online procedure, there are several offline processes through which you can view the claim status for the Cholamandalam health insurance plan. If you are more comfortable with the offline procedures, you can opt for any of the following ways.
By Calling – You can get connected to the company by directly calling on 1800–208-9100. This service is available 24×7 and their customer executive will guide you through the claim process.
Through Email ID – You can directly write to the insurer asking about your health insurance policy claim status using the email ID customercare@cholams.murugappa.com. In that case, you may have to provide certain details like policy number or claim reference number as requested by the company.
Via WhatsApp – Cholamandalam has launched the WhatsApp facility for its customers. You can get to know about your health insurance policy claim status just by sending a WhatsApp message on 7305234433 from your registered mobile number.
Call Back Facility – You can also avail of the Call Back facility provided by Cholasundaram. For this benefit, you need to enter your name, mobile number, and email ID, and have to select the product. Their customer execute will contact you soon and help you to track your health insurance claim status.
Visiting Official Branch – It is the most convenient way to track your health claim offline. You can visit the nearest official branch of the company and their experts will help you to get through the same.