Cover Your Health in 5 mins
Compare Premium.
Buy Now.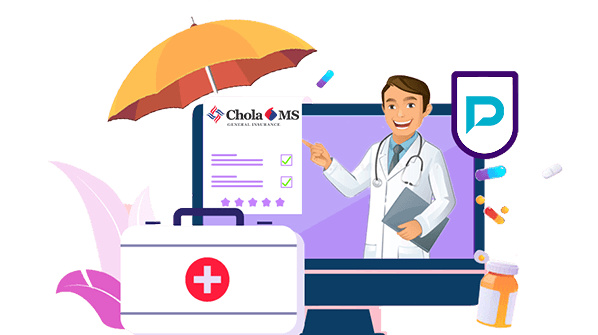 Compare

Individual Health Insurance Plans
Chola MS Critical Healthline Policy
Chola MS Critical Healthline insurance is a dedicated health insurance plan by Chola that efficiently covers all individuals who have been insured under the policy and is diagnosed as critically ill during the period of the policy. If the insured lives for at least 30 days from the date of diagnosis, the plan will pay for all costs, including hospital bills whether they are included in the coverage or not, in a lump payment. You must show a diagnosis certificate or medication to qualify for Chola MS Critical Healthline insurance as proof that you have the condition. There are two variants of the policy: Advanced and Standard.
Here are the criteria of eligibility for the Chola MS Critical Healthline insurance plan.
Parameters
Details (Advanced & Standard)
Age

Minimum- 5 Years

Maximum- 65 Years

Sum Insured options per person
Rs. 3 L, Rs. 5 L, and Rs. 10 L
Emergency ambulance cover
1000/- per insured per policy (for Advance)
Cashless Network Hospitals
9500+
Features & Benefits of Chola MS Critical Healthline
Here is the list of the salient features and benefits of Chola MS Critical Healthline insurance.
Lump-Sum Payment
With Chola MS, you can get the complete payment in one lump sum when the serious sickness is diagnosed. If the critical insurance coverage covers your disease, you will receive a fixed payment equal to the sum insured.
Tax Exemption
Chola MS's critical illness plan not only lessens the financial strain on the patient and their family but also offers tax deductions and makes it possible for you to receive your treatment without any hassle. This takes the form of an income tax exemption up to a total of Rs. 25,000. helps you pay off your debts more quickly.
Medical Tests
For persons under the age of 55, the critical illness policy can be obtained even without a medical exam, allowing them to benefit from the insurance without paying excessive costs.
Waiting Period
Chola MS offers a relatively short waiting period for critical health insurance—just 90 days—after which you may easily submit insurance claims. You may be able to appreciate how simple the process is if you have chosen Chola MS for your health insurance.
No Documents
Your hospitalization bills are not necessary for Chola MS critical health insurance. The claims process would be straightforward and require a few papers. If you are at one of the hospitals in their network, the insurance representative will work directly with the hospital administration to resolve the claim.
6. Lifetime renewability
If you buy the Chola MS Critical Healthline insurance as a single policy, you have the choice of lifetime renewability. Regular renewals are not a concern for you, and if you pay the price in full, you can also benefit from additional policy reductions.
Complete Protection
All unexpected and life-threatening illnesses are covered by the Chola MS Critical Healthline insurance plan. Any new permanent symptoms you might get as a result of the diagnosis and therapy are also covered by the policy. In the event of an unforeseen illness, the policy gives you a great backup plan and a stable financial situation.
What Does Chola MS Critical Healthline Insurance Plan Cover?
Cancer of specified severity
This policy provides coverage for a variety of malignant tumors. Leukemia, lymphomas, sarcomas, and other malignancies are covered by the plan. After a cancer diagnosis, this insurance plan offers a lump sum payment to help you cover the associated expenses while maintaining your financial security.
Cardiac Disorders
The plan offers coverage for myocardial infarction and lifelong disability brought on by a stroke under the critical illness plan. After a diagnosis, the insurance policy pays the insured a lump sum. As a result, the amount assured can pay for all medical costs. If the signs of a cardiac arrest persist for longer than six months, you may be entitled to compensation. However, ischemic attacks and brain damage are not covered by this coverage.
3. Kidney failure (requiring regular dialysis)
The Chola MS Critical Healthline policy only covers people who require regular dialysis and have both renal failure and that condition. When the policyholder's two kidneys have stopped functioning, the claim will become due.
Multiple sclerosis with permanent symptoms
An illness affecting the brain and spinal cord called multiple sclerosis (MS) cause the body's nerves to be attacked by the immune system. This decline may result in irreversible nerve injury and incapacity.
Major organ and bone marrow transplant
When a doctor is certain that an organ can no longer perform as the body requires, an organ or bone marrow transplant is advised. Major organ and bone marrow transplants are covered by both the ordinary and enhanced versions of the Critical Healthline Policy. If a heart, lung, liver, kidney, pancreas, or bone marrow transplant was performed on you, you are qualified to file a claim.
Permanent paralysis of limbs
If a person sustains spinal or brain trauma as a result of an accident, permanent paralysis might develop. Policyholders who may experience limb paralysis are protected by the Chola MS Critical Healthline insurance coverage. If you've had persistent paralysis for three months, you may be eligible for compensation. If you experience a permanent loss of function in both arms, both legs, or both arms and both legs, you may be entitled to file a claim.
Primary pulmonary hypertension
A form of heart disease called primary pulmonary hypertension affects the arteries on the right side of the heart and the lungs. This causes the patient's blood pressure to rise unnaturally high. Because this illness cannot be cured, it typically requires surgical intervention, medical devices, or medications. The plan offers complete coverage for the illness and offers protection against it.
Motor neuron disease and Parkinson's disease with persistent symptoms
Parkinson's disease is brought on by the gradual degeneration of brain neurons. Without dopamine, which is necessary for the brain to operate properly, they are unable to produce it. Muscle function is permanently lost as a result of this.
Exclusions Under Chola MS Critical Healthline Insurance
Listed below are the exclusions under the Chola MS Critical Healthline insurance policy.
Pre-Existing Diseases
Any form of pre-existing medical condition you may have is not covered by the firm. The critical illness policy also excludes coverage for any critical illnesses that are a complication or side effects of pre-existing conditions.
Diagnosis While You're Waiting
The waiting time for the Chola MS Critical Healthline insurance coverage is 90 days. The coverage does not cover any diagnostic, procedures, or other medical expenses for any conditions during this time, not even ones that are covered by the policy.
Self-inflicted Injury
The policy does not cover self-inflection-related injuries, damages, or illnesses, including the long-term effects of suicide, intentional self-harm, or extreme sports. Chola MS will deny any claim made for all of these.
Use of Drugs
Abuse of any intoxicant, including alcohol, narcotics, tobacco, or other substances falls under the category of purposeful harm. They do not offer a remedy for harm brought on by or resulting from substance usage.
Death during the survival period
For any ailment covered by the critical illness plan, the survival time is 30 days. Because the policy does not provide coverage in the event of the policyholder's death within the survival term, no claim may be submitted or authorized.
People whose renal function has partially declined
Although the policy covers renal failure, it only does so if both kidneys are failing and the patient needs either a transplant or ongoing dialysis. One kidney's loss of function disqualifies one from filing a claim.
Cardiac problems that can be Reversed
The Chola MS Critical Healthline insurance plan does not provide coverage for any reversible cardiac diseases, including transient ischemic attack and reversible myocardial infarction.
Consumables During Hospitalization
The policy does not provide coverage for any consumable items used during hospitalization or childcare procedures. This includes any needles, bandages, or drugs utilized throughout the course of treatment.
How Does the Chola MS Critical Healthline Insurance Work for You?
Let's take an example to understand!
A man named Mr. Dev Sangwan, who is 30 years old and is 6' feet tall and weighs nearly 90 Kg working as a content writer at Accenture looking to buy Chola MS Critical Healthline Insurance. Earlier, he was tensed and after asking his relatives, family, and friends, someone suggested him to buy Chola MS Critical Healthline Insurance to protect against medical issues. Here are the different premium rates for his reference.
| | | | | | | |
| --- | --- | --- | --- | --- | --- | --- |
| Members covered | Average Annual income | Sum Insured | Type of cover | Plan | Tenure | Premium |
| Self | 5 to 10 lacs | 10 Lakhs | Individual | Standard | 1 year | Rs. 4,329 (Including GST) |
| Wife | 5 to 10 lacs | 5 Lakhs | Individual | Advance | 1 Year | Rs. 1,868 (Including GST) |
Frequently Asked Questions