Cover Your Health in 5 mins
Compare Premium.
Buy Now.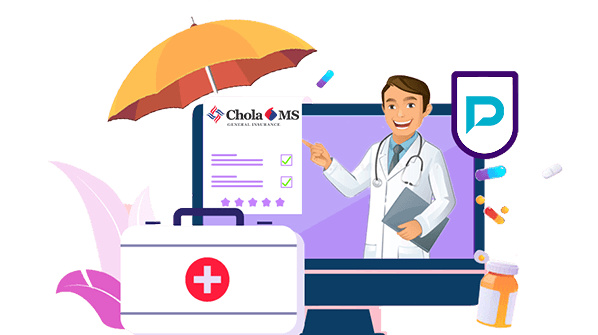 Compare

Individual Health Insurance Plans
Chola Healthline is a comprehensive plan designed to cover you against financial risks arising out of various medical conditions. You can easily cover your spouse and young children using the floater sum insured basis. 
Additionally, there is an option to include your in-laws and siblings. The plan comes in four different variants, including Privilege Plan, Enrich Plan, Freedom Plan, and Value Plan, each with different sum insured options. Read along to know more about the Chola Healthline!
Minimum Entry Age
For Adults: 18 Years, For Dependent Children: 90 Days
Maximum Entry Age
For Adults: 65 Years, For Dependent Children: 26 Years
Policy Tenure
1/2/3 Years
Sum Insured

Value Plan: Up To Rs. 10 Lakhs, Freedom Plan: Up To Rs. 15 Lakhs

Enrich Plan: Up To Rs. 25 Lakhs, Privilege Plan: Up To Rs. 25 Lakhs
Features Of Chola Healthline Plan
Let's check out what exactly is covered under the plan!
Product Features
Value Plan
Freedom Plan
Enrich Plan
Privilege Plan
Pre-Hospitalization Expenses
30 Days
60 Days
60 Days
60 Days
Post-Hospitalization Expenses
60 Days
90 Days
90 Days
90 Days
Emergency Ambulance
Rs. 1000
Rs. 2000
Rs. 2000
Rs. 5000
Maternity Expenses
No
No
No
Up To Rs. 1 Lakh
Newborn Baby Hospitalization
No
No
No
Up To Mother's Sum Insured
Domiciliary Hospitalization
Up To 7 Days (Per Policy Year Per Policyholder)
Ayush Coverage
Yes
Yes
Yes
Yes
Organ Donor Hospitalization
Yes
Yes
Yes
Yes
Daycare Procedures
Yes
Yes
Yes
Yes
Child Hospitalization Allowance
No
No
Rs. 500 On Each Hospitalized Day For A Week
No
Dental/Specs/Hearing Aids/Contact Lenses
No
No
No
Rs. 10,000 For Every 2 Policy Years
Extended Hospitalization Allowance
No
No
Rs. 10,000
Rs. 10,000
Why Should You Choose Chola Healthline Plan?
The plan offers the following advantages to the policyholder:
Covers Entire Family Members: The plan provides coverage to your entire family members including parents-in-law and siblings. This ensures each member of your family is protected under a single plan.
Lifelong Renewability: The insured can guarantee that the policy can be renewed for as long as necessary without any age or other restrictions thanks to the lifetime renewability feature of the plan. The benefit of lifetime renewability relieves financial stress for senior citizens in the event of any medical emergency.
No Pre-Policy Health Check-Up: If you are below 45 years old, there is no requirement of undergoing a pre-policy health check-up to buy the plan. This eliminates the hurdles faced by insurance-seekers with pre-existing illnesses. 
Tax Benefits: As per Section 80 D of the Income Tax Act, you can leverage tax benefits under the plan. The tax deductions are up to Rs. 25,000 for policyholders and up to Rs. 55,000 for senior citizens.
Discount Benefits: The plan offers a 6% discount for a 2-year policy and a 12% discount for a 3-year policy. Moreover, a discount of 10% will be given if the insured person resides in tier-2 locations. 
Sum Insured Restoration Option: For Enrich and Privilege plans, the restoration of the sum insured solely applies to CI and accidents. The balance insured is restored to its original level under this benefit if the coverage is spent up in prior claims during the insurance year. The benefit offers double sum insured compensation as a result, and it is helpful if there are several claims made during a policy year.
No-Claim Benefits: For each year without a claim under this plan, you will receive a cumulative bonus based on a set percentage of the insured amount. Depending on the type of plan, the percentages change.
What's Not Covered Under Chola Healthline?
The following things are not covered under the plan:
War and hostilities
Act of self-injury and suicide
Vaccination or inoculation (unless the case of post-animal bite)
Non-medical expenditure
Premium Calculation Of Chola Healthline
The premium amount of Chola Healthline differs according to various factors, such as age and gender. Therefore, we have illustrated the premium amounts with respect to different parameters. Let's have a quick look at them in this table!
| | | | | | | |
| --- | --- | --- | --- | --- | --- | --- |
| Name | Age | Gender | Sum Insured | Policy Tenure | Type Of Plan | Premium Amount |
| Srijan Shukla | 29 Years | Male | Rs. 3 Lakhs | 1 Year | Enrich Healthline | Rs. 7,975 |
| Vaibhavi Singh | 34 Years | Female | Rs. 5 Lakhs | 2 Years | Privilege Healthline | Rs. 41,068 |
| Shanaya Malhotra | 42 Years | Female | Rs. 10 Lakhs | 3 Years | Privilege Healthline | Rs. 94,818 |
| Mohan Aggarwal | 55 Years | Male | Rs. 15 Lakhs | 2 Years | Enrich Healthline | Rs. 1,08,204 |
Frequently Asked Questions