Cover Your Health in 5 mins
Compare Premium.
Buy Now.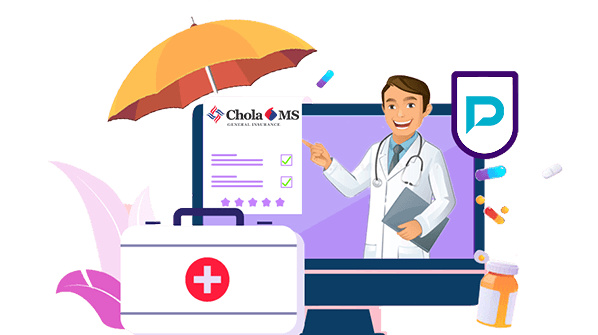 Compare

Individual Health Insurance Plans
Chola Sarva Shakti Policy
Chola Sarva Shakti Policy is a Health Insurance Policy meant only for women. This medical insurance policy is designed keeping in mind the needs of women and is one of the best health insurance plans available in the market. It offers protection against cancer and 39 other illnesses, looks after the children's education while the insured person recovers, reimburses the cost of domestic help, and also offers an EMI, vehicle loan protection, and EMI coverage in case of loss of job if the policyholder a working woman. Apart from that, one can get a sum insured of up to Rs 2 crores against contingencies like Personal Accident and complete flexibility in terms of selecting Policy Tenure and Premium Payment. To know more about this policy, have a look at the following mentions.
Age at entry

Minimum – 18 years

Maximum – 65 years

Made for
Only women, employed or unemployed
Citizenship
Indian
Premium payment option
Single premium or make the payment in monthly, quarterly, semi-annual, or annual installments
Pre-hospitalization expenses
30 days
Post-hospitalization
60 days
Structure of Covers Offered Under Chola Sarva Shakti Policy
The following structure has to be followed under this policy.
It is compulsory to opt to cover any one of the following sections.
1A-Accidental Death, or
1B-Permanent Total Disability, or
2A- Cancer Care Benefit or
2B- Critical Illness-Standard benefit or
2C- Critical Illness-Extra benefit
Following Sections can be offered only if the Insured is covered under Section 1A-AD or 1B-PTD.
1D- Education Benefit for Dependent Children
1E- Medical Expenses for accident
1F-Temporary Total Disablement
1G- EMI Protection Benefit
1H- Vehicle Loan Protection Benefit
1I- Family Transportation Cover
Section 1F- Temporary Total Disablement and Section 6 – EMI Benefit due to loss of Job can be offered only in respect of salaried women only.
Only one sub-section out of 2B- Critical Illness-Standard benefit and 2C- Critical Illness-Extra benefit can be offered.
Under Section 3-Health Cover, 3B-Maternity Coverage can be opted only along with 3A-Health Indemnity Cover.
What are the key highlights of the Chola Sarva Shakti Policy?
This policy has come up with a bucket full of benefits and facilities specially designed for women. The followings are a few important mentions.
Financial Independence:
Any medical emergency can hurt a woman's career and her ability to work. This can create unnecessary financial pressure. Chola Sarva Shakti Policy will help her by providing the necessary financial aid in terms of medical emergencies. This policy has been created with a sole focus on helping women, which is why it is one of the best health insurance plans for a single female.
Cancer Screening Benefit:
If the insured has opted for any of the sub-sections in Critical Illnesses cover and has had three consecutive claim-free years, then she is eligible for cancer screening benefit on renewal. The expenses incurred by the Insured for health check-ups which shall include any of the below-mentioned tests, shall be reimbursed:
The amount payable shall not exceed 1% of the total sum insured, subject to a maximum of Rs 10,000/-
Any unutilized amount shall lapse once the policy expires.
Flexibility:
This policy offers enhanced flexibility in the sense that one can choose what covers she wants. One has complete flexibility in choosing the Sum Insured option. There are four covers, out of which one has to pick one compulsorily, and the rest she can include voluntarily:
Accidental Death (AD), or
Permanent Total Disability (PTD), or
Critical Illness- Standard or extra benefit.
Maternity Expenses:
If one opts for Maternity cover, she can get maternity expenses covered for up to two deliveries. It will cover both normal and cesarean deliveries and will also cover the charges of stem cell storage for preservation of the same in any Government Authorized Centers or stem cell banks.
EMI Cover Benefit:
If the policyholder suffers an accident that makes her temporarily totally disabled due to which she is not able to work for at least 30 days, the policy will pay 1/3rd of the specified Sum Insured or EMI, whichever is lower per month of disability. This benefit is available as a separate cover under Personal Accident Section.
AYUSH Treatment:
The policy will indemnify medical expenses incurred for inpatient care treatment under Ayurveda, Yoga, Naturopathy, Unani, Siddha, and Homeopathy systems of medicines during each policy year up to the limit of sum insured as specified in the policy schedule.
What are the general exclusions of the Chola Sarva Shakti Policy?
The followings are the general exclusions of this policy.
Anything that does not fulfil the terms and conditions of the policy, as well as of the company, will fall under the category of exclusions.
Any kind of breach of the law will not be permitted.
Claims raised within the waiting period will be denied.
Self-inflicted injury, suicide, and suicide attempts will not be reimbursed.
Buying process of Chola Sarva Shakti Policy
One can easily buy this policy online through Probus Insurance.
Go to the official website of Probus Insurance Company.
Go for the individual health option available on the homepage.
On the landing page, select the health insurer, Cholamandalam MS.
Provide the required details, such as personal details and policy-related information.
On the basis of the given data, the premium amount will be calculated and displayed on the screen.
Check the details twice, and if satisfied, pay the premium amount online securely.
Upon successful payment, a notification will be sent to the registered mobile number and/or email ID.
Download the policy document. One can also take a printout of that.
Claim process of Chola Sarva Shakti Policy
This policy has come up with both cashless and reimbursement claim procedures. The following is the step-by-step guide for both procedures.
Cashless Claim:
As soon as the incident happens, inform the hospital admin staff that the patient is Chola Sarva Shakti's Policy Holder.
Furnish the policy document and an identification proof for verification and proof of insurance contract.
Submit a pre-authorization form to Chola MS after all the details have been verified.
After verification of all details sent by the hospital, the company will start processing the claim with respect to the terms and conditions of the policy.
There might be cases where a field doctor is sent to the hospital for authorization.
Post that, Chola MS will directly pay the claim to the hospital if all the things are in order.
Reimbursement Claim:
One will have to submit all the documents to the hospital.
If it is a non-network hospital, she will have to settle the bill at the hospital first.
Post that, she can fill out a claim form which is available at the Chola MS website, or reach out to the company on the toll-free number 1800 208 9100. One can submit all the relevant documents through the official ID: customercare@cholams.murugappa.com.
Please ensure to complete the procedure within 30 days from the date of discharge.
After all the documents have been verified, your claim will be processed in no time.
Frequently Asked Questions