Cover Your Health in 5 mins
Compare Premium.
Buy Now.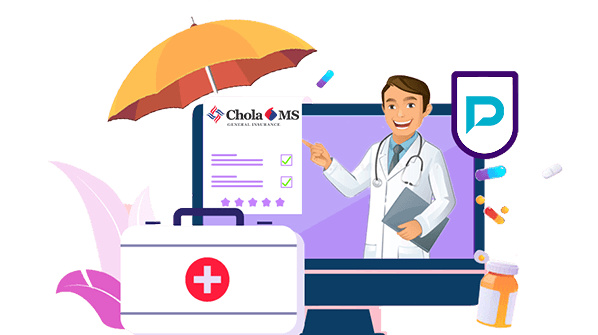 Compare

Individual Health Insurance Plans
Cholamandalam Super Top-up Policy
If you have an existing health insurance plan but still you are not satisfied with its coverage of it, and you want to boost up your policy, top-up plans are the best ones. In this respect, the Chola Super Top-up plan is the must-have policy that provides additional coverage for your medical expenses in addition to the existing sum insured. When your medical bills amount to a total higher than what the insurance covers, then only this top-up plan kicks in. Once your deductible amount is subtracted and your sum insured is fully used, your Chola Super Top-up insurance comes into work and can be used to cover the remaining amount. This plan offers coverage for higher medical expenses for families on a floating sum insured basis or on an individual sum insured basis.
Key Highlights of Chola Super Top-up Plan
Apart from the basic coverage mentioned above, this plan has come up with some unique features, which have made this plan popular among policy seekers. here are the mentions.
Hospitalization Charges – Any expenses incurred before, during, and after the hospitalization, including medications, and investigations, will be compensated by the policy. However, the costs of consumables have to be borne by the insured person.
Nursing Charges – If your condition is very weak, or you are suffering from a temporary or permanent disability, you may require assistance round the clock from an assigned nurse, even in the hospital. In that case, the charges incurred due to this will be borne by the policy.
Consultation Fees – You may need to have multiple doctor consultations prior to the hospitalization. Regardless of the number of consultations, this policy will pay for those expenses.
Surgical Procedures – Any expenses that are associated with surgeries, including day care procedures, and organ donation surgeries, will be covered by this policy.
Tax exemption Benefit – This plan has come up with the tax exemption benefits under Section 80D of the Income Tax Act.
Parameters
Descriptions
Entry age
Minimum – 3 months, Maximum – 70 years
Pre-policy medical health check-up
Not required before 55 years of age
Policy period
1, 2, and 3 years
Plan variants
Supreme Plan, Premiere Plan
Cover type
Individual cover, Family floater cover
Cashless facility
Available
Waiting period

Initial – 30 days, Pre-existing diseases – 36 months (Supreme Plan), and 48 months (Premiere Plan).

For treatment of listed ailments – 12 months

Renewal
Lifetime renewability
Sum insured options
Minimum- Rs. 3 lakhs, Maximum – Rs. 25 lakhs
Deductible options
Minimum – Rs. 1 lakh, Maximum – Rs. 20 lakhs
Coverage Details of Chola Super Top-up Policy
Once you know the eligibility criteria of the plan, you must be curious to know about its specifications of it. So, the following table contains brief details about the plan.
| | | |
| --- | --- | --- |
| Parameters | Premier Plan | Supreme Plan |
| In-patient hospitalization charges including medications, ICU charges, room expenses, etc. | Yes | Yes |
| Pre-hospitalization expenses up to 60 days | No | Yes |
| Post-hospitalization expenses up to 90 days | No | Yes |
| Day care procedures for which less than 24 hours of hospitalization is required | Yes | Yes |
| Emergency ambulance expenses for emergency medical transportation | Yes | Yes |
| AYUSH (Ayurveda, Yoga & Naturopathy, Unani, Siddha, and Homeopathy) coverage expenses | Yes | Yes |
| Domiciliary hospitalization costs (Treatments received at home instead of a hospital on the prescription of a doctor, or in the case of, a hospital bed is unavailable) | Yes | Yes |
Exclusions of Chola Super top-up
Understanding a policy remains incomplete if you do not know its exclusions of it. It helps you to have a comprehensive idea of the plan and also to avoid future complications. So, here are the exclusions of this policy for which it does not provide any coverage.
If you file any claim within the waiting period, your claim will get rejected.
The company will not be held liable to pay for the claims/claim amount coming within the deductible limit as chosen and specified in the policy.
Any expenses arising out of pre and post-hospitalization expenses of the organ donor and consequential misfortune to such organ donors will not be paid by the policy.
If the injury occurs due to any unlawful act, self-inflicted injury, suicide, or suicide attempts will fall under the category of exclusions.
If your injury derives from any criminal activity or radioactivity, the company will not be liable to pay for that.
For any sex-transformation surgeries, circumcisions, plastic surgery, cosmetic surgery, or anything that sort of will not be compensated by the policy.
If you receive any injury due to war, war-like situations, riots, public unrest, etc., the plan will not take care of the expenses.
Injuries or treatments arising out of the consumption of alcohol, drugs, or any other intoxicating substances will not be compensated by this top-up plan.
Premium Calculation of Chola Super Top-up
The next important thing that you want to know is how much premium amount you have to pay for choosing this policy. You can easily calculate the premium value by following the easy steps mentioned below.
Go to the official website of Chola MS General Insurance Company.
On the homepage, there will be the Products tab. Click on that.
Multiple options will pop up before you. Chose the Super Top-up Plan option under the Health Insurance tab.
On the right-hand side of the landing page, there will be the Get Quote option.
Put the required details such as your name, and contact details, and click on the Get Quote option.
After that, you need to fill the blanks with required policy details such as policy tenure, sum insured option, age, type of plan, etc.
Once you are done providing the required data, the premium amount will be calculated automatically, and it will be displayed before you.
If you are satisfied with that, you can also pay the premium, and buy the policy by clicking on the Buy Now option available at the bottom of the same page.
To make the plan more explicit and understandable to you, here is an example.
Suppose, Ms. Sharma, a 36-years old, Kolkata-based businesswoman, wants to buy Chola Super Top-up Plan for herself. Let us find out how much premium amount she has to pay towards the plan for the chosen credentials.
| | |
| --- | --- |
| Parameters | Details |
| Average annual income | Rs. 15 lakhs to Rs. 20 lakhs |
| Age | 36 years |
| Type of cover | Individual floater |
| Plan type | Gold |
| Smoker | No |
| Policy tenure | 3 years |
| Sum insured | Rs. 20 lakhs |
| Deductibles | Rs. 5 lakhs |
| Any add-on cover | No |
| Premium amount including GST | Rs. 6321 |
Frequently Asked Questions