Cover Your Health in 5 mins
Compare Premium.
Buy Now.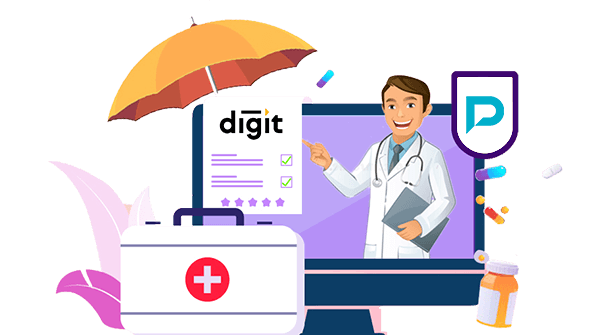 Compare

Individual Health Insurance Plans
Digit Health Insurance Policy Download
When an individual purchases a Digit Health Insurance policy, he/she receives a policy document, which provides the majority of information and insights about the health plan. One may find all the plan information for the Digit health insurance coverage in these documents, all in one place, without having to look elsewhere.
It is very essential for the policyholders to know about his/her insurance inside and out because it facilitates the maintenance and implementation of the coverage. This is why downloading the Digit health insurance policy document is an important step that comes along with having the policy.
What Is Included In The Digit Health Insurance Policy Document?
The Digit health insurance policy document consists of all essential information that a policyholder must know. Here is a list of some of these components:
Policyholder's name
Contact details of the insured
Policy number
Policy type
Sum insured
Terms and conditions
Health insurance terminologies and their definitions
Policy benefits
List of expenses covered
Hospitalization options
Exclusions
Grievance redressal procedure
Details of the waiting period
Claim procedures
How To Download Digit Health Insurance Policy Document?
The policyholders can download the health insurance policy document of the company through the following methods:
Through Digit App:
From the Play Store or App Store, download the "Digit Insurance App."
Use the registered mobile number to log into the app.
On the bottom right of the screen, select "My Policies". The policyholder may view all of his policy documentation here.
Click the "Download Policy" button after selecting the policy. The policy document will be easily accessible to you.
Through WhatsApp:
Send a "Hi" to the Digit Self-Serve WhatsApp number 70260 61234 from the registered phone number.
Now a message will appear asking the individual to select how the company can help him/her. Answer "2" to the message.
After this, the policyholder will be able to download his/her health insurance policy document.
Through Mail:
However, Digit also provides a third choice in which one can request his policy document via email by sending a message to hello@godigit.com.
Frequently Asked Questions
Yes. At the time of settling claims, a hard copy of the policy document is necessary. It must be available in order for the claim settlement procedure to run smoothly.
Yes, you can download your Digit health insurance policy by policy number using any mobile device or computer.
There aren't any restrictions. It is available for as many downloads as necessary.