Cover Your Health in 5 mins
Compare Premium.
Buy Now.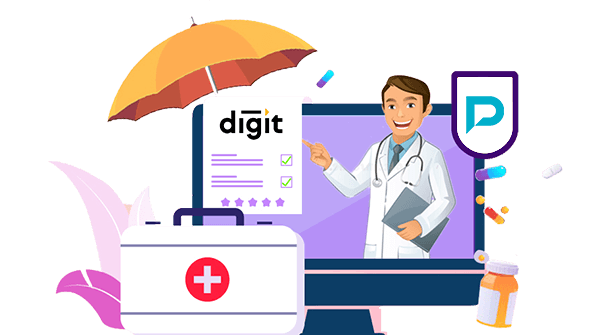 Compare

Individual Health Insurance Plans
Digit Super Top Up Policy
Digit Super top-Up is a comprehensive super top-up policy that can be purchased as an extension to your current one once your existing sum insured amount is exhausted during the period of your policy. When the maximum claim for the year has already been made, you can use this policy. When you reach the threshold limit after adding the prices of the many treatments you received over the year, it is also quite helpful.
The super top-up plan from Digit Health essentially operates on a cost-sharing model. It suggests that the policy only covers a portion of the cost, which is greater than the deductible cap. Simply put, you can submit a claim for hospitalization costs that exceed Rs 3 lakh if your super top-up plan has a deductible of Rs 3 lakh.
Read on to know more about Digit Super Top-up's eligibility criteria, inclusions, exclusions, premium calculations, and more.
Features & Benefits of Digit Super Top Up Plan
Here is the list of the features and benefits of the Digit Super Top Up policy.
Covers Pandemics – One of the biggest benefits of choosing the Digit Super top-up policy is that the company is aware of how much uncertainty COVID-19 has added to our life. Despite being a pandemic, COVID-19 is also covered in addition to other ailments.
Pay Your Deductible Only Once – If you have super top-up insurance, you only need to pay your deductible once and are then eligible to file many claims throughout the course of the year. A genuine Digit treats!
Adapt Your Super Top-up Coverage to Your Medical Needs: Deductibles of 1, 2, 3, and 5 lakhs are available, and your Sum Insured can range between Rs. 10 lakhs and 20 lakhs.
No Rent Restrictions: The company recognizes that everyone has different tastes. We, therefore, have no limitations on room rental! Select the hospital room of your choice.
Get Treated at any Hospital: Select from more than 6400 of our network hospitals in India to submit cashless claims, or choose reimbursement instead.
Simple Online Procedures: Last but not the least, when you choose a digit super top-up policy everything from purchasing super-top-up health insurance to filing a claim is quick, simple, and hassle-free!
What Does The Digit Super Top Up Plan Cover?
Listed below are the things covered under Digit Super Top Up Plan Cover.
| | |
| --- | --- |
| Super Top-up | Pay your deductible only once- Digit Special |
| All Hospitalization | Available |
| Day Care Procedures | Available |
| Pre-Existing/Specific Illness Waiting Period | 4 years/2 years |
| Room Rent Capping | No room rent capping – Digit Special |
| ICU Room Rent | No Limit |
| Road Ambulance Charges | Available |
| Complimentary Annual Health Check up | Available |
| Pre/Post Hospitalization | Available |
| Post-Hospitalization Lumpsum – Digit Special | Available |
| Psychiatric Illness Cover | Available |
| Bariatric Surgery | Available |
| Cashless Treatments | 6400+ cashless hospitals all over India |
| Room Rent Capping | No Room Rent Capping, Choose any room you like |
| Treatment for COVID-19 | Covered |
What is not Covered Under Digit Super Top Up?
Here are the things that are not included under the Digit Super Top-up policy.
You cannot submit a claim until your deductible has been used up.
Once the claim limit on your primary health insurance policy has been reached or you have paid the applicable deductible out of pocket, only then can you file a claim under your top-up health insurance. The upside is that you just have to pay your deductible once.
Existing Conditions
If you have a pre-existing condition, you cannot submit a claim for that condition or illness until the waiting period has passed.
Hospitalization without a physician's referral
Any illness for which you are admitted to the hospital but which does not correspond to the doctor's prescription is not covered.
Pre-Natal & Post-Natal Expenses
Prenatal and postnatal medical costs, barring complications that necessitate hospitalization.
Premium Illustration- How Does it Work?
Here's an illustration of how the prices would vary for different family compositions according to different age groups and policy types:
Family Composition
Age of the members Insured

Coverage opted on an Individual basis covering each member of the family separately (at a single point in time)

This means: If you were to purchase a policy for all members of a family, separately.

 
Premium
Sum Insured
2Adults +2Children
51
8162
5,00,000
48
7, 014
5,00,000
22
3,268
5,00,000
18
3,268
5,00,000
 

The total premium for all members of the family is Rs. 21,713 when each member is covered separately.

Sum Insured available for each individual is Rs. 5,00,000.
Frequently Asked Questions