Cover Your Health in 5 mins
Compare Premium.
Buy Now.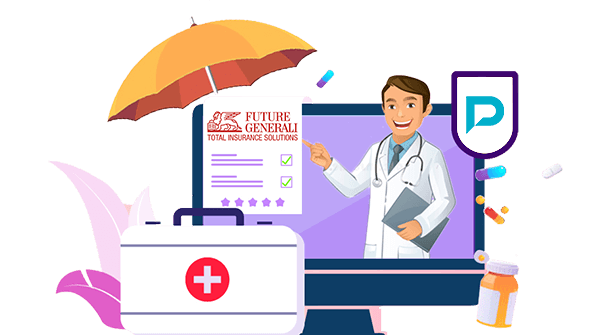 Compare

Individual Health Insurance Plans
Future Generali Advantage Top up Plan
Top up plans act as a cushion to the existing health insurance plan to cover the extra expenses that arise out of your medical emergency. To take care of the extra needs of the individuals, Future Generali Insurance Company has come up with a top up plan, Future Advantage Top-Up, which is a deductible health insurance plan with high Sum Insured options. It provides extra coverage at a pocket-friendly premium rate as compared to any traditional health insurance plan available in the market. In this plan, you have an option to choose the deductible, which can be managed either by self-pay or any other insurance. With this plan, you become eligible to choose the optimum Sum Insured to take care of your health care. This plan also has a unique feature; unlike many top up plans, you do not have to cross the deductible limit at every claim's incidence. The deductible will apply on an aggregate basis towards hospitalization expenses incurred during the policy period of an active policy.
Parameters
Description
Entry age

Minimum – 1 day

Maximum – No upper limit

Policy tenure
1, 2, and 3 years
Renewal
Lifelong renewability
Plan options

Individual plan

Family floater plan

Who can get the cover?

Individual plan – Self, spouse, children, and parents

Family floater plan –

Self + Spouse
Self + Spouse + 1 Child
Self + Spouse + 2 Children
Self + Spouse + 3 Children
Self/Spouse + 1 Child
Self/Spouse + 2 Children
Self/Spouse + 3 Children, and
Self + Spouse + 5 Children

Plan variants
Supreme Plan and Elite Plan
Sum insured options
Rs. 0.5 lakhs, Rs. 1 lakh, Rs. 1.5 lakhs, Rs. 2 lakhs, Rs. 3 lakhs, Rs. 5 lakhs, Rs. 7.5 lakhs, Rs. 10 lakhs, Rs. 15 lakhs, Rs. 20 Lakhs, Rs. 25 lakhs, Rs. 30 lakhs, Rs. 40 lakhs, Rs. 50 lakhs, and Rs. 100 lakhs.
Understand The Benefits of Future Generali Advantage Top up
This top up plan has come up with a bunch of benefits that give you financial relief in the face of a medical emergency. The following table gives you a brief detail about those benefits and facilities. Have a look.
Parameters
Details
Scope of Coverage

Supreme Plan – This variant includes cover for all ailments and diseases, including heart-related conditions and cancer.

b) Elite Plan – This variant offers coverage for cancer and ailments related to the heart only.

In-patient hospitalization
Covered
Post-hospitalization expenses
90 days
Pre-hospitalization expenses
60 days
Day care medical procedures
Covered
Alternative (AYUSH) treatments
Ayurveda, Unani, Siddha, and Homeopathy are covered after a continuous coverage of 2 years.
Organ donor expenses
Only hospitalization costs are covered after 2 years of continuous coverage. (Excluding donor screening charges and pre and post-hospitalization)
Medical illness, psychiatric illness, behavioral and neuro developmental disorders
Covered after the waiting period of 4 years
HIV/AIDS
Covered after the waiting period of 4 years
Emergency ambulance
The facility is available up to Rs. 2000 per hospitalization.
Waiver of deductible
Available
Cumulative bonus
You can avail of a 10% cumulative bonus for every claim free year up to a maximum limit of 50%
Pre-policy medical check-up

On the basis of adverse medical declarations in the proposal form, age of the member, sum insured, and deductible opted, through empanelled diagnostic centres only with the validity of 30 days from the date of test conducted.
The insured person is eligible to get 100% reimbursement of pre-insurance medical tests charges, subject to policy issuance and 64 VB compliance.
Underwriting loading of premium will be applicable on the particular Insured's premium in case of Individual policy and Floater policy.

Cashless facility
Available
Key Highlights of Future Generali Advantage Top up
Apart from the above benefits, this plan also offers several advantages which have made this plan unique and immensely popular among consumers. And the mentions are as follows.
Discounts:
The following discounts are available with this policy.
Family Discount – 10% discount is applicable in case two or more family members are covered with an individual sum insured basis in the same policy except for the policy with coverage for one adult with one or more children. The family discount shall be on the basis of the age of the adult as per the below table.


| | |
| --- | --- |
| Age bands | Discounts |
| 70 years and more 70 years | 10% |
| 71 years to 75 years | 7.5% |
| 76 years and above | 5% |
Long Term Policy Discount – It is applicable in case the policy term is more than 1 year and in case of a single payment of premium.


| | |
| --- | --- |
| Policy term | Discount |
| 1 year | Not available |
| 2 years | 5% |
| 3 years | 10% |
Loyalty Discount – 2.5% loyalty discount is available if the insured person already has a separate Retail Health insurance policy (other than Future Advantage Top-up/Personal Accident/Travel) from the same insurer. The loyalty discount will continue only if the insured maintains a separate health insurance policy with the company.
Installment Facility:
This advantage is available for a policy term of 1, 2, or 3 years. Loadings on the standard premium will be applicable in case the installment facility is opted.
| | |
| --- | --- |
| Installment frequency | Loading on standard premiums 5% |
| Monthly | 5% |
| Quarterly | 4% |
| Half-yearly | 3% |
Waiver of deductible:
The company gives you an option to opt for a waiver of the deductible and opt for any indemnity health insurance policy, without any deductible, offered by the same insurer for the same Sum Insured without re-valuation of health status or any Pre-Policy check-up only if you satisfy the following conditions:
You are insured with Future Generali for the first time under this policy before the age of 50 years and have renewed with the same insurer continuously and without any break in insurance for a minimum period of 5 years.
This option for waiver of deductible can be exercised by the insured person at Renewal when his/her completed age is within the age group of 54-60.
Portability and migration:
Both options are available with this policy as per the IRDA guidelines.
Claim Clause:
There will be no loading on premium for adverse claims experience.
Tax Exemption benefit:
Premium paid by any mode other than cash and demand draft is eligible for tax relief as provided under Section 80-D of the Income Tax Act.
General exclusions of Future Generali Advantage Top up
Understanding a policy is not completed if you do not go through the exclusions of the policy. Therefore, to offer you a comprehensive idea of the policy and to avoid future complications, here are the general exclusions of the Future Generali Advantage Top Up plan.
Any condition, ailment, injury, or related condition(s) for which you have been diagnosed, received medical treatment, or had signs and/or symptoms prior to the inception of your first policy until 24 months from the date of inception will be excluded.
Any disease contracted during the first 30 days from the commencement of the policy will not be covered.
External Congenital Anomaly and related Illness/defect will also fall under the category of exclusions.
Any expenses arising out of dental treatment or surgery of any kind, unless requiring hospitalization as a result of injury, will not be paid by the company.
If you raise a claim against such illness or disease that is still within the waiting period, the company will not approve your claim.
If your injury arises out of the use of drugs, alcohol, or any other intoxicating substances, that will be excluded from the policy.
For self-inflicted injury, suicide, or suicide attempt, the company will not pay any compensation.
Future Generali Advantage Top up Plan Cost
After understanding the inclusions and exclusions of this top up policy, the next important thing is how much premium value you need to pay to purchase this policy. For your better understanding, here is an example.
Suppose, Mr. Prasad, a 36-year-old businessman, bought the Future Generali Advantage Top Up plan for himself. Let us find out the premium amount that he has to pay to avail of the benefits and facilities of this policy for the given data.
Parameters
Credentials
Age
36 years
Sum insured option
Rs. 5 lakhs
Coverage type
Self
Policy tenure
2 years
Payment mode
Single premium
Deductible amount
Rs. 50,000
Plan variant
Supreme plan
Total premium amount (Including service tax)
Rs. 9216.00
Premium break-up

Base Premium – Rs. 4836.02

Online Discount – Rs. 725.40

Premium After Discount – Rs. 4111

 

Term Premium Rs. 8221.24 (Policy term 2 years)

Long Term Discount – Rs. 411.06

Installment Loading – 0%

Premium with Loading – Rs. 7810.18

Total installment – 1

Premium/EMI Amount – Rs. 7810.18

GST (18%) – Rs. 1405.83
Now, the same Mr. Prasad wants to buy coverage for his wife as well. Now, let us find out the premium amount that he needs to pay for the given details.
Parameters
Details
Age

Self – 36 years

Spouse – 34 years

Insured members
Self + Spouse
Sum insured option
Rs. 15 lakhs
Policy tenure
3 years
Deductible amount
Rs. 2 lakhs
Payment mode
Single premium
Plan variant
Supreme plan
Total premium amount including GST
Rs. 4826
Premium break-up

Base Premium – Rs. 1782.00

Online Discount – Rs. 267.29

Premium After Discount – Rs. 1515

 

Term Premium – Rs. 4543.92 (Policy term 3 years)

Long Term Discount – Rs. 454.39

Installment Loading – 0%

Premium with Loading – Rs. 4090.00

Total installment – 1

Premium/EMI Amount – Rs. 4090.00

GST (18%) – Rs. 736.00
Frequently Asked Questions