Cover Your Health in 5 mins
Compare Premium.
Buy Now.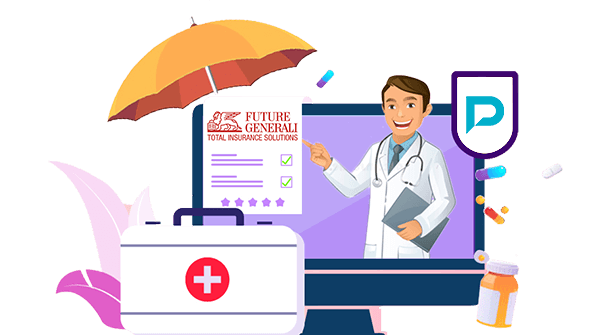 Compare

Individual Health Insurance Plans
Future Generali Health Absolute Policy
Future Generali Health Absolute is a comprehensive health insurance product that is specifically designed to empower policyholders in actively managing their health and leading a healthy lifestyle. You may cover the physical and mental health of up to 15 members of your family, irrespective of their ages.
The plan encourages clients to adopt healthy habits on a regular basis to maintain holistic health in addition to meeting their needs for a comprehensive product. This solution meets practically all healthcare needs, from improved mother and child care to wellness and value-added services, which are the product's USPs. The plan comes in three variants: Classic, Platinum, and Signature.
Let's discuss the plan in detail!
Minimum Entry Age

Child: 1 Day, Adult: 18 Years

Maximum Entry Age

Child: 25 Years, Adult: No Limit

Sum Insured

Classic: Rs. 3/5/10 Lakhs

Platinum: Rs. 15/20/25/30/35 Lakhs

Signature: Rs. 50 Lakhs, Rs. 75 Lakhs, Rs. 1 Crore

Renewal Age
Lifelong
Policy Term
1/2/3 Years
Key Frames Of Future Generali Health Absolute
The plan pays for the following costs:
Category
Classic
Platinum
Signature
Hospitalization Medical Expenses
Up To Sum Insured
Pre-Hospitalization Expenses
60 Days
Post-Hospitalization Expenses
90 Days
120 Days
180 Days
Daycare Treatment
Up To Sum Insured

Maternity Expenses

(Normal Delivery)

For Rs. 3 Lakhs SI: Rs. 25,000
For Rs. 5 & 10 Lakhs SI: Rs. 30,000

For Rs. 15 Lakhs SI: Rs. 40,000
For Rs. 2o/25/30/35 Lakhs SI: Rs. 50,000

For Rs. 50/75 Lakhs & Rs. 1 Crore SI: Rs. 1 Lakh

Maternity Expenses

(Caesarean Delivery)

3L S.I: Rs. 25,000
5L S.I: Rs. 35,000
10L S.I: Rs. 50,000

15 L S.I: Rs. 60,000
20 L, 25 L, 30L 35L S.I: Rs. 1,00,000

For Rs. 50/75 Lakhs & Rs. 1 Crore SI: Rs. 2 Lakhs

Newborn Baby Expenses
NA
Covered
Covered
Pre-Natal Hospitalization
30 Days
60 Days
90 Days
Post-Natal Hospitalization
45 Days
Organ Donor Expenses
Up To Sum Insured
Infertility Expenses
NA

Maximum Up To Rs. 50,000 Per Policy Year

Lifetime Indemnity Limit

Of Rs. 1,00,000

Maximum Up To

Rs. 1,00,000 Per Policy

Year Lifetime Indemnity

Limit Of Rs. 2,00,000

Patient Care (Above

60 Years) – Per Day

Benefit

Up To Rs. 350 Per Day
Up To Rs. 500 Per Day
Up To Rs. 1000 Per Day
Home Healthcare Expenses
Covered
Alternative Treatments
Covered On Reimbursement Basis Only
Medical Treatment Abroad
NA
NA
Covered After Waiting Period Of 4 Years
Road Ambulance Cover
Rs. 1500 Per Hospitalization
Rs. 2000 Per Hospitalization
Rs. 5000 Per Hospitalization
Emergency Medical Evacuation
AN
Covered
Covered
OPD Treatment
Covered
Child Vaccination Benefit
NA
NA
Rs. 5000 Per Year
Accidental Hospitalization
Covered
Upsides Of Future Generali Health Absolute
Here are some of the plan's advantages:
Cumulative Bonus:
In case no claims are made by the policyholder or reported by the company, the plan will offer a 50% cumulative bonus for every policy year, subject to a maximum of 100% of the sum insured. The cumulative bonus accrued will be lowered if a claim is submitted in any given year at the same rate at which it has been accruing.
Restoration Of Sum Insured:
The plan will once per policy year restore the Sum Insured on an indemnity basis if the Total Sum Insured, including earned No Claim Bonus (if any), is insufficient as a result of claims made or accepted as receivable during the policy year.
Voluntary Deductible:
The plan will exceed the voluntary deductible amount on an aggregate basis for all claims made under the policy, with the exception of claims other than OPD treatment and wellness benefits, including claims related to any illness. This is the case if a voluntary deductible has been chosen and is in effect under the policy. In cases where co-payments are required, they will be added to the admissible claim amount after any applicable voluntary deductible has been applied.
Discounts:
The plan comes with the following discounts for the policyholder:
Individual SI Option: 10% Family Discount
Renewal Discount: When a policy is renewed, any reward points earned under the wellness benefit that has not yet been used will be applied as a renewal discount in the premium.
Long Term Discount: For 2 Years: 7.5%; For 3 Years: 10%
Wellness Benefits:
The insured person will be qualified for "Wellness Benefits" under the terms of the policy, which include value-added services and wellness reward points. These services might be obtained using the FG Insure App and will be provided by the company's wellness partner. The wellness benefits are available to all insured individuals over the age of 18.
E-Opinion:
The plan also offers e-opinions in respect of illness or injury. This means the plan pays for the online consultations required due to an illness or injury.
Future Generali Health Absolute Premium
You might be curious about the cost of the Future Generali Health Absolute plan before deciding to purchase it. Although you may calculate the premium for the same on the company's official website, we have also computed the cost of the plan based on the various alternatives for the sum insured. This will provide you with a good sense of the rate of the plan.
| | | | | | | |
| --- | --- | --- | --- | --- | --- | --- |
| Name | Age | Policy Duration | Voluntary Deductible | Plan Type | Sum Assured | Premium Amount |
| Asha Rani | 31 Years | 1 Year | Nil | Classic | Rs. 3 Lakhs | Rs. 5,654 |
| Devika Singh | 35 Years | 2 Years | Rs. 50000 | Platinum | Rs. 15 Lakhs | Rs. 18,748 |
| Madan Lala | 45 Years | 3 Years | Rs. 25000 | Classic | Rs. 5 Lakhs | Rs. 20,246 |
| Priyal Mehra | 54 Years | 1 Year | Nil | Platinum | Rs. 20 Lakhs | Rs. 26,456 |
What's Not Covered Under Future Generali Health Absolute?
Let's take a look at the exclusions under the plan!
Disease or injury brought on by fighting or combat actions
Circumcision, if not required
Vaccination (except as post-bite treatment)
HIV/AIDS and other sexually transmitted disorders
External congenital disorder or any illness or impairment that is associated
Direct or indirect use of nuclear weapons or materials that results in injury or disease
Sex-change therapy or hormone replacement therapy
Items for convenience and comfort
Dental treatment unless requiring hospitalization
Medical practitioner's home visit fees
Intentional harm to oneself
Frequently Asked Questions