Cover Your Health in 5 mins
Compare Premium.
Buy Now.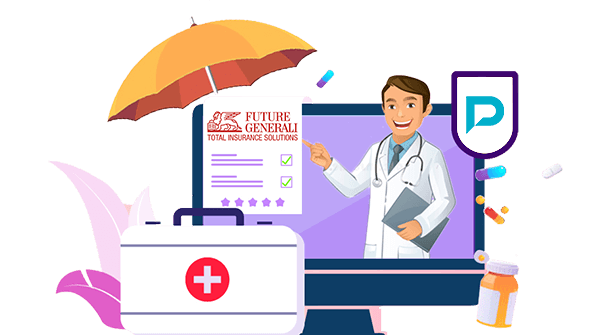 Compare

Individual Health Insurance Plans
Future Generali Health Total Policy
Future Generali Health Total is a comprehensive health insurance program that offers a wide range of coverage options, including standard features, supplemental benefits, and extra riders. Pre-hospitalization, post-hospitalization, maternity costs, newborn-related procedures, and other charges are all covered by the Health Total plan.
If there were no claims over the previous year, Health Total by Future Generali gives a No Claim Bonus up to 100% of the insured amount. Overall, the Future Generali Health Total medical insurance plan strikes me as the best option for addressing exorbitant medical bills and meeting your and your loved ones' health care needs.
The Health Total plan comes in three variants, namely Vital, Superior, and Premium with different sum assured levels.
Here is the eligibility criteria for Future Generali Health Total plan.
Parameters
Vital
Superior
Premiere
Sum Insured
3 Lakhs
5 lakhs
10 Lakhs
15 Lakhs
20 Lakhs
25 Lakhs
50 lakhs
1 Crore
Minimum age at entry
1 day
1 day
1 day
1 day
1 day
1 day
1 day
1 day
Maximum age at entry
None
None
None
None
None
None
None
None
Maximum renewal age
Lifelong
Lifelong
Lifelong
Lifelong
Lifelong
Lifelong
Lifelong
Lifelong
Individual SI / Family Floater SI options
Both
Both
Both
Both
Both
Both
Both
Both
Family definition
S+Sp+2C+2P (1+5)
S+Sp+2C+2P (1+5)
S+Sp+2C+2P (1+5)
Extended family up to 15 members
Extended family up to 15 members
Extended family up to 15 members
Extended family up to 15 members
Extended family up to 15 members
Features & Benefits of Future Generali Health Total
Listed below are the potential features and benefits of Future Generali Health Total.
Holistic & Comprehensive Plan: Your overall health is the main emphasis of Future Generali's health comprehensive plan. Your physical and mental health are well covered by the plan, which also offers protection for the cost of Covid-19 treatment.
Portability – The proposer may migrate his current health insurance plan from a different company to this one. Requests for porting must be made at least 45 days prior to the expiration of the prior policy being migrated.
One Cover for the Whole Family: Future Generali is dedicated to keeping you and the people you care about completely safe. Without an upper age limit, the plan can easily cover up to 15 members of your family.
Free Look Period – After the insurance is issued, the policyholder has a 15-day "cooling off" or "free look" time to evaluate the terms and conditions. If the plan is discovered to be unsatisfactory, it may be terminated within this time frame, and the premium paid will be repaid after the applicable mortality fee, service tax, cess, and stamp duty have been deducted.
Cashless Claims: With its extensive network of more than 6000 hospitals, Future Generali can provide you with the convenience of cashless claim settlement. Your cashless claims are successfully processed by the company's internal claim settlement staff within 90 minutes.
Grace Period – After the due date, a grace period of 30 days is given for premium payments, during which the policy's coverage is maintained.
Plan cancellation – On the basis of fraud, misrepresentation, or non-disclosure, the Company may revoke the policy. The paid premiums in this instance are not reimbursed. The insurance may also be canceled by the proposer at any time, in which case premium payments would be repaid less the cost of coverage for the time the policy was in effect and associated costs.
Tax Benefit: Within certain parameters, premiums paid for the Health Total Plan are exempt from taxes under Section 80D. You may safeguard your future while reducing your current tax burden.
What Does the Future Generali Health Total Plan Cover?
Here is the list of the things covered under Future Generali Health Total Plan.
People Covered
Depending on the plan selected, such as Vital, Superior, or Premiere, you can insure up to 15 members of your family.
Hospitalization Costs
Any costs connected with your hospital stay. Examples include having surgery or staying in a hotel.
Daycare Therapy
Any costs incurred during a hospital stay of less than 24 hours. Dialysis, cataract surgery, and chemotherapy are some examples.
Pre-Hospitalization Costs
All medical costs incurred before to being admitted to the hospital. Examples include the price of diagnostic testing and doctor consultations.
Costs of Post-Hospitalization
All costs associated with your care that go beyond your stay in the hospital. Examples include prescriptions, additional diagnostic testing, follow-up doctor appointments, etc.
Organ Donor Expenses
The costs related to the operation and storage of the organ.
Domiciliary Hospitalization Expenses
All costs associated with receiving medical care at home (domicile) for a lengthier than three-day period.
Maternity Expenses
All costs incurred by a woman while she is pregnant, such as pre- and post-hospitalization costs, delivery fees, pre- and post-natal expenses, etc.
Mental Illness Cover
All costs associated with the management of mental illness.
Patient Care
All costs related to patient care, including nursing, etc.
Road Ambulance Charges
The costs of delivering urgent out-of-hospital care when the patient is immobile in a road ambulance.
E-Opinion For An Illness Or Injury
The costs associated with getting a doctor's opinion online for an illness or accident.
Alternative Treatment
All costs associated with conventional, acknowledged forms of therapy, such as Ayurveda, Homeopathy, etc.
Accidental Hospitalization
Additional insurance amount in case of accident and hospitalisation.
Emergency Medical Evacuation
All costs associated with getting you from a medical facility that cannot treat you to a hospital that is modern and far better suited to handle your medical condition.
Consultation
All fees incurred when seeking medical professionals' advice.
Diagnostic Tests
All costs associated with making a diagnosis of a disease, including testing, imaging studies, checkups, etc.
Child Vaccination Benefits
All vaccine costs for the first year following the child's birth.
New Born Baby
All hospital expenses for a newborn child from the day of delivery until 91 days.
Medical Treatment Abroad
Any expenses incurred while receiving diagnosis, care, or treatment from a medical professional abroad.
Out-Patient Medical Expenses (Consultation And Diagnostic)
All medical costs that don't involve a stay in a hospital or admittance. Therapy, diagnostic procedures, etc. are a few examples.
Medications
Dental Consultations And Diagnostics Only (Up To 70%)
Out-Patient Medical Expenses (Prescribed Medications Up To 80%)
Exclusions Under Future Generali Health Total
The folowing are the things not included under Future Generali Health Total Plan.
Over-the-counter medications
Disease brought on by consuming alcohol or narcotics
Replacement hormone therapy
Age-related impairments or congenital disorders that exist from birth
Sexual transformation therapy
A man, named Mr. Meena Kumar, who is working as a software engineer at Cognizant, Gurgaon, is looking to buy a plan that perfectly caters to his health goals. As he is working in a private firm, he wants to safeguard the financial future of his family members. When he was searching for the best retirement plan, he then stumbled upon Future Generali Health Total on the internet. Also, he even asked his relatives, family, and friends, and many people in his circle suggested he buy Future Generali Health Total for maximum health protection.
Age (Members insured)
Type of plan
Sum insured
Voluntary Deductible
Total Premium amount
Self- 30 Years
Individual
Rs. 300000
Rs. 10000
Rs. 4, 246

Self- 30 Years

Spouse- 30 Years

Family Floater
Rs. 500000
Nil
Rs. 10, 107
Frequently Asked Questions
Yes 10% If there are many insured persons covered by the same insurance, a family discount will be applied under Individual Health Total. The floater policy is not eligible for a family discount.
The customer must first pay the diagnostic centre directly for the costs of his pre-policy tests. After Future Generali has approved the proposal and issued a policy for the member, the consumer may submit the original payment receipt to request a 100% reimbursement.
Ayurveda, Unani, Siddha, and Homeopathy (AYUSH) hospitalization is covered as long as the therapy was received in a government hospital or another facility that has been approved by the Quality Council of India or the National Accreditation Board on Health for that alternative treatment.