Cover Your Health in 5 mins
Compare Premium.
Buy Now.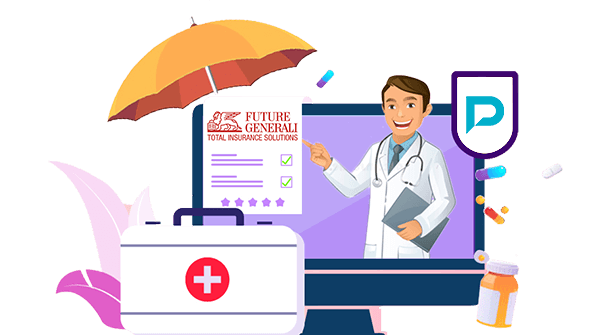 Compare

Individual Health Insurance Plans
Download Future Generali Health Insurance Policy
Keeping a softcopy of a policy in your device is always handy and easier to handle, especially in the age of digitalization, where almost all insurance companies have come up with online facilities to make it easier for their customers to function. Future Generali Health Insurance Company is not an exception. One can download the policy of Future Generali Health Insurance easily by following a number of easy and simple steps. This can be done at any time according to the convenience of the customer. In this way, one can keep an eye on the policy and other related details whenever needed.
Why Is It Necessary To Download Future Generali Health Insurance Policy?
Once the policyholder has downloaded the health policy, he/she can keep it either as a softcopy or as a hardcopy. Be it any of them, it is necessary to keep a copy of the health policy as it offers vital information regarding the policy. One can get to know about the inclusions and exclusions of the policy, the terms and conditions of the policy, details about the cancellation process, free look period, grace period, contact details of the company, and many more. Other than that, it is always important to keep a tab on the health plan. Once it is downloaded, the insured person can produce it anywhere any time, whenever it is required. To avoid future complexities and to get a hold of the policy details, it would always be advisable to download the Future Generali Health Insurance Policy.
A Step-By-Step Guide To Downloading Future Generali Health Insurance Policy
If anyone follows the following detailed steps religiously, he/she can easily download the Future Generali Health Insurance Policy without any glitches. Here are the steps.
Go to the official website of Future Generali Insurance Company, or else, one can also download the FG App of the company from Play Store or App Store.
After that, one needs to log in to the online customer portal of the company by clicking on the login tab displayed at the extreme right corner of the homepage.
If the insured person is a new customer and has not created a customer portal under the company, then he/she needs to sign in first to get registered under the company. in that case, one needs to provide certain necessary details such as age, policy type, contact details, etc. Once the online customer portal is created, he/she can easily log in at any time.
Check all the policy details properly.
Then proceed towards downloading the copy of the health policy by clicking on the Download option. As soon as the download option is clicked, the policy will be automatically downloaded to the device.
One can keep the softcopy or else take a printout of it for better convenience.