Cover Your Health in 5 mins
Compare Premium.
Buy Now.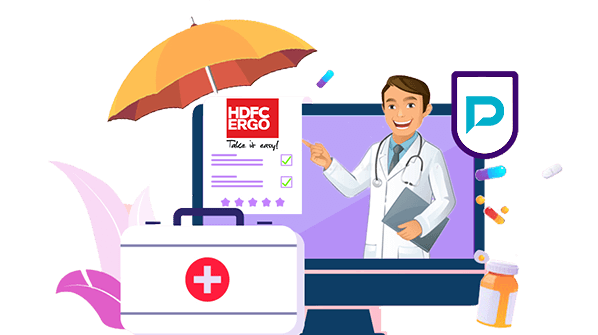 Compare

Individual Health Insurance Plans
HDFC ERGO iCan Cancer Insurance Plan
The HDFC ERGO Health Insurance Company provides cancer-specific coverage known as iCan Cancer Insurance. The plan pays for medical costs incurred during cancer treatment. The plan offers supplemental coverage for expenses connected to cancer treatment expenditures in addition to the regular coverage it delivers.
An advanced plan is an alternative to the plan's basic coverage. The Advanced Plan provides the insured with increased cancer treatment cost coverage. The plan also offers a medical second opinion when an insured person receives their initial cancer diagnosis during the policy's term.
Read on to know more about the HDFC ERGO iCan Plan in detail!
Here is the eligibility criteria for HDFC ERGO iCan Plan.
Parameters
Details
Age

Minimum- 5Years

Maximum- 65 Years

Sum Insured Options (Rs.)
5,10,15,20,25,50 lacs
Pre-Post Hospitalization
30 & 60 days
Emergency Ambulance
Up to Rs.2000 per hospitalization
Follow Up care Post-treatment
Up to Rs.3000 twice a year
Advanced treatments (Optional benefit)
Available
Plan Type
Individual/Family Floater
Key Features and Benefits of HDFC ERGO iCan Policy
Listed below are the key features and benefits of the HDFC ERGO iCan Plan.
CritiCare Benefits: The fact that the plan combines a critical illness plan with a standard health insurance plan contributes to its distinctiveness in part. Thus, it pays for medical bills while also providing a lump sum payment for ancillary fees. It represents 60% of the SI payout.
iCARE Benefits: Outpatient therapy fees are often reimbursed in addition to inpatient treatment expenditures. This plan covers pre- and post-hospitalization expenses for up to 30 days and 60 days before and after the hospitalisation period.
Family Care Benefits: If the insured person is found to have Stage IV cancer, this feature offers the family of the insured a lump sum payout of 100% of the SI. If there is a relapse and the cancer is discovered to return after some time, this benefit is still available.
Second Medical Opinion: The insured may consult a doctor on the HDFC ERGO's doctor panel for a second opinion if they are given a cancer diagnosis.
Reimbursement of Ambulance Charges: An ambulance fee reimbursement of INR 2000 is given in the event of an emergency admission. This sum is for each hospitalization for an emergency.
Cashless Treatment: HDFC ERGO has a sizable network of more than 12,000 hospitals across India where one can receive care under the iCAN plan. Treatment received outside of a network hospital will be reimbursed by the guidelines set forth by HDFC ERGO and the sub-limits specified in the chosen plan.
Lifelong Renewals: While many regular health insurance policies include lifetime renewals, the iCAN Plan enables you to do so even after receiving a cancer diagnosis.
What is Not Included Under iCan Health Insurance?
Here is the list of the things not included under iCan health insurance.
Treatment Other Than Cancer: The plan is made expressly to pay for cancer treatment expenses. No claim for any other illness will be considered.
Pre-existing Conditions: Any cancer-related symptoms or conditions that the policyholder had at the time the insurance was purchased will be considered a pre-existing condition. Throughout the duration of the policy, these will never be covered.
Conditions arising out of HIV AIDS: The iCAN policy will not provide coverage for any malignant conditions linked to HIV and AIDS, such as lymphomas in the brain, much like the majority of health insurance plans that do not cover such situations.
Prosthetic and Non-surgical Devices: Prosthetic and non-surgical devices are not covered by the coverage, even if they are required as a result of cancer treatment.
Non-allopathic Treatment: If cancer is treated with alternative medical practices like Ayurveda, Siddha, etc., the costs of the treatment will not be paid.
Treatment Outside of India: The insurance only pays for domestic medical expenses. For treatment outside of India, no coverage is offered.
How Does HDFC ERGO iCan Plan Work?
Let's take an example to understand!
Mr. Devensh Thakur is a serviceman by profession, and a 30-year-old engineer looking to protect his health against cancer. After getting many suggestions from friends and searching on the internet, he stumbled upon this HDFC ERGO iCan plan and found it a great deal of health care investment.
Age
Cover
Smoker
Members Covered
Premium Amount
30 Years
5 Lac
No
No

Rs. 1,155

(Gross Premium Including Tax for 1 year)

30 Years
20 Lacs
Yes
No

Rs. 2, 002

(Gross Premium Including Tax for 1 year)
Buying Process of HDFC ERGO iCan Plan
Here is the buying process of HDFC ERGO iCan Plan.
Step 1: Visit the official website of the company.
Step 2: Click on "Health Insurance". You will be directed to the page wherein you will find all forms of health policies.
Step 3: Scroll down a bit and under point 3, i.e., Fixed Benefit Health Insurance Plan, you will find iCan Cancer Insurance. Click on "Buy Now" in the red color button.
Step 4: After that, you will need to enter your full name along with your mobile number to view the plan in detail.
Step 5: Simply enter the details like age, cover, add members, and select whether you are a smoker or not. On the right-hand side, when the premium amount is calculated as per the details entered by you, click on "Buy Now".
Step 6: Then, you will need to enter your full name, date of birth, height, and weight. Verify the details entered. Click on "Done".
Step 7: Make the payment using your debit/credit card to buy the HDFC ERGO iCan Plan.
Please visit the nearest HDFC branch if you would rather purchase the coverage in person. You will get all the necessary insurance information when you visit the branch. If you continue having issues, you can connect with Probus Insurance for assistance.
Claim Process of HDFC ERGO iCan Plan
There are two types of claim process. Listed below are the two claim processes of the HDFC ERGO iCan Plan.
For Cashless Claim:
Step 1: Hospitalization
First, you will need to locate the nearest hospital.
Step 2: Avail Cashless Hospitalization & Submission of Documents
Avail cashless at the network hospital by showing your health card and valid photo ID.
Step 3: Preauthorization
The hospital will work with us to organize the Pre-authorization form before sending the cashless request to HDFC ERGO.
Step 4: At the time of Discharge & Settlement of the claim
After carefully reviewing all of the papers supplied, HDFC ERGO/ TPA will state its final position on the claim.
Step 5: Status Update
At each stage of the claim, you will receive an update through SMS or email at the registered cellphone number or email address.
Step 6: Cashless Authorization & Approval of Claim
The hospital must submit the final bill to HDFC ERGO for approval, and HDFC ERGO will review it and grant final authorization to the hospital if the transactions are approved. The patient must cover any unallowable costs, co-payments, or deductions.
For Reimbursement:
Step 1. Claim Registration
You must immediately upload the supporting papers to register the refund or supplemental claim.
Step 2: Processing of Claim
The HDFC ERGO doctors' team will check all the documents once you have shared them. According to the terms and conditions of HDFC ERGO, the claim will be handled within 7 days after the successful receipt of all required papers. At every stage of the claim process, you will also get updates on the status of the claim via SMS or email.
Step 3: Process for uploading Additional/Pending Documents
HDFC ERGO will send a notification through SMS & email if any additional information or documents are needed.
Step 4: Claim Settlement
The claim would be resolved by HDFC ERGO within 7 days of the time the last document is received and authorized claim payment would be handled upon acceptable receipt of all required papers. Your bank account will receive the money via NEFT.
Documents Required for Health Insurance Claim Reimbursement
The documentation you must have on hand when making a reimbursement claim is listed below. However, carefully read the policy terms and conditions to make sure you don't miss anything.
The claim form includes your signature and proper identification.
A doctor's prescription listing hospitalization, diagnostic procedures, and medications.
Original hospital, diagnostic, physician, and drug invoices, as well as related receipts.
Case files, investigative reports, and a summary of the discharge.
Police FIR/medico-legal case report (MLC) or, if necessary, post-mortem report.
Proof of a named bank accounts, such as a check copy, passport, or bank statement
Renewal Process of HDFC ERGO iCan Health Insurance Policy
In just a few minutes, customers may now renew their HDFC ERGO iCan health insurance online. All they need to do is adhere to the instructions listed below:
Visit the official website of the company.
Click on the 'Renew' tab and then, enter either your registered mobile number, email Id, or policy number.
After that, click on "Renew Now".
Customize your plan by opting for add-on covers, if required.
Fill in the required details and pay the premium amount.
After receiving the payment, the company will send the updated policy documents to your registered email address.
Frequently Asked Questions