Cover Your Health in 5 mins
Compare Premium.
Buy Now.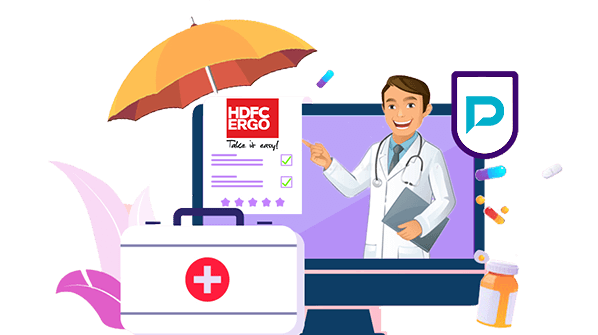 Compare

Individual Health Insurance Plans
HDFC ERGO Medisure Super Top Up Plan
HDFC ERGO Medisure Super Top-Up plan is specifically designed to supplement as well as enhance your existing health insurance coverage. In case your current health insurance policy may not be adequate, this plan offers you an excellent option to buy top-up insurance coverage that can work alongside your existing health insurance policy. The policy provides you with more coverage, that too while being easy on your pocket. When your deductible amount is reached, the HDFC ERGO Medisure Super Top-Up plan becomes active and pays the difference.
Entry Age

For Adults: 18 To 65 Years

For Children: 91 Days To 23 Years

Sum Insured
Rs. 3 Lakhs To Rs. 20 Lakhs
Deductible Options
2 Lakhs, 3 Lakhs, 4 Lakhs, 5 Lakhs
Members Covered
Self, Spouse, Parents, Children
Medical Screening
After 55 Years
Main Features Of HDFC ERGO Medisure Super Top Up Plan
Following are some of the key features of the plan:
Higher Sum Insured: The plan provides higher sum insured options to the policyholder at a low premium price. It also offers a wide range of deductibles to choose from.
Comprehensive Coverage: The plan provides comprehensive coverage to the policyholder including daycare procedures, pre and post-hospitalization expenses, and many more.
6 Hours Response Guarantee: On every cashless claim against the HDFC Ergo Medisure Super Top-Up plan, the company provides assurance of responding within 6 hours. Moreover, the company claims to pay a penalty if it takes more than 6 hours to respond to a claim request for the policy.
No Sub-Limits: The policy provides coverage to in-patient hospitalization expenses and pre and post-hospitalization expenses without any sub-limits.
No Medical Tests Up To 55 Years: If you do not have any kind of pre-existing illness, the plan doesn't require undergoing a medical test up to the age of 55 years.
Lifelong Renewability: You can renew your policy at any point during your life as long as your renewal application and renewal payment are received in full before the due date or within 30 days of that date.
Free-Look Period: In case you are not satisfied with the policy coverage, you have the option to cancel the policy within 15 days. The company will refund the premium paid.
Tax Benefits: Under Section 80 D of the Income Tax Act, 1961, the policy offers tax benefits to the policyholder. This allows the insured person to save a significant amount of money.
Individual & Floater Sum Insured Options: HDFC Ergo Medisure Super Top-Up plan provides you two options of individual and family floater sum insured. Therefore, you can also cover your family members under the plan, including your parents, children, spouse, and even parents-in-law.
HDFC ERGO Medisure Super Top Up Plan Coverage
| | |
| --- | --- |
| Cover | Status |
| In-Patient Hospitalization Expenses | Covered |
| Pre-Hospitalization Expenses | Covered |
| Post-Hospitalization Expenses | Covered |
| Expenses Fore Pre-Existing Diseases | Covered |
| Daycare Procedures | Covered |
| Two-Year Policy Period | 5% Discount On The Premium Of 2 Years |
HDFC ERGO Medisure Super Top Up Plan Exclusions
The following things are not included in the plan:
Domiciliary hospitalization expenses
Any expenses arising out of childbirth, pregnancy, and other related procedures
Ambulance charges
Genetic disorders
Dental treatment
Birth control procedures
Routine medical eye and ear examination
Cost of spectacles
Treatment expenses for general debility and ageing
Any cosmetic surgery
Obesity treatment and weight control program
Self-injuries
HDFC ERGO Medisure Super Top Up Plan Premium
You must understand how much you'll have to spend in premiums under the HDFC ERGO Medisure Super Top-Up Plan. To make it seamless and simple for you, we've calculated the premium amounts based on the numerous sum assured alternatives.
| | | | | | |
| --- | --- | --- | --- | --- | --- |
| Name | Age | Gender | Sum Assured | Policy Term (In Years) | Premium Amount |
| Avantika | 28 Years | Female | Rs. 6 Lakhs | 1 | Rs. 990 |
| Sushant | 34 Years | Male | Rs. 11 Lakhs | 2 | Rs. 2926 |
| Dimple | 39 Years | Female | Rs. 11 Lakhs | 2 | Rs. 3344 |
| Brijesh | 48 | Male | Rs. 16 Lakhs | 1 | Rs. 2420 |
Frequently Asked Questions