Cover Your Health in 5 mins
Compare Premium.
Buy Now.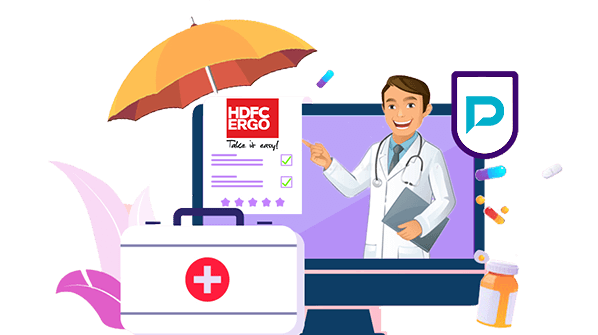 Compare

Individual Health Insurance Plans
HDFC ERGO Optima Restore Plan
With rising medical expenses, it's important to protect your family's health and so is choosing the correct health insurance plan. Since the plans are available in abundance, choosing the right could be potentially daunting. But not anymore! With Optima Restore provided by HDFC ERGO, you not only get the benefit of cashless treatment at our network hospitals but also get other great features to meet all your healthcare needs.
One of the major highlights of the Optima Restore Plan is that you are likely to get comprehensive coverage, including Day Care Procedures, Hospitalization Expenses, Emergency Road Ambulance, Organ Donor Expenses, and more. If you are looking to but the plan to secure the potential health of your loved ones, let's take a look at the guide below. The plan is further divided into two types, namely Individual and Family Floater.
| | |
| --- | --- |
| Minimum | 91 Days |
| Maximum Age | 65 Years |
| Renewability | Life-Long |
| Coverage | 1 or 2 years |
| Cashless Network of Hospitals | 13000+ |
Reasons To Choose HDFC ERGO Optima Restore Plan
The following are the reasons to choose HDFC Ergo Optima Restore Plan:
Daily Hospital Cash
If you believe that you might run out of cash in case of hospitalization of your loved one in the future, then Optima Restore may help you out! One of the biggest benefits of the plan is that you will get daily cash of up to Rs. 1,000 per day and a maximum of ₹6,000 per hospitalization on choosing shared accommodation in a network hospital. This would not feel a burden on your pocket, thereby keeping your loved ones safe.
100% Restore Benefit
Another major benefit of the HDFC Ergo Optima Restore Plan is that if you, however, make the first claim, then you will receive 100% of your basic sum insured without any delay. Optima restore is a one-of-a-kind health plan that recovers your sum insured for future requirements after partial or complete consumption of your health coverage.
2X Multiplier Benefit
If you choose the policy to safeguard your family, then for each year without a claim, you will receive a 50% increase in the basic Sum Insured, up to a maximum of 100%.
Complimentary Health Check-Up
Regular health examinations maintain track of your health and aid in the early detection of illnesses With Optima Restore, you can get up to 10,000 preventive health check-ups when you renew your membership.
HDFC ERGO Optima Restore Details
Since HDFC ERGO Optima Restore Plan is divided into two types let's discuss the key details of each Restore plan.
Category
Restore Individual
Restore Family

Basic Sum Insured per

Insured Person per Policy

Year (Rs. in Lakhs)

3.00, 5.00, 10.00, 15.00, 20.00, 25.00, 50.00
Health Check-up

Up to Rs.

2500, 5000, 8000, and 10,000

Up to Rs.

1500, 2000, 4000, and 5000

In-patient Treatment
Covered up to the sum insured
Pre-Hospitalization
Covered up to 60 Days
Post Hospitalization
Covered up to 180 Days
Day Care Procedures
All Day Care Treatments Covered
Domiciliary Treatment
Covered up to the sum insured
Organ Donor
Covered up to the sum insured
Ambulance Cover
Up to Rs. 2,000 / Hospitalization
E-Opinion in respect of a Critical Illness
One opinion per policy year
Restore benefit
Equal to 100% of Basic Sum Insured
Multiplier Benefit
The bonus of 50% of the Basic Sum Insured for every claim-free year, maximum up to 100%. In case of a claim, the bonus will be reduced by 50% of the basic sum insured. However, this reduction will not reduce the Sum Insured below the basic Sum Insured of the policy
What Things Are Not Included in the Plan?
Here's the list of the things that are not included in your Optima Restore Plan.
Treatment of Obesity or Cosmetic Surgery
This insurance policy does not cover obesity treatment or cosmetic surgery.
Injuries caused by oneself
Self-inflicted wounds are a result of the use and abuse of intoxicant or hallucinogenic substances such as intoxicating drugs and alcohol. Self-inflicted injuries are not covered under our coverage.
HIV/AIDS
AIDS or HIV infection, including but not constrained to ARC (AIDS Related Complex), Lymphomas in the Brain, Kaposi's Sarcoma, and TB, as well as illnesses emerging from HIV/AIDS.
War
War can be both terrible and unlucky. Our policy, however, does not cover any claims resulting from wars.
Treatment Outside of India
Any treatment received outside of India or outside of India is not covered by this insurance.
Premium Calculation of HDFC ERGO Optima Restore Plan
| | | | | |
| --- | --- | --- | --- | --- |
| Family Size | Age | Select Child Members Banner | Sum Insured | Premium Amount |
| Self and Wife | Self- 30 Years Wife- 30 Years | 0 | 5 Lakhs | ₹16551 (Total premium (incl.of GST) |
| Mother and Father | Mother- 55 Years Father- 60 Years | Son's Age: 25 Years Son's Age- 22 Years | 20 Lakhs | ₹91550 (Total premium (incl.of GST) |
Family Size
Age
Select Child Members Banner
Sum Insured
Premium Amount
Self and Wife

Self- 55 Years

Wife- 50 Years

0
5 Lakhs

₹33476

(Total premium (incl.of GST)

Mother and Father

Mother- 50 Years

Father- 52 Years

Son's Age: 25 Years
15 Lakhs

₹54313

(Total premium (incl.of GST)
Frequently Asked Questions
The cost of your policy is determined by the type of plan you select, whether you're insuring just yourself or your entire family, the level of coverage you want, and the city in which you live. Please contact our staff if you require additional assistance in selecting the proper plan and coverage for you.
If you maintain renewing your coverage, you can use the restore benefit once every policy year for the rest of your life. Additionally, if you choose our newly announced Limitless Restore (optional benefit), you will receive unlimited restorations for a small fee during the policy year.
The plan provides coverage of up to 50 lakhs.