Cover Your Health in 5 mins
Compare Premium.
Buy Now.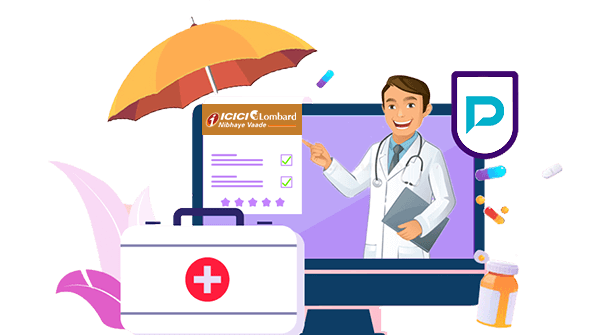 Compare

Individual Health Insurance Plans
ICICI Lombard Health AdvantEdge Policy
The majority of people require medical attention at some point in time. The growing costs associated with medical treatment, starting with the doctor's appointment to the lab tests and pharmaceutical expenditures, can be onerous. 
ICICI Lombard's Health AdvantEdge is a comprehensive plan made to meet your healthcare needs at every stage of your disease or illness. The plan comes in three options, namely Prime Plus, Royal Plus, and Apex Plus. Additionally, the policy offers advantages, including flexible pre-existing illness coverage, domestic and international ambulance, and convalescence benefit.
Minimum Entry Age
18 Years
Maximum Entry Age
65 Years
Product Code
4193
UIN Number
ICIHLIP22206V022122
Policy Tenure
Every policy has a calendar year from the date of purchase as its period.
Sum Insured Options

Prime Plus: 3/4 Lakhs

Royal Plus: 5/7.5/10/15/20/25/30/40/50 Lakhs

Apex Plus: 75/100/150/200/300 Lakhs
What's Covered Under ICICI Lombard Health AdvantEdge Plan?
Let's check out what is covered under the plan!
Category
Prime Plus
Royal Plus
Apex Plus
In-Patient Hospitalization
Covered
Pre-Hospitalization
Covered
Post-Hospitalization
Covered
Daycare Procedures
Covered
AYUSH Treatment
Covered
Organ Donor Expenses
Covered
Animal Bite (Vaccination)
Covered
Surface Ambulance
Covered
Home Care Treatment
Covered
Critical Illness Cover
Covered
Domestic Air Ambulance
Up To Sum Insured
Personal Accident
Covered
Domiciliary Hospitalization
Covered
Health Check-Up
Covered
Pre-Existing Disease Cover
Covered
Maternity
Not Covered
Covered
Covered
Newborn Baby & Vaccination
Not Covered
Covered
Covered
OPD
Not Covered
Covered
Covered
Bariatric Surgery
Not Covered
Covered
Covered
Worldwide Cover
Not Covered
Covered For SI Above 10 Lakhs
Covered For SI Above 25 Lakhs
Why Should You Get Hold Of ICICI Lombard Health AdvantEdge?
The plan provides a multitude of benefits to the policyholder. Some of them are discussed below:
Restore Benefit: If your total amount insured, including accrued additional sum insured (if any), is insufficient due to prior claims in a given policy year, the option to restore your balance sum insured up to 100% of the base sum insured is available under the plan.
Guaranteed Cumulative Bonus: For each year without a claim, you will receive an additional sum insured of 20% (up to a maximum of 100%) at the time of policy renewal. When the policy is renewed in the case of a claim, the bonus that has already accumulated would still be in effect.
Wellness Programs: The plan allows redemption of wellness points gained through various wellness and fitness activities owing to healthy conduct. The wellness points can be used to pay for medical consultations, prescription medications, diagnostic costs, dental costs, and other OPD fees.
Value Added Services: The plan also offers a wide range of value-added services to the policyholder, including health rewards, medical condition management, doctor appointment, medical second opinion, doctor on call, pharmacy and diagnostics, 24 X 7 e-consultations, online chats, and telephonic consultations.
Sum Insured & Claim Protector: The plan provides coverage for products that would not otherwise be covered by your claim with the company. If your claim for an in-patient hospitalization has been approved, you may use the claim protector feature of the plan. Moreover, if you happen to make claims that are up to Rs. 50,000 in the prior policy year, it will have no impact on the additional money insured that you have accrued over the years.
Convalescence Benefits: A lump sum payment of Rs. 20,000 will be payable only once each policy year. To be eligible for this benefit, the insured must be hospitalized for more than 10 days.
No Medical Test Up To 45 Years: For health coverage for those under the age of 45 and amounts covered up to Rs. 10 lakhs, no medical exams will be necessary.
Lifelong Renewability: The plan also has the option to renew the health insurance plan every year without any age restrictions.
Critical Illness Cover: It provides lump-sum coverage for 20 critical illnesses that include a 30-day survivor clause. The insured money or up to Rs. 50 lacs will be the lump sum payment, whichever is lower.
Preclusions Under ICICI Lombard Health AdvantEdge Plan
The following points are not included under the policy:
Any disease, excluding those brought on by an accident, that develops within 30 days of the policy's commencement date. For the succeeding renewals, this clause is not applicable.
Some illnesses, such as cataracts, hernias, urinary tract stones, and others, won't be covered for the first two years.
Any ailment, disease, injury, or pre-existing condition that existed before the policy's inception. However, if the policy is renewed with us for two consecutive years, these pre-existing conditions begin to be covered.
Treatment taken outside the geographical locations of the country
Expenses arising out of domiciliary treatment
Acupuncture, naturopathy, acupressure, magnetic, and other related treatments or therapies.
The treatments of the following will be excluded for the first two years:
Cataract treatment
Hernia and hydrocele
Benign prostatic hypertrophy
Joint replacement, unless because of an accident
Sinusitis and related disorders
Urinary stones
Stones in biliary systems
Myomectomy and hysterectomy, unless because of malignancy
Dilatation and curettage
Endometriosis
Dialysis required for chronic renal failure
Internal congenital anomalies
Tonsils, adenoids, and sinuses
Gastric and duodenal erosions and ulcers
Deviated nasal septum
Varicose veins/varicose ulcers
All types of skin and all internal tumors/cysts/nodules/polyps of any kind, including breast lumps, unless malignant
Frequently Asked Questions