Cover Your Health in 5 mins
Compare Premium.
Buy Now.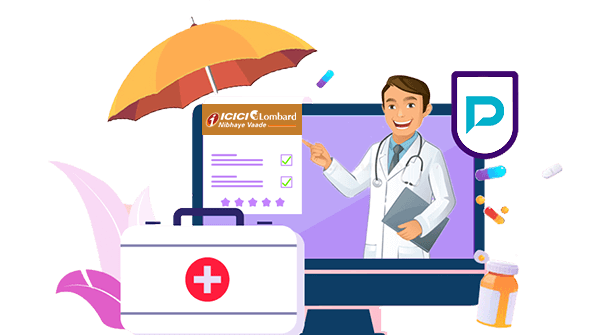 Compare

Individual Health Insurance Plans
ICICI Lombard Health iShield Policy
The ICICI Lombard iShield is a specialized health insurance plan that covers the medical costs for you and your family and ensures their financial security even in the event of your untimely death. You can get coverage for routine doctor visits, hospitalization, medications, and preventative checkups for you and other people covered by your policy with the ICICI Lombard iShield plan. And if something unexpected happens, the policyholder may be entitled to a cash lump sum payment to assist in providing for their family in the event of their death or terminal illness.
With the iShield plan from ICICI Lombard, you only need to submit your medical records and other supporting documentation once for life and health insurance, making it simple to manage your policies. Additionally, the plan gives you access to cashless hospitalization benefits at any nearby hospital of your choice, in addition to network hospitals.
Read on to know more about the ICICI Lombard iShield Plan's eligibility criteria, features and benefits, exclusions, buying process, claim procedure, and more.
Here are the eligibility criteria for the ICICI Lombard iShield Plan.
Parameters
Details
Age

Minimum- 18 Years

Maximum- 65 Years

Sum Insured
₹5 lakhs to ₹20 lakhs and ₹50 lakhs to ₹1 crore for life cover.
Life Cover
till the age of 85/99 years of age
Discount
5% premium discount on health premium
Income Benefit
10% of the benefit amount payable annually for 10 years
Increasing income
10% of the benefit amount is payable in the first year and after that, increasing by 10% p.a. (simple interest) every year, payable for 10 years
What are the Features and Benefits of the ICICI Lombard iShield Plan?
Here are the key features and benefits of the ICICI Lombard iShield Plan.
Hospitalisation
One of the biggest benefits of considering the ICICI Lombard iShield Plan is that in the event of illness or injury, coverage for reimbursement and payment of cashless hospital expenses is provided.
Daycare treatment
Medical costs for daycare services received while a hospital inpatient for a continuous period of less than 24 hours
Pre and post-hospitalization costs
Medical costs related to illness up to 60 days before and 180 days after being admitted to the hospital.
Teleconsultation
Another major benefit of choosing the ICICI Lombard iShield Plan is that teleconsultations and advice from a qualified healthcare professional will be provided for common health issues.
Domestic air ambulance
Costs associated with air ambulance services provided by a healthcare facility or air ambulance service provider up to the insured amount
Surface Ambulance Service
Cost of ambulance transportation to a hospital, between hospitals, and/or to a diagnostic facility for medical treatment. The maximum coverage limit under this will be Rs. 10,000, or 1% of the SI.
Homecare treatment
When a patient chooses to receive care at home rather than in a hospital, the cost of the treatment is covered, provided the doctor has recommended it.
Claim Protector
If a claim is made, items on the IRDAI list that are not payable will become payable.
Sum Insured (SI) Protector
At renewal, the SI will be raised by the previous year's inflation rate.
Restore benefit
If the SI is exhausted or insufficient due to prior claims in that policy year, restore the sum insured up to 100% of the base sum insured once.
Guaranteed cumulative bonus
For each year without a claim, you will receive an additional 20% of your base sum insured (up to a maximum of 100%).
Critical illness (ACI) benefit
Protection from 34 critical illnesses, a minimum cash payout of Rs. 1,00,000 in case of diagnosis, and a maximum benefit of SI based on the terms and conditions of the policy. For single-pay policies, it's not available.
Accidental death benefit
The benefit of Rs. 1,000,000 is guaranteed, with a maximum payout amount up to the insured amount, subject to the T&Cs of your choosing.
What is Not Included Under the ICICI Lombard iShield Plan?
The following are the exclusions under the ICICI Lombard iShield Plan.
Permanent Exclusions:
A war, a civil war, or an illegal act.
Therapies such as naturopathy, magnetic therapy, acupuncture, and others.
Any costs associated with receiving care at home.
Health Coverage Exclusions:
Any illness, other than those brought on by an accident, is contracted within 30 days of the policy's start date. For subsequent renewals, this clause is not applicable.
Certain diseases, such as cataracts, hernias, urinary tract stones, and others, will not be covered for the first two years.
Any illness, disease, injury, or pre-existing condition that existed before the policy's start. However, if the policy is renewed with ICICI Lombard for two consecutive years, these pre-existing conditions begin to be covered.
Other Exclusions:
The following exclusions will apply to premium waivers for permanent disabilities. The following causes of accidents will not be taken into consideration if a person sustains a permanent disability:
Suicide attempts or self-inflicted injuries
An accident while under the influence of any narcotic or euphoric drug
Participating in dangerous or adventure sports like boxing, powerboat racing, climbing, etc.
Engaging in aerial combat, parachuting, or skydiving outside the scope of licensed passenger service.
Chronic renal failure necessitates dialysis
How To Buy the ICICI Lombard iShield Plan?
The cost of high-quality medical care and hospitalization can be financially stressful, which makes health insurance crucial. Health insurance can give you the extra security you need in light of rising medical costs. Thus, buying the best health insurance like ICICI Lombard iShield Plan will help you get the job done.
Step 1: Visit the official website of ICICI Lombard.
Step 2: After that, you will need to hover over the "Health Insurance" section in the orange-colored banner. In the list, you will find "iShield". Simply click on it.
Step 3: Then, you will see the plan page. On the top right-hand side, you will see a box asking you to enter the birth date of the adult (s), fill in your kid's date of birth, enter your mobile number, email, and Pincode, and then click on "Get Quote".
Step 4: The moment you will click on it, a message will be displayed on the screen "Thank you for your interest. Our experts will get back to you shortly with the best plan recommendations".
Claim Process: How to Make a Claim for Your ICICI Lombard iShield Plan?
Health insurance claims are generally easy to understand. You can claim if and when you require money to pay for medical expenses. There are two distinct claim-processing methods for your ICICI Lombard iShield Plan:
Cashless Claim:
Utilise your health ID card at the hospitals in our network to use cashless services in the event of an emergency or planned hospitalization.
By giving your policy number and a copy of your identification to the hospital, which will work with our claim team to arrange a cashless service, you can also request pre-authorization.
The company must first pre-authorize any requests for cashless payments.
Complete the pre-authorization process 48 hours before a scheduled hospitalization or within 24 hours of emergency hospitalization.
To complete the pre-authorization process, contact ICICI Lombard with your policy number, name, relationship to the policyholder, nature of the illness or injury, name and address of the doctor or hospital, and any other information that may be pertinent to the hospitalization.
Reimbursement Claims:
Call the toll-free number provided in the policy document right away to report the claim to ICICI Lombard. Within 30 days of your hospital discharge, you or someone claiming on your behalf must send the following documents to the company in original form:
Duly completed claim form signed by you and the medical authority.
Original bills, receipts, and discharge certificates/cards from the hospital or doctor.
Actual bills from chemists supported by proper prescription.
Initial investigation test reports and payment receipts.
Indoor case papers
Doctor's referral letter advising hospitalization in non-accident cases.
Any other document as required by ICICI Lombard or their in-house claim processing team to investigate the claim.
How To Renew Your ICICI Lombard iShield Plan?
By renewing your policy, you can extend your coverage without having to start the application process all over again. Additionally, you are not required to take any additional medical exams or provide any additional information. If the clause was included in the original policy, your insurance provider is required to process the renewal regardless of your medical history or changes. By timely renewing your ICICI Lombard iShield Plan, you make sure that all of your benefits are still in effect and that none of the clauses are about to expire.
If you want to renew your ICICI Lombard iShield Plan, listed below are the steps you must follow.
Step 1: Go to the official website of ICICI Lombard.
Step 2: On the top, you will see an orange-colored banner. Locate the "Renewals". Then, hover your mouse over it and find "Health Policy" and click on it.
Step 3: When you click on it, a new page will open. After that, you will need to enter your ICICI Lombard policy number. Then, click on the "Proceed" button. Ensure you enter the correct details to save your time and effort.
Step 4: The moment you click on the button, the screen will show the specifics of your policy. Then, you can choose from a variety of payment methods to renew your Golden Shield Plan.
Step 5: Your policy will be successfully renewed following the completion of the steps mentioned above. After that, the necessary information will be sent to your registered email Id and mobile number.
Frequently Asked Questions