Cover Your Health in 5 mins
Compare Premium.
Buy Now.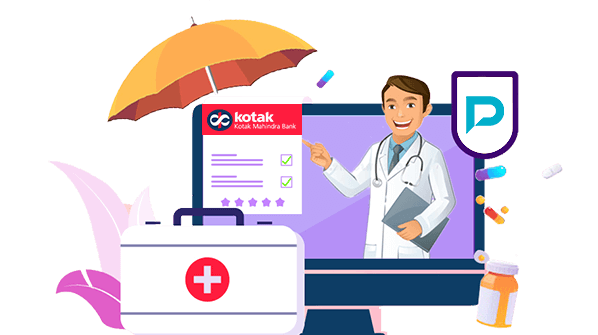 Compare

Individual Health Insurance Plans
Kotak Mahindra Health Insurance Customer Care
Kotak Mahindra General Insurance Company offers a differentiated value proposition to its customers through personalized health insurance plans. The company values customer service, innovation, and quality above anything else. Thus, it has an efficient customer care team that helps its policyholders with any kind of issues or doubts.
The team is highly skilled in helping clients in filing claims, updating policy information, resolving grievances, etc. The Kotak Mahindra Health Insurance customer care team can be reached by phone, email, or by visiting the insurance provider's nearest branch office.
Customer Care Details Of Kotak Mahindra Health Insurance
In case the policyholder has any kind of query or issue regarding a Kotak Mahindra Health Insurance policy, he/she can reach the company's customer care team through the following means:
Specifications
Details
Telephone

Within India: 1800 266 4545 (Toll-Free)

From Overseas: +91-22-61249600 (IST 8 AM to 8 PM)

Email
care@kotak.com
Website
www.kotakgeneral.com
Correspondence Address
8th Floor, Zone IV, Kotak Infiniti, Bldg. 21, Infinity IT Park, Off WEH, Gen. AK Vaidya Marg, Dindoshi, Malad (E), Mumbai – 400097.
Top Branch Offices Of Kotak Mahindra Health Insurance
The company has established several branch offices across the nation. The details of some of them are listed below:
| | |
| --- | --- |
| Location | Address |
| Ahmedabad | 510-511, 5th Floor, Venus Amadeus, Jodhpur Cross Road Satellite, Ahmedabad 380015. |
| Bengaluru | Unit No. SG-09 & SG-10, Ground Floor South Block, Manipal Centre, Building No 47, Dickenson Road, Off M G Road, Bengaluru-560042. |
| Patna | Office No. 409, 4th Floor, N.P Centre, New Dakbunglow Road, Patna – 800001. |
| Chandigarh | SCO 151/152, 2nd Floor, Sector 9-C, Chandigarh – 160009. |
| Chennai | 5th Floor, Samson Towers, 402L, Pantheon Road, Egmore, Chennai – 600008. |
| Chhattisgarh | National Corporate Park, Office No. 312, 3rd Floor, G.E. Road, Raipur, Chhattisgarh – 492013. |
| Delhi | A-2, 3rd Floor, Kirti Nagar, Near Karla Hospital, New Delhi – 110015. |
| Panjim | Unit No: 416, 4th Floor, Gera Imperium II, Patto Plaza Panjim Pin Code – 403 001. |
| Haryana | Ground Floor, Shop No 9, Vipul Agora, M G road, Gurugram, Haryana 122001. |
| Pune | Plot No. 3, Mansurali Tower, 1st Floor, Boat Club Road, Near Dhole Patil Road, Pune – 411001. |
| Ludhiana | SCO, No.668, Pakhowal Road, Lajpat Nagar, Ludhiana – 141002 |
| Maharashtra | Neptune Element, 2nd Floor, Plot No. F3, S3/1, Road Number 22, Wagle Industrial Estate, Kisan Nagar, Thane West, Maharashtra 400604. |
| Andhra Pradesh | D. No. 29-4-19, Kodandaramireddy Street, Govrenerpet, Vijayawada, Andhra Pradesh, 502002. |
| Mumbai | 8th Floor, Zone IV Building No. 21, Infinity IT Park, Off Western Express Highway, Goregaon, Mulund Link Road, Malad (E), Mumbai – 400097. |
| Mumbai | 27 BKC, C 27, G Block, Bandra Kurla Complex, Bandra (East) Mumbai – 400051. |
| Mumbai | 201-204, 301, 2nd & 3rd Floor, Chintamani Classique, Vishweshwar Nagar, Off Aarey Road, Near Udipi Vihar Hotel, Goregaon (E), Mumbai 400063. |
Customer Care Services Offered By Kotak Mahindra Health Insurance
The company's customer care system offers the following services to its customers:
Claim Registration: Any policyholder can register a health insurance claim with the help of the company's official website. Go to the home page, scroll down, and then click on "Health Claim Intimation" under the "Claim" section. Now on the next page, the policyholder can press the "Register A Claim" button for registering his or her health insurance claim.
Health Insurance Claim Status: The company also allows its policyholders to know the status of his/her health insurance policy claim. They need to enter their policy number or claim number for the same.
Grievance Redressal: In case the customers are not satisfied with the solutions provided by the company, they can pick their city on the official website of the company and find the details of the nearby Grievance Redressal Officer to escalate their complaints.
Complaint Registration: One can also register a complaint with the help of the company's website. The person needs to enter some details, like complaint type and product, and press the submit button afterward.
Hospital & Branch Office Locator: The company's website has efficiently integrated hospital and branch locators in its website, through which the customers can easily find nearby network hospitals and branch offices.
Renewal Reminder: The company also offers renewal reminder services to its policyholders. When the customer's policy is going to expire, the company reminds him/her through phone number or email ID.
Policy Renewal: One can also renew his/her policy without any hassles through the official website of the company. The company first verifies the policyholder's policy and then renews it accordingly.
Download Policy Copy: The policyholder can also download the policy copy of his/her health insurance policy by entering a few details, such as policy number, mobile number, etc.