Cover Your Health in 5 mins
Compare Premium.
Buy Now.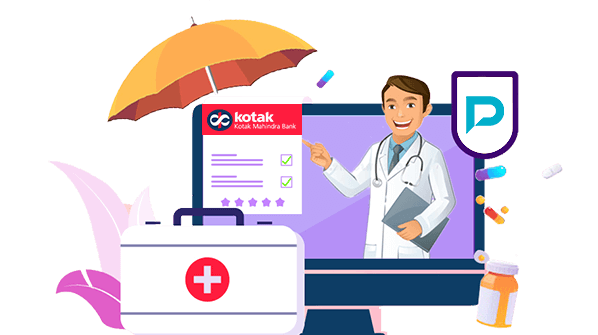 Compare

Individual Health Insurance Plans
Exorbitant medical costs can quickly drain your life savings and result in financial stress. Therefore, you could invest in Kotak Health Care plan to overcome financial challenges in case of medical exigencies.
Kotak Health Care plan is specifically designed for individuals to receive medical care without worrying about the cost. Instead of stressing about making last-minute financial arrangements, you may receive high-quality medical care and concentrate on a quick recovery. The plan comes in two variants: Excel and Premium. To know more about the plan, continue reading the post.
| | |
| --- | --- |
| Minimum Entry Age | For Individual Plan: 5 Years, For Floater Plan: 91 Days |
| Maximum Entry Age | 65 Years |
| Policy Tenure | 1/2/3 Years |
| Sum Insured Options | For Excel: Rs. 2/3/4 Lakhs, For Premium: Rs. 5/10/15/20/25 Lakhs |
| Renewability | Lifelong |
Focal Points Of Kotak Health Care Plan
Let's have a look at what the policy covers!
| | |
| --- | --- |
| Features | Status |
| In-Patient Hospitalization | Covered |
| Pre-Hospitalization | 30 Days |
| Post-Hospitalization | 60 Days |
| Daycare Procedures | 150 Covered |
| Ambulance Cover | Up To Rs. 1500 |
Why Should You Choose Kotak Health Care Plan?
You should consider buying the plan because it provides the following benefits to the policyholder:
Free Health Checkup: Each insured person over the age of 18 is entitled to one free health checkup at a provider once each policy year for a set of tests. The Base Annual Sum Insured or the Cumulative Bonus will not change if you take advantage of the Free Health Check-up. This shall be provided irrespective of any claim made or admitted under the policy.
Cumulative Bonus: When this policy is renewed, you will receive a cumulative bonus of 10% on your Base Annual Sum Insured if there have been no claims for the previous 50% of the Base Annual Sum Insured. The accrued Cumulative Bonus under the policy will be reduced by 10% at the start of the subsequent policy year or the subsequent renewal of the policy if any claims are made under the policy after a Cumulative Bonus has been applied under the policy.
Discount: The policy offers a long-term discount to the policyholder. If he/she selects the policy for 2 years, the plan will give a 5% discount, whereas, if a 3-year policy is chosen, a 10% discount will be given to the policyholder.
Tax Benefits: Include the policy's premium when figuring out your yearly income to benefit from tax deductions. Deductions are allowed under Section 80C of the Income Tax Act of 1961. You can save yourself from having to pay the government additional taxes as a result.
Optional Covers & Extensions: You can choose optional covers and extensions to fit your needs, which are available for an additional cost, to personalize your policy. Depending on the type of plan chosen, you can choose from a variety of add-on covers.
Exclusions Under Kotak Health Care Plan
The plan does not cover the below-mentioned expenses:
The price of routine medical, ophthalmic, and hearing tests; the cost of preventative health checks; the price of eyeglasses; the price of contact lenses; the price of hearing aids; the price of dentures or artificial teeth; the price of contact lenses
Any costs associated with wheelchairs, crutches, correcting devices, prosthetic limbs, or other types of external durable medical equipment
All dental treatment costs, unless they were caused by an accident
Any costs associated with personal convenience, cosmetics, and hygiene-related goods and services
Any form of natural medicine, including acupressure, acupuncture, magnetic therapy, and similar practices
Circumcision, unless it is required for the treatment of a disease or as a result of an accident
Any type of vaccination or inoculation, unless it is for an animal bite
Sterility, venereal disease, or any other sexually transmitted disease
Intentional self-injury (whether resulting from a suicide attempt or otherwise)
Injury or illness brought on by the use, abuse, or misuse of intoxicating substances
Any costs associated with the treatment of mental illness, stress, psychiatric, or psychological disorders
Any aesthetic procedures, cosmetic surgery, or plastic surgery, including any side effects resulting from or attributable to such procedures
Any costs incurred for treatment related to or traceable to pregnancy (including voluntary termination of pregnancy, childbirth, miscarriage, abortion, or complications)
Treatment relating to Congenital External Anomalies
Any treatment or surgery for a change of sex, as well as treatment or surgery, complications, or illness arising as a result thereof
Genetic disorders, stem cell implantation/surgery, harvesting, storage, or any other stem cell-based therapy
All costs related to any condition that is directly or indirectly brought on by or linked to AIDS.
Frequently Asked Questions