Cover Your Health in 5 mins
Compare Premium.
Buy Now.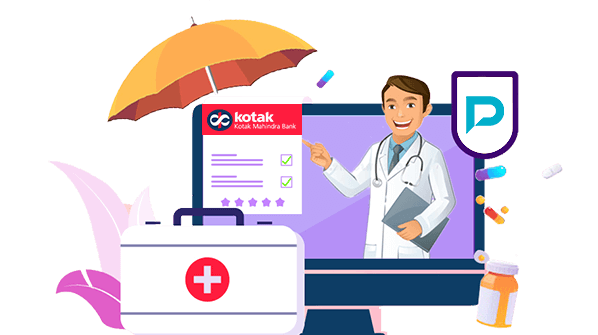 Compare

Individual Health Insurance Plans
Kotak Health Premier Plan
To safeguard yourself and your family from adverse medical conditions, a health insurance policy plays a pivotal role, and nowadays, it has become part and parcel of life because of its extensive features. And when it comes to health insurance policies, Kotak Mahindra General Insurance Company is one of the most trusted and celebrated insurers among consumers. To offer maximum protection to the customers, this company has come up with a comprehensive medical policy, Health Premier Plan, that not only provides the basic and standard benefits but also has come up with double benefits, protection, and value-added benefits to keep you stay fit. To know more about this plan, have a look at the below mentions.
Parameters
Descriptions
Minimum entry age
Child – 91 days, Adult – 18 years
Maximum entry age
Child – 25 years, Adult – 65 years
Exit age or renewal
Lifelong renewability
Plan variants
Advantage plan, Elite plan, and Edge plan
Relationship covered
Self, Spouse, natural or adopted dependent children, parents, parents-in-law, and siblings, Employer-Employee, Natural/Appointed Guardian can also take insurance for minors under their guardianship.
Maximum number of members
A family floater policy can cover a maximum of 2 adults and 3 dependent children under a single policy.
Pre-policy medical check-up

The customer might have to undergo Medical Tests based on the underwriting guidelines issued by the company from time to time.

Medical tests will be facilitated by the company and conducted at its network of diagnostic centers. The validity of such tests will be up to 30 days.

Waiting period

Initial – 30 days

For specific ailments such as Hernia, Fissures/Fistula, Arthritis, Gout, etc. – 2 years

For pre-existing diseases – AS per the plan opted
Know The Details of Kotak Health Premier Plan
This plan has offered a sack full of benefits and facilities that can safeguard you and your family from different adverse medical conditions. The following table gives you a brief detail of that. Have a look.
Parameters
Details
In-patient hospitalization

Medical expenses like room rent, ICU charges, operation theatre charges, doctor's fees, etc. arising out of minimum

24 hours of hospitalization will be covered.

Day care treatments
Medical expenses incurred for listed 405 Day Care Procedures will be covered, which require less than 24 hours of hospitalization.
Pre and post-hospitalization medical expenses
Covered up to a specified limit of days.
Cumulative bonus
A cumulative Bonus can be earned up to 50%, or 100% of the Sum Insured as per the plan opted in case of a claim-free year at 10% per year. There will be no reduction in the Cumulative Bonus in case of a claim.
Emergency ambulance and organ donor expenses cover
Available
Alternative (AYUSH) treatment cover
The policy covers in-patient medical expenses related to Ayurveda, Yoga and Naturopathy, Unani, Sidha, and Homeopathy systems.
Domiciliary hospitalization
The policy covers medical expenses for treatment taken at home on the advice of the medical practitioner.
Hospital daily cash
The policy will pay a specified daily cash amount from day one in case the hospitalization extends for at least 3 consecutive days.
Convalescence Benefit

This benefit pays a lumpsum specified amount in case the hospitalization exceeds for a minimum period of 10

consecutive days.

Home Nursing Benefit
This cover pays for the services of a qualified nurse at the residence of the Insured after discharge from the hospital.
Daily Cash for Accompanying an Insured Child
It will pay a specified daily cash amount from day one in case the hospitalization of an Insured child extends for at least 3 consecutive days.
Compassionate Visit
This benefit pays for the cost of the return journey of the Insured's immediate relative from a place of residence to the hospital up to a certain limit.
Air Ambulance Cover
It will cover expenses for ambulance transportation in an airplane or helicopter for emergency life-threatening situations.
Maternity Cover
It covers medical expenses for the delivery of the Insured's child or lawful termination of pregnancy. The cover is available for 2 deliveries across all policy years. Pre and post-natal expenses are covered.
New Born Baby Cover
Covered
Vaccination expenses
It will cover the vaccination expenses incurred on the newborn baby. The expenses will be covered from birth till the baby completes 2 years.
Critical Illness Cover
This is a benefit cover that provides lump sum benefit in the event of happening of 18 listed critical illnesses. It is available over and above the Base Sum Insured.
Personal Accident Cover
This is a Benefit cover that provides lump sum benefit in the event of Accidental Death or Permanent Total Disablement. It is available over and above the Base Sum Insured.
Cap on Room Rent
The policyholder can opt for capping of room rent and will be entitled to a discount in premium. The claim will be paid based on a rateable proportion based on the actual and eligible room rent.
Key Highlights of Kotak Health Premier Plan
Apart from the above benefits and facilities, this plan has also come up with several extraordinary features and advantages which have made the policy unique and popular among consumers. The followings are the mentions of those.
Restoration Benefit:
There will be a 100% restoration of the Base Sum Insured once in a policy year in case the Base Sum Insured and Cumulative bonus is insufficient due to previous claims. In case of accident-related claims, the restoration will be applicable from the first claim onwards. This restored amount can be used for all future claims not related to the same illness for which a claim has been made for the same Insured Person.
Health and Rewards:
You can get rewarded for taking care of your health or fitness through regular preventative and fitness habits. You can earn reward points for the activities mentioned below.
List of wellness activities
Activities
Points per insured
Points per floater policy
Health Risk Assessment (HRA)
250 per policy year
500 per policy year
Health Check-up
500 per policy year
1500 per policy year
Preventive Health Check-up
250 per policy year
1500 per policy year
List of fitness activities
Fitness activities
Reward points
Participation in professional sporting events like Marathon/Swimathon/Triathlon, etc
500 per Event and 1000 Points/ per Policy Year
Gym/Yoga Membership for 1 Year
1000 per policy year
Sports Activity Membership (Swimming/Tennis/Badminton) for 1 Year
1000 per policy year
Share your fitness story
250 per policy year
Winning Health Quiz/Contests organized by the company
250 per event and 500 per policy year
Second E-opinion Cover:
This policy will give you the opportunity to avail of a Second E-Opinion on a medical condition occurring during the policy period. The opinion can be availed of multiple times during the policy period.
Value-added Benefits:
The Benefits listed below will be applicable as per the plan opted for.
Online customer profile
Doctor directory
Doctor appointment
Online Pharmacy/Online Diagnostics tests booking
Health tips/articles
Home Health E-consultation
Dietician/Nutritionist opinion
Zone Classification:
The premium you pay and co-pay option is determined based on the city where you reside as per the following table.
| | | |
| --- | --- | --- |
| Applicable zone | Treatment was taken at | Co-payment applicable |
| Zone II | Zone I | 10% |
| Zone III | Zone I | 20% |
| Zone III | Zone II | 10% |
Zone I: Mumbai (including Thane and Navi Mumbai) and Delhi (including NCR areas).
Zone II: Kolkata, Hyderabad, Chennai, Pune, Bangalore, and Gujarat.
Zone III: Rest of India, excluding the locations mentioned under Zone I & Zone II.
Identification of Zone will be based on the city of the Proposer.
A single Zone shall be applicable to all members covered under the Policy.
Customers can also select a Zone higher than that of the actual Zone on payment of relevant premium at the time of buying the Policy or at the time of Renewal.
Tax Exemption Benefits:
The following tax benefits are available under this policy:
You can avail of tax benefits up to Rs. 25,000 for people below 60 years and Rs. 50,000 for senior citizens under Section 80D.
In the case of a multi-year health insurance policy that is policies having tenure of more than one year, the deduction under Section 80D will be allowed on a proportionate basis for the number of years for which health insurance cover is provided, subject to the specified limits.
In the case of an Individual Policy, if any member other than self, spouse, dependent children, or parents are covered, then Section 80D benefit will not be available to these members.
What Are The General Exclusions of Kotak Health Premier Plan?
Knowing a plan is not completed if you do not go through the exclusions of it thoroughly. Therefore, to avoid future complications and to offer you a clear and comprehensive idea of this plan, here are the general exclusions of the Kotak Health Premier Plan.
Self-inflicted injury, suicide, or suicide attempt is not covered under this policy.
If any expenses arise out of the treatment of consumption of alcohol, drug, or any other unauthorized intoxicating substance, the policy will not cover that.
Cosmetic surgery, plastic surgery, or any kind of treatment related to gender will not be entertained.
If there is any kind of breach of law or misinterpretation of the terms with criminal intent, the company will not take any liability for that.
Expenses related to any unproved and unauthorized treatment will not be compensated.
Expenses arising out of the treatments of sterility or fertility will not be covered by the policy.
If you raise a claim against any ailment or disease that is still within the waiting period, the company will not approve your claim.
Premium Calculation of Kotak Health Premier Plan
After understanding the inclusions and exclusions of the policy, the next important thing is to know how much premium amount you have to pay to purchase this policy. To make it easier for you, here is an example.
Mr. Basu, a 36-year-old businessman, bought Kotak Mahindra Premier Plan for himself. Let us find out how much premium amount he has to pay to avail of the benefits of this policy for the given details.
| | |
| --- | --- |
| Parameters | Data |
| Age | 36 years |
| Location | Kolkata |
| Policy tenure | 1 year |
| Sum insured | Rs. 5 lakhs |
| Plan type | Individual policy |
| Plan opted for | Edge plan |
| Premium amount excluding GST | Rs. 7031 |
Now, the same Mr. Basu wants to include his wife under this policy. Therefore, the premium amount will certainly change. The following table showcases the changed premium value for the given credentials.
Parameters
Details
Age
Self – 36 years, Spouse – 34 years
Plan opted for
Self and spouse
Plan variant
Elite plan
Plan type
Individual plan
Policy tenure
1 year
Optional add-on cover
Critical illness cover
Sum insured option
Rs. 10 lakhs
Premium amount excluding GST
Rs. 19573
Premium break-up

Critical Illness Cover – Rs. 4,700

Discount – Rs. 1,213.66

Net Premium – Rs. 23,059
Frequently Asked Questions