Cover Your Health in 5 mins
Compare Premium.
Buy Now.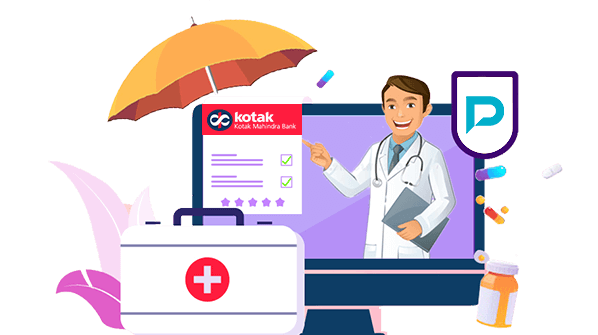 Compare

Individual Health Insurance Plans
Kotak Mahindra Health Insurance Renewal
Buying health insurance is the wisest thing that you can ever do in your life. Health insurance coverage protects you from financial hardships while receiving medical treatment. As a result, it's critical to make sure you're covered in the event of a medical emergency. You can only do so by making sure you renew your policy each year on time.
The renewal of a health insurance policy is as important as considering various factors before buying a policy. When a person gets a health insurance policy, it is advised that they pay the renewal premium on time to prevent having their coverage benefits terminated.
If you own a Kotak health insurance plan, you can easily renew your policy in just a few clicks. The entire online renewal process is really simple and does not take up a lot of time from the policyholder.
How To Renew Kotak Mahindra Health Insurance Policy Online?
If you are looking to renew your Kotak Mahindra health insurance policy online, then you can simply follow these steps:
Go to the official website of the Kotak General.
Simply click on the "Renewal" option that is being displayed on the status bar at the top.
When you click on it, you will be directed to the page wherein you will need to select a product. Click on the "arrow facing below". You will get a list of all the insurance policies.
Suppose if you have a "Kotak Heath Care" policy, you will need to click on it.
After that, you will see blanks wherein you need to enter "Policy Number", "Mobile Number", and "Date of Birth".
Once you have entered all the desired information, click on Submit to proceed with the payment process of your renewal premium.
Once your payment has been done, your policy will be renewed and you will get an email regarding the successful renewal.
What Will Happen If You Fail To Renew Your Kotak Mahindra Health Insurance Policy?
Here are the things that you might face if you do not renew your Kotak Mahindra health insurance.
Loss of Coverage:
Did you fail to renew your Kotak health insurance policy? If so, you will not get any coverage that may protect you against unexpected medical emergencies. if you do not renew your health insurance by the due date, the policy, as well as all of the services associated with it, will become inactive. If you file a claim while your insurance is dormant, the insurer may deny it since the policy was not renewed.
On the other hand, if you renew your policy on time and keep it active, you will get comprehensive coverage to protect you financially from the costs of hospitalization for any ailment.
Loss of No Claim Bonus:
One of the biggest advantages of failing to renew your health insurance coverage is the loss of your No Claim Bonus (NCB). It is not necessarily necessary that if you purchase health insurance coverage, you will file a claim every year, and the insurer will reward you with a no-claim bonus for each year in which you do not file a claim. NCB is a reward that the policyholder receives for each claim-free year that is added to the total covered in health insurance.
You can only make use of the no-claim bonus benefits if you renew your policy within the given timeline. If you do not renew your policy within the set timeframe, you will be unable to reap the benefits of the NCB benefits.
Not Receiving Waiting Period Benefit:
When you buy a new health insurance coverage, there is a mandatory waiting period before you may file a claim. The waiting period varies depending on the type of ailment; for pre-existing conditions and other common problems such as maternity coverage, knee replacement surgery, cataract surgery, and many more, the waiting period is usually between 2 and 4 years.
Your health coverage will now lapse if you fail to renew your policy on the renewal date or even during the grace period. This would be a disaster for you as you would have only one option left which is nothing but to buy a new health insurance policy.
However, if you get a new health insurance coverage, you'll have to go through the waiting period for certain ailments all over again.
What Are The Things To Take Care of While Renewing Kotak Mahindra Health Insurance Policy?
The following are the things that you should consider while renewing your Kotak Mahindra health insurance.
Don't Forget to Check Cumulative Bonus: When you renew your insurance without claiming during the preceding policy period, you can earn a cumulative bonus. Look for the cumulative bonus that applies. Find out if the plan allows you to increase the amount insured or receive a premium discount instead of a no-claim incentive, and take advantage of these options.
Always Prioritize Due Date: You should be informed of your insurance plan's renewal deadline. Before the deadline, you must renew your coverage. In the case that it is missed, there is a grace period of 30 to 120 days during which one must renew in order to continue using the plan's benefits. As a result, ensure that you renew your insurance before the deadline or during the grace period.
Changes in Sum Insured: Make sure the amount covered by your health insurance plan is at its maximum every time you renew your policy. You should strive to increase the amount insured if your living demands have altered and you've added extra folks to your insurance. Only renewals are eligible for sum insured improvements. If you believe your current coverage amount is insufficient, try increasing your sum insured.
Addition or Removal of a Member: If you and your family are covered by an insurance plan, make sure to check to see if any family members need to be added or removed. If you are expecting a munchkin in your family, then you will have the advantage to add him/her. There's no denying the fact that family members such as parents of dependents or children could be removed at the time of renewal.