Cover Your Health in 5 mins
Compare Premium.
Buy Now.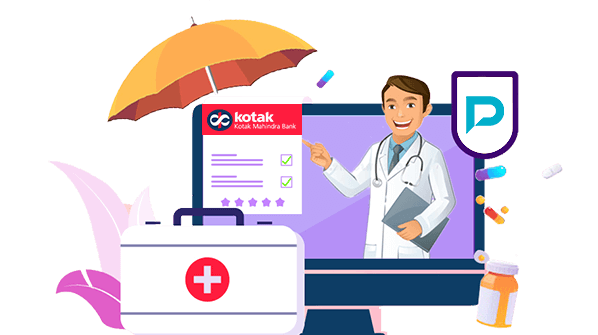 Compare

Individual Health Insurance Plans
Unexpected medical costs can quickly break anyone's bank and deplete their savings. Therefore, one can only protect his or her family from such events with a medical insurance plan like Kotak Secure Shield Plan without sacrificing the quality of care.
The Kotak Secure Shield Policy is designed to protect individuals and their families from critical illnesses by offering a financial safety net. Policyholders can choose from a variety of benefits under this plan, including critical illness, personal injury, and/or loss of job benefits.
Eligibility Conditions Of Kotak Secure Shield Plan
| | |
| --- | --- |
| Minimum Entry Age | 18 Years |
| Maximum Entry Age | 65 Years |
| Policy Period | 1/2/3 Years |
| Renewability | Lifelong |
| Sum Insured Options | Rs. 5 To Rs. 10 Lakhs |
Features & Benefits Of Kotak Secure Shield Plan
This plan has several unique features that will make it easier for you to comprehend the plan. You need to understand all the advantages of this plan and the risks that are covered by it.
You are covered by this insurance policy for 18 different critical illnesses. Therefore, the insurer will cover your medical costs and additional hospitalization costs if you are found to have one of the 18 illnesses listed.
If you pass away or have a personal accident that renders you totally and permanently disabled, this plan will cover the costs of your child's education in the future. The money your family receives from the insurance provider will help your family pay for the high cost of schooling in today's society.
If you were to suffer some sort of personal accident and ended up fully crippled, the company would reimburse you for your losses. On the other hand, if the insured individual passes away tragically as a result of a personal accident, the firm will pay his family the agreed-upon amount.
You will receive some benefits from the Kotak Secure Shield Insurance Plan if you lose your current job. Your financial load will be lessened by the insurance company paying three EMIs on your current loans.
The policy term can be chosen from three alternatives. This health insurance plan is available for 1, 2, or 3 years. If you purchase this coverage for an extended period of time, you may be eligible for premium rebates.
If you don't think the coverage is intriguing, you have a 15-day free-look period during which you can return it to the insurer. This 15-day window begins on the day the policy was first issued. Within 15 days of the free-look period, you have the opportunity to carefully review every clause in this policy.
Enjoy tax deductions by including the policy's premium while calculating your yearly income. According to Section 80C of the Income Tax Act of 1961, deductions are permitted. Consequently, you can spare yourself from having to pay the government more taxes.
Kotak Secure Shield Plan Premium
The coverage and benefits you will receive during or after the policy term will depend on the premium payment you make for your Kotak Secure Shield plan, so understanding it is crucial. Here, a variety of parameters have been used to establish the premium amounts for the plan!
| | | | | |
| --- | --- | --- | --- | --- |
| Name Of The Insured | Age Of The Insured | Insured Amount | Premium Amount | Policy Term |
| Akash Gupta | 29 Years | Rs. 5 Lakhs | Rs. 3,120 | 2 Years |
| Garima Goyal | 35 Years | Rs. 5 Lakhs | Rs. 5,476 | 3 Years |
| Ritesh Singh | 55 Years | Rs. 10 Lakhs | Rs. 10,028 | 1 Year |
| Madhuri Singh | 65 Years | Rs. 10 Lakhs | Rs. 75,197 | 3 Years |
What's Not Included Under Kotak Secure Shield Plan?
Here are some of the exclusions under the plan:
A claim resulting from or arising out of an insured person breaking any laws
Armed conflict, military or usurped authority, invasion, hostilities, civil war, rebellion, revolution, insurrection, mutiny, seizure, capture, arrests, and constraints
Radiation that emits ions or radioactive contaminants from any nuclear fuel.
Alcohol, narcotics, hallucinogens, and other intoxicants are used, consumed, or abused
Suicide attempts, self-inflicted harm, or self-destructive behaviour
STIs such as AIDS-related complicated syndrome and Acquired Immuno Deficiency Syndrome (AIDS)
Injuries sustained while serving in any branch of a nation's military or armed forces during hostilities or activities resembling hostilities.
Frequently Asked Questions
Yes. The plan offers 30 days for renewals under the plan.
The plan provides coverage against the following 18 critical illnesses:
Cancer of specified severity
Kidney failure requiring regular dialysis
Multiple sclerosis with persisting symptoms
Motor neurone disease with permanent symptoms
Benign brain tumor
Primary pulmonary hypertension
End-stage liver disease/failure
Major organ/bone marrow transplant
Open heart replacement or repair of heart valves
Open chest CABG
Aorta graft surgery
Coma of specified severity
Stroke resulting in permanent symptoms
Permanent paralysis of limbs
First heart attack of specified severity
Third-degree burns
Deafness or loss of hearing
Loss of speech
Yes. The plan comes with 48 month waiting period for any pre-existing disease and 90 days for any other medical condition.