Cover Your Health in 5 mins
Compare Premium.
Buy Now.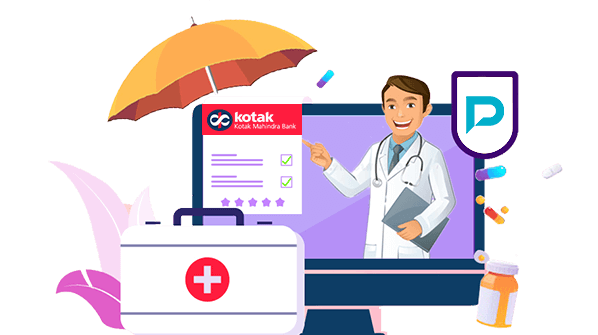 Compare

Individual Health Insurance Plans
Kotak Health Super Top Up is a top-up health insurance policy offered by Kotak General Insurance that you can receive more comprehensive coverage at a lower cost. The Super Top Up policy complements the fundamental health insurance plan and improves it to offer more coverage for a significantly reduced cost. The initial costs (known as a deductible) may be covered by your current policy (personal or business), or you may be responsible for them.
When this deductible threshold is reached, Super Top Up Insurance comes in and covers the surplus. This implies that even if you don't currently have health insurance, you can still choose our top-up plan.
Read on to know more about Kotak Super Top Up Plan's eligibility criteria, coverage, features & benefits, inclusions, exclusions, and more.
Features & Benefits of Kotak Super Top Up Plan
Listed below are the features and benefits of Kotak Super Top Up Plan.
One-in-All Plan: One of the major features of the policy is that it efficiently covers your entire family under one plan. It means that you don't need to buy another plan to protect each single loved one in your family.
Multiple Plan Variants: Choose from multiple plan variants depending on your requirement.
Wide Sum Insured Options: Another major benefit of Kotak Super Top Up Plan is that it offers a wide range of Sum Insured options and deductibles available catering to every pocket and need.
Period: With the Kotak Super Top Up Plan, you can easily choose for a long-term cover of 2 or 3 years and stay covered for longer.
Tax Benefit: Last but not the least, you can easily save tax with the plan under 80D of the Income Tax Act 1961. But you should keep in mind that the tax benefit u/s 80 D of the Income Tax Act, 1961 mentioned herein is subject to the fulfillment of the conditions mentioned in the Income Tax Act.
What Does Kotak Super Top Up Plan Cover?
| | |
| --- | --- |
| Coverage Options | Details |
| In-patient Treatment | Following an illness or injury, all medical expenses incurred within the insurance period will be reimbursed, providing the hospitalization lasts a minimum of 24 hours. If the attending physician certifies that the hospitalization was medically necessary, the hospitalization costs are receivable for the claim. |
| Daycare Treatment: | Medical costs are related to daycare treatment received during the policy period after an illness or injury. |
| Pre & Post-Hospitalization Medical Expenses: | If the insurer has accepted a claim for in-patient or daycare treatment, it will cover pre- and post-hospitalization costs that arise during the coverage period. Expenses before and following hospitalization are reimbursed for 30 and 60 days, respectively. |
| Ambulance Cover | By this policy, the insurer will pay up to Rs. 2,000 per hospitalization for the ambulance services used to transport a patient to a hospital for the treatment of a sickness or injury after an emergency. If the insurer has approved a claim for inpatient or daycare treatment, you are entitled to this benefit. |
| Organ Donor Cover | Provided the organ is donated for the use of the insured individual who has been asked to undergo an organ transplant on medical advice, the insurer shall cover the donor's in-patient hospitalization costs. |
| Alternative Treatment: | If an alternative treatment is offered by a medical professional and the insured is admitted to the hospital as an in-patient, the insurer will cover the costs up to INR 50,000. The base yearly sum insured is the maximum amount that can be paid out under this benefit. |
| Restoration of Sum Insured: | About any disease or complications for which a claim has already been accepted or paid, the restored base annual sum insured will not be available for use in connection with any current or future claims under this policy. |
| Double Sum Insured for Hospitalization due to Accident | The amount available under the Kotak Health Super Top Up Insurance Plan after prior claims have been paid throughout the policy year shall be used to determine the double sum insured. The amount computed under this plan cannot be used to pay for any benefits other than in-patient care. |
| Cumulative Bonus | You can take advantage of this benefit only if no claims were filed in the prior policy year on behalf of any of the insured individuals. |
Things Not Covered Under Kotak Super Top Up Plan
It's critical to comprehend your policy's exclusions if you want to file claims without delay or bother.
Pre-existing disease waiting periods: For the period specified in the policy schedule and according to the selected plan option, any pre-existing disease will not be covered under the policy.
30-day waiting period: This covers any illness contracted and any medical costs incurred unless they were caused by an accident, within 30 days of the policy's start. This exclusion does not apply to anyone whose policy has been accepted under the portability benefit, the renewal of a policy with us, or the renewal of any other policy.
2-year Waiting Period: In the first two years following the start of the policy, this exclusion covers medical expenses spent for specific specified illnesses or conditions, such as hernia, fissures/fistulas, arthritis, gout, etc.
Permanent Exclusions: Claims relating to criminal activity, HIV/AIDS, operations or treatments such as standard medical examinations, dental work, cosmetic surgery, accident or disease brought on by abuse of intoxicants, etc. are permanently excluded from the coverage.
How Does the Kotak Super Top-Up Plan Work?
The example below demonstrates how our Super Top Up Policy functions in the event of an Rs. 3 lac deductible and Rs. 7 lac Sum Insured for various claims incurred.
Claims

Deductible

Chosen

Super Top Up

Sum Insured

Claim

Amount

Payable by 1

Policy/Customer

Payable by Kotak

Health Super Top Up(

Claim 1
3,00,000
7,00,000
2,50,000
2,50,000
Nil
Claim 2
3,00,000
7,00,000
4,00,000
50,000
3,50,000
Claim 3
3,00,000
7,00,000
6,00,000
Nil
3,50,000
Frequently Asked Questions