Cover Your Health in 5 mins
Compare Premium.
Buy Now.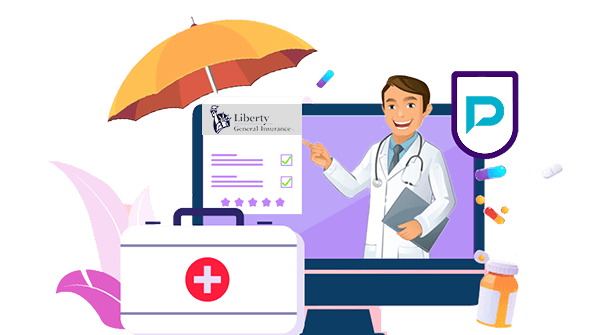 Compare

Individual Health Insurance Plans
Liberty Health Connect Supra Plan
The Liberty Health Connect supra is a top-up plan with extra features that help you improve the coverage of your current health insurance plan. It complements your current health insurance plan and works in conjunction with it to give you more coverage for a much lower cost. The ability to increase the Sum Insured at a lower cost than the set deductible amount applied on an aggregate per policy year is one of the key benefits of the insurance. There are two variations of the Health Connect Supra policy: individual basis and family-based.
Read on to know more about Liberty Health Connect Supra Plan, its benefits, inclusions, exclusions, and more.
Parameters
Details
Age

Minimum Age at Entry (Adult):18 Years; Children 91 days

Maximum Age at Entry (Adult): 65 Years

Child/children below 18 years can be insured provided either parent is getting insured under the Policy

Renewal
Life Long
Tenure
1/ 2 / 3 years
Sum Insured Option

Individual and Family Floater Sum Insured

Option1: 3, 5, 7, 10, 15, 20 Lakhs, Option 2: 10,15, 20, 30, 50, 100 Lakhs

Deductible
Option 1: 2, 3, 4, 5, 7.5, and 10 Lakhs, Option 2: 10, 15, 20, 30, 40 Lakhs
Family Members

Individual Sum Insured: Family members like Self, Spouse, Children, Parents, and Parents-in-law can be covered in a single Policy on Individual Sum Insured basis.

Family Floater Sum Insured: Self + Spouse + max up to 3 dependent children can be covered under a single Sum Insured
Features & Benefits of Liberty Health Connect Supra Plan
Here is the list of the salient features and benefits of the Liberty Health Connect Supra Plan.
Comprehensive Covers with Sum Insured up to 1 Cr: There are numerous SI and deductible options available to you as part of the Liberty Health Connect Supra Plan, which is one of its key features and advantages.
No Pre-Policy Health Check-Up for Proposals: You are not obliged to have a medical exam to purchase coverage. However, only past and present medical histories are acceptable for the disease.
Covers Your Medical Urgencies: You only need to pay your deductible once a year, and then you can relax knowing that your health insurance will cover all of your medical emergencies up to your Sum Insured.
No Co-Pay, No Room Rent Capping, No Sub-Limit: By selecting the Liberty Health Connect Supra Plan, you are also spared from having to share the hospitalization-related medical costs caused by any of these additional costs.
Loyalty Benefit: If the policy is renewed without a pause, the Sum Insured will automatically increase with the policy by 10% for each year without a claim, up to a maximum of 100% of the Sum Insured.
Cashless Claim Benefit: You can quickly submit a claim for cashless benefits from more than 4300 network hospitals when you purchase the policy.
Reload of Sum Insured: By adding more insurance to your current sum insured, you can continue to have a cushion of that same sum insured for subsequent hospitalizations that occur within the same year, even if your current sum insured is spent as a result of a claim.
What Does the Liberty Health Connect Supra Plan?
| | |
| --- | --- |
| In-patient Treatment | covers hos costs for no less than 24 hours due to an accident or illness. covers all medical costs, including those for rent, board, nursing, ICU, doctors, medications, and other connected costs. |
| Pre and Post Hospitalization | Provides coverage for consultations, tests, and medical costs for the number of days immediately preceding and following, respectively, the hospitalization, as specified under the Benefit Schedule. |
| Day Care Procedures | Covers the Medical Expenses for 405 daycare operations that, as of the date of this contract and the company's website, do not need a hospital stay of more than 24 hours. |
| Loyalty Perk: | If the Policy is renewed without a gap, the Sum Insured will automatically rise by 10% for each year without a claim, up to a maximum of 100% of the Sum Insured. |
| Preventive Care | Take advantage of free benefits including First Medical Opinion, Live Health Talk, Electronic Medical Record Management, and Fortnightly Newsletters. |
| AYUSH Treatment | Without any sub-limits, the policy covers medical care for Ayurveda, Unani, Siddha, and Homeopathy in a government hospital or in any other facility that has been approved by the government and/or accredited by the National Accreditation Board on Health/Quality Council of India. |
| Worldwide Coverage | If you need emergency medical hospitalization while traveling abroad, the policy covers you globally. |
| Wellness & Assistance Program: | The following emergency services will be covered by us or our designated Service provider if you are more than 150 kilometers from your residential address while on Indian soil. |
Exclusions Under Liberty Health Connect Supra Plan
Listed below are the things not included under Liberty Health Connect Supra Plan.
30 Days Waiting Period Exclusion: All diseases/illnesses contracted other than accidental physical harm necessitating hospitalization will be subject to a waiting period of 30 days from the start date of the first policy.
Two-Year Waiting Period Exclusion: A 24-month waiting period shall be in place before any of the following may be treated, whether medically or surgically: Cataract, Hernia, Benign Prostatic Hypertrophy, piles, Sinusitis Hydrocele, Fistula in the anus, and related disorders, Fissure, Gastric, and Duodenal ulcers, gout, and rheumatism; internal tumors, cysts, nodules, polyps including breast lumps (each of any kind unless malignant); fibromyoma or prolapse of the uterus, polycystic ovarian disease, or Hysterectomy/ myomectomy for menorrhagia.
Pre-Existing Condition Exclusion: You won't be covered for pre-existing conditions or any complications resulting from them until 36 months have passed since the start of your first policy with the company.
Exclusion for a four-year waiting period.
Premium Calculation- How Does Health Connect Supra Plan Work?
Let's take an example to understand!
A man, named Rajesh who is 35 years old looking to insure his family members, i.e. his wife, two children, and himself bought a Liberty Health Connect Supra Plan Work. He then decided to choose a sum insured and deductible to insure his family against rising medical expenses. Then, here is the premium amount that he would need to buy.
| | | | | | |
| --- | --- | --- | --- | --- | --- |
| No. of Members | Deductible | Sum Insured | Policy Tenure | Policy Type | Base Premium |
| 4 | 2, 00,000 | 3, 00, 000 | 1 Year | Individual | Rs. 19, 240 |
Frequently Asked Questions