Cover Your Health in 5 mins
Compare Premium.
Buy Now.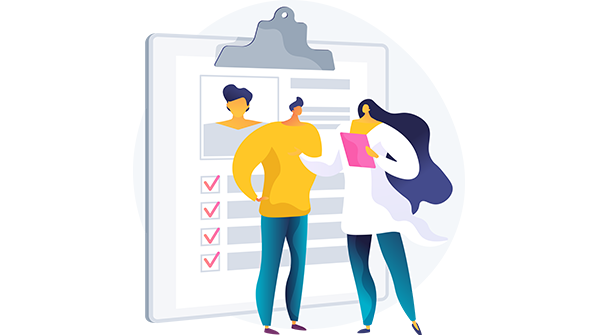 Compare

Individual Health Insurance Plans
Manipal Cigna ProHealth Group Policy
Every member of a group is unique, and so is their health. Accordingly, Group Healthcare should be comprehensive yet flexible enough to suit business needs and the requirement of the group members. With that idea, ManipalCigna ProHealth Group Insurance Policy has been designed to provide bigger and better insurance solutions to Employer-Employee and Non-Employer-Employee groups. It offers Flexible, Comprehensive, Easy, and yet Affordable healthcare that can be tailored to meet the unique needs of all. The policy provides a full circle of healthcare, including Base covers for essential benefits and a range of Optional Covers.
There are multiple cost-sharing options at corporate and individual levels with flexibility in terms of fixed or indemnity payouts. With ManipalCigna ProHealth Group Insurance Policy, one can be in control by protecting and making medical treatment expenses more manageable, thus ensuring quality health care for all group members. To know more about this plan, have a look at the following mentions.
Entry age
There is no minimum or maximum age for entry into the policy (Children from Day 1 up to 25 years can be covered in a family floater policy)
Cover type
Individual and family floater
Policy term
1 year (>1 year, max up to 5 years term available for Credit Linked Policy)
Minimum group size
7 members
Premium
Monthly, Quarterly, Half-yearly, and Annual payments
Sum insured options

Minimum – Rs. 5000

Maximum – Rs. 1 crore
Key Benefits of the Manipal Cigna ProHealth Group Policy
This plan has come up with a sack full of benefits and facilities. Some of the important mentions are as below.
In-patient Hospitalisation Expenses Cover:
The company will pay the Reasonable and Customary Charges for the following Medical Expenses of an Insured Person in case of Medically Necessary Treatment taken during Hospitalisation provided that the admission date of the Hospitalisation due to Illness or Injury is within the Policy Year, such as Room charges up to the category/limit, Charges for accommodation in ICU/CCU/HDU, Operation theatre cost, Medical Practitioner fees, Specialist fee, Surgeon's fee, Anaesthetist fee, Radiologist fee, etc.
Road Ambulance Cover:
The company will, on a reimbursement basis, pay the Reasonable and Customary Charges up to the limits specified in the Policy Schedule that are incurred during the Policy Year towards transportation of an Insured Person by a registered healthcare or Ambulance service provider to a hospital for treatment of an Illness or Injury covered under the Base Cover in case of an Emergency, necessitating the Insured Person's admission to the Hospital.
Day Care Treatment Cover:
It will pay for the Medical Expenses incurred during the Policy Year for an Insured Person in case of Day Care Treatment or Surgery undertaken for the Illness/condition covered under Base Cover that requires less than 24 hours of Hospitalisation due to advancement in technology and which is undertaken in a hospital/nursing home / Day Care Centre on the recommendation of a Medical Practitioner. Any Treatment in an Out-Patient department (OPD) is not covered under this Benefit.
Domiciliary Hospitalisation Cover:
The policy will pay the Medical Expenses incurred on the Domiciliary Hospitalisation of an Insured Person during the Policy Year, subject to the following conditions:
The Domiciliary Hospitalization continues for at least 3 consecutive days, in which case We will make payment under this Benefit in respect of Medical Expenses incurred from the first day of Domiciliary Hospitalization.
The treating Medical Practitioner confirms in writing that the Insured Person's condition was such that the Insured Person could not be transferred to a hospital or the hospital bed was not available.
If a claim has been accepted under this Benefit, Post-hospitalization Medical Expenses shall not be payable.
Donor Expenses Cover:
This policy will cover In-patient Hospitalisation Medical Expenses incurred during the Policy Year towards the donor for harvesting the organ up to the limits specified in the Policy Schedule, provided that:
The organ donor is any person by the Transplantation of Human Organs Act 1994 (amended) and other applicable laws and rules.
The company has admitted a claim towards In-patient Hospitalization under the Base Cover, and it is related to the same condition.
The organ donated is for the use of the Insured Person who has been asked to undergo an organ transplant on Medical Advice.
Optional Cover:
There are multiple optional covers available with this policy that can be purchased by paying a little extra premium amount. Some of the important mentions are – choice of personal accident, critical illness, Daily Cash benefits (Inpatient, ICU, Accidental, Worldwide Emergency, Convalescence, Companion and Chemo & Radiotherapy), etc.
General Exclusions of Manipal Cigna ProHealth Group Policy
Under this policy, the company will not be liable to pay compensation if the claim arises out of the following conditions.
Stem cell implantation/Surgery, harvesting, storage, or any kind of treatment using stem cells.
Dental Treatment, dentures, or Surgery of any kind unless necessitated due to an Accident and requiring a minimum of 24 hours of Hospitalization. Treatment is related to gum disease or tooth disease, or damage unless related to irreversible bone disease involving the jaw, which cannot be treated in any other way.
Circumcision, unless necessary for Treatment of an Illness or Injury not excluded hereunder or due to an accident.
Birth control procedures, contraceptive supplies or services, including complications arising due to supplying services, hormone replacement therapy and voluntary termination of pregnancy, surrogate or vicarious pregnancy.
Routine medical, eye examinations, cost of spectacles, laser Surgery for cosmetic purposes, or corrective Surgeries or contact lenses.
Ear examinations, cost of hearing aids or cochlear implants.
Vaccinations except for post-bite Treatment.
Any physical, psychiatric, or psychological examinations or testing, any Treatment and associated expenses for alopecia, baldness, wigs, or toupees and hair fall Treatment and products, issue of medical certificates and examinations as to suitability for employment or travel.
Laser Surgery for Treatment of focal error correction other than for focal error of +/- 7 or more is a Medically Necessary Treatment.
All expenses arising out of any condition directly or indirectly caused due to or associated with human T-call Lymph tropic virus type III, or Lymphadenopathy Associated Virus (LAV) and its variants or mutants, Acquired Immune Deficiency Syndrome (AIDS) whether arising out of HIV, AIDS-related complex syndrome (ARCS) and all Illness / Injury caused by and/or related to HIV.
All sexually transmitted diseases, including but not limited to Genital Warts, Syphilis, Gonorrhoea, Genital Herpes, Chlamydia, Pubic Lice, and Trichomoniasis and any condition directly or indirectly caused by or associated with them.
Vitamins and tonics unless forming part of Treatment for Illness or Injury and prescribed by a Medical Practitioner.
Artificial life maintenance, including life support machine use, where such Treatment will not result in recovery or restoration of the previous state of health.
Treatment for developmental problems, including learning difficulties that are Dyslexia, and behavioural problems, including attention deficit hyperactivity disorder (ADHD).
Treatment for general debility, ageing, convalescence, sanatorium Treatment, rehabilitation measures, private duty nursing, respite care, run-down conditions, or rest cure.
Buying Process of Manipal Cigna ProHealth Group Policy
One can easily buy this policy online by visiting the official website of Probus Insurance and following the below steps carefully.
On this page, look for the 'We Are Here' chatbot on the bottom right side of this page.
There one needs to select the concerned department and enter certain details such as full name, email address, and phone number. After that, click on the 'Start Chat' option.
One has to inform the executive of the company about his/her intention to buy this plan. The executive will lay out the process and help in every step of the way.
What is the Claim Process of Manipal Cigna ProHealth Group Policy?
Here are the cashless and reimbursement claim processes.
Cashless Claim Procedure:
For planned hospitalization, report to the hospital desk 48 hours prior to the hospitalization. For emergency hospitalization, intimate the insurer within 24 hours.
The preauthorization form and medical records will be submitted by the hospital TPA to the insurer.
In case during hospitalization, there is a need to increase the approved cashless amount, the relevant documents need to be submitted to the hospital TPA who will share that with the insurer for approval.
At the time of discharge, the hospital TPA will submit the final bill and discharge summary to the insurer.
After the final assessment of the claim request, the insurance TPA gives an enhanced/final approval for the final amount.
Once the final approval comes, there are some non-payable expenses that do not get covered by the insurance company. this has to be borne by the insured person.
Reimbursement Claim Procedure:
Receive the treatment at any hospital of your choice. Keep all the records in hand.
Download the claim form and prepare all the original documents as listed in the claim form.
Submit all the required documents at the nearest ManipalCigna branch for claim processing.
Once the claim is processed, the reimbursement amount will be transferred directly to the registered bank account of the insured person.
Required Documents:
Claim Form duly filled and signed
Original pre-authorization request
Copy of pre-authorization approval letter(s)
Copy of photo ID of Insured Person verified by the Hospital
Original discharge/death summary
Operation theatre notes (if applicable)
Original Hospital main bill and break-up bill
Original investigation reports, X-Ray, MRI, CT Films, HPE
Medical Practitioner's reference slips for investigations/pharmacy
MLC/FIR report/post-mortem report (if applicable and conducted)
Any other documents, as requested by the insurer.
Frequently Asked Questions