Cover Your Health in 5 mins
Compare Premium.
Buy Now.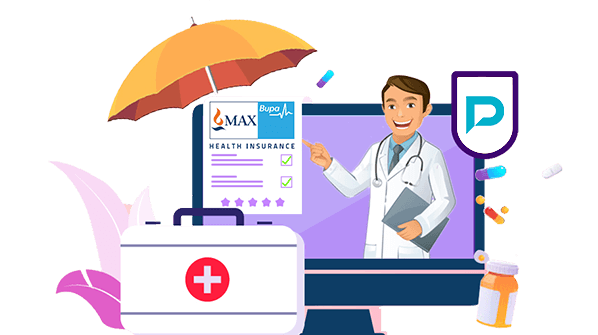 Compare

Individual Health Insurance Plans
Niva Bupa Accident Care Plan
A personal accident insurance policy protects against death, permanent disability, and temporary disability in case of an accident. Niva Bupa Accident Care Plan offers protection in the event of both total and partial permanent incapacity. It even includes a provision for paying for a child's education after the primary insured person passes away. It is a financial product that provides value for money. A lump sum payment is made in the event of death or permanent disability. While in the case of temporary disability, a weekly or monthly benefit is paid for a specified period. Medical expenses incurred due to accidents related to hospitalization, surgery, medication, ambulance charges, and other necessary treatments are also covered. To know more about this policy, have a look at the following mentions.
Age at entry

For adults:

Minimum – 18 years

Maximum – 65 years

For dependent children:

Minimum – 2 years

Maximum – 21 years

Policy tenure
1, 2, and 3 years
Sum insured

Minimum – Rs. 5 lakhs

Maximum – Rs. 5 crores

Policy type
Individual policy and family floater policy
Renewal
Lifetime renewability
Key Benefits of Niva Bupa Accident Care Plan
This plan has come up with a sack full of benefits. Some of the important benefits are as below.
Accidental Death:
In the unfortunate event of death due to an accident, the beneficiary receives a lump sum amount equal to 100% of the insured sum.
Child Education Benefit:
Niva Bupa's Accident Care provides 5% of the SI or ₹50,000 (for SI under 25 lakhs) or ₹500,000 (for SI over 25 lakhs) for each child's education.
Permanent Total Disability:
If the insured person suffers a permanent total disability due to an accident, which renders him/her unable to work or carry out daily activities, the insurance pays 125% of the sum insured.
Permanent Partial Disability:
If the policyholder loses a limb or a certain body function, which results in a permanent partial handicap, he/she can get up to 100% of the sum insured based on the degree of disability.
Optional Benefits:
The following optional benefits are available with this plan.
Temporary Total Disability (TTD) – TTD Sum Insured – Rs. 10 lacs & Rs. 20 lacs only TTD benefit – 1% of TTD Sum Insured payable per week Such weekly payout shall be made for a maximum of 100 weeks
Accident Hospitalisation Limit (confined to India only) – Up to 2% of Accident Care Sum Insured.
Surgical operations – Covered up to the Accident hospitalization limit. Claim settlement on a reimbursement basis only and coverage is limited to India only.
Emergency ambulance – Limited to Rs 2000/claim.
Physiotherapy (as part of the overall Sum Insured) – Limited to 10% of Accidental hospitalization limit
TTD Sum Insured Multiple – TTD Sum Insured not to exceed lower of (2 times of Annual Income or Accident Care Sum Insured)
What are the general exclusions of the Niva Bupa Accident Care Plan?
The claims arising out of the following situations are permanently excluded from the policy.
Suicide or self-inflicted injury, whether the insured person is medically sane or insane.
War (whether declared or not), invasion, an act of a foreign enemy, hostilities, civil war, martial law, rebellion, revolution, insurrection, military or usurper power, riot, or civil commotion.
Service in the armed forces, police organization, or in any international force or participation in any of the naval, military, or air force operations during peacetime.
Any change of profession after the inception of the policy which results in the enhancement of our risk if not accepted and endorsed by the company on the Schedule of Insurance Certificate.
Committing an assault, a criminal offense, or any breach of law with criminal intent.
Taking or absorbing, accidentally or otherwise, any intoxicating liquor, drug, narcotic, medicine, sedative, or poison, except as prescribed by a medical practitioner other than the policyholder or an insured person.
Death or disablement caused by ionizing radiation or contamination by radioactivity from any nuclear fuel.
Participation in aviation/marine, including crew other than as a fare-paying passenger in an authorized aircraft/watercraft.
Participating in professional/adventure sports or any hazardous pursuits, such as speed contests, bungee jumping, parasailing, ballooning, parachuting, skydiving, paragliding, hang gliding, rock climbing, potholing, abseiling, deep sea diving, polo, snow, and ice sports, hunting, etc.
Any disability arising out of pre-existing diseases is not accepted and endorsed by the insurer.
Body or mental infirmity or any disease except where such condition arises directly as a correspondence of an accident during the policy period. However, this exclusion is not applicable to claims made under the PPD benefit.
Any costs or expenses specified in the List of Expenses are generally excluded in Annexure II of the policy document. This is applicable only for accident hospitalization benefits.
Buying process of the Niva Bupa Accident Care Plan
If anyone wants to buy this policy online, then he/she can refer to Probus Insurance and follow the below steps to have a smooth buying experience.
Find the 'We Are Here' chatbot option on the bottom right side of this page.
Click on that and select the concerned department. After that, enter certain details such as full name, email address, and phone number.
While providing the details, be careful. Once you are done providing the necessary information, click on the 'Start Chat' option.
An executive of the company will contact you soon. S(h)e will guide the person throughout the buying process.
Claim process of Niva Bupa Accident Care Plan
The following step-by-step guide will help to avail of a seamless claim experience with Niva Bupa.
Notify the insurer about the accident as soon as possible
Obtain the claim form and fill it out accurately
Submit the form along with the required documents
Respond promptly to the insurer in case of any queries or requests for information
Be available for the medical examination to assess the extent of the injuries
All the documents will be assessed by the insurer. Wait for the claim decision based on the policy terms and the provided documents.
If no discrepancy is found, the claim amount will be settled within the stipulated time.
Required claim documents
Medical reports, including diagnostic tests, hospital records, and doctor's notes
Hospital bills and invoices
Policy documents, including the policy schedule, terms, and conditions
Any other relevant documents like salary slips or income tax returns to claim loss of income
Frequently Asked Questions