Cover Your Health in 5 mins
Compare Premium.
Buy Now.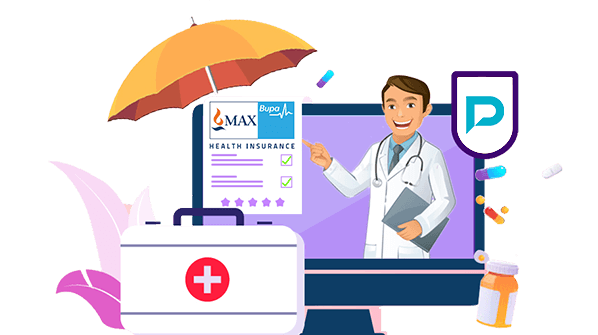 Compare

Individual Health Insurance Plans
Niva Bupa (Earlier Max Bupa) Health Insurance Claim
Health insurance is designed to safeguard the health interests of a person in times of an emergency. To fully take its advantage, a person should be aware of the claim process of his/her insurer to avoid running into unnecessary trouble. Like most other insurers, Niva Bupa boasts to have an easy-to-understand and quick claim process to provide the best experience to its customers. Let's take a brief look at it.
How Do I Claim Against Niva Bupa Health Insurance?
When a health emergency strikes our doors, we usually don't have time to wait, check and evaluate the claim process for an insurance provider. Hence, for all Niva Bupa health insurance owners out there, the company settles claims via two methods, which are mentioned below.
For Cashless Claims: 
First, get admitted to a network hospital.
For identification purposes, you need to use the Niva Bupa Health Card or provide your Policy number alongside other details including your Passport / PAN card/voter's ID.
The Network Hospital will validate your identity and send the insurance provider a pre-authorization request form.
After that, the insurance provider will evaluate and offer confirmation with the Network Hospital through fax and email. Also, you can expect to receive a text message within 30 minutes as a response to the request.
After all, requirements have been completed, the claim would be settled with the hospital keeping the policy terms and conditions under consideration.
For Reimbursement Claims:
First, you need to go to the Niva Bupa Health insurance website or download the application on the day of the hospital discharge. Also do not forget to go through the checklist to make sure that all the necessary documents are present with you at the time.
Now scan or photograph the documents that have been asked for and send with a copy of the cancelled cheque, valid ID and residential proof.
Until the claim is reviewed, you can expect to receive an immediate acknowledgement of your submission.
Documents Required To Claim For Niva Bupa Health Insurance Policy
The process of claiming online for the Niva Bupa Health insurance requires one to submit a few documents. 
You must be thinking what all documents that need to be kept close. Therefore, the following will help you to know the list of documents. 
Final hospital discharge summary
Original investigation report 
All the pharmacy bills alongside the doctor's prescription 
In case of FIR or Post mortem, you are required to submit the report 
Orginal hospital and other bills 
Included receipts 
Photo ID proof 
Test reports 
Surgeon's bills and receipts 
Copy of medico-legal certificate, employer certificate and 3-month salary slip, in case of accidental death
Consultation notes
How To Check Claim Status Under Niva Bupa Health Insurance? 
Having a health insurance plan means you have the medical and financial safety net in the event of uninvited medical problems.
After signing a contract with the insurance provider, you are committed by them to offer you financial coverage in times of medical emergency.
On the other hand, the insurance provider works constantly to protect the consumer's hard-earned money. Therefore, if you have purchased the Niva Bupa Health insurance and want to check the claim status, then here's what you need to do.
In the first step, you need to open your regular browser and then visit the Niva Bupa Health insurance website.
Now you need to click on the claim section after the website opens. After tapping on the claim button, you would find yourself being redirected to another page where all the "claims" are present.
When you click on the claim section on the page, you will find three options appearing on the screen. This includes "Claim process, Claim form and Claim status". You must click on the claim status button and then click on the "know more" option.
As you are redirected to the login page, enter your valid and correct Login details including your password to check the status.
How Long Does It Take To Process Claim?
It does not matter if the treatment is received at a network hospital or a non-network facility. You can expect Niva Bupa Health Insurance to settle the claim according to the policy terms and conditions. 
Other than that, the insurance provider boasts that it can pre-authorize cashless claims in 30 minutes and settle claims without the need of involving any third party.
Is Niva Bupa Health Insurance Claim Guaranteed? 
Yes, you can completely trust Niva Bupa Health insurance to provide the claims within 30 minutes of the cashless claim process and instant reimbursement facility. The insurance provider has an extensive network spread across multiple cashless hospitals where in-house claims are guaranteed without any expected hassle.