Cover Your Health in 5 mins
Compare Premium.
Buy Now.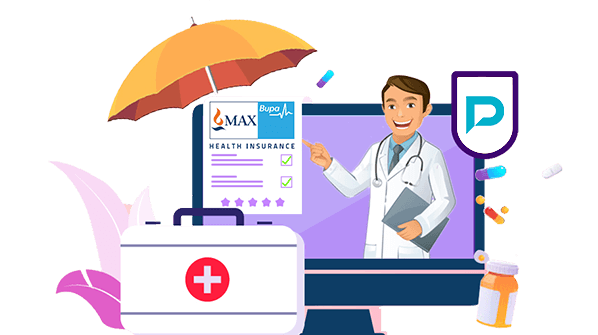 Compare

Individual Health Insurance Plans
Niva Bupa Go Active is one of the company's most popular plans that off­ers anytime-anywhere access to a host of features, including hospitalization coverage, OPD coverage, diagnostics tests, COVID-19 coverage, and more. With a dedicated health coach, no room rent (up to sub-limit), and daycare treatments, you can rest assured that the plan perfectly caters to the mushrooming medical needs. The plan is further categorized into Individual and Family.
Read on to know everything You Need to Know about Niva Bupa Go Active.
| | |
| --- | --- |
| Parameters | Go Active |
| Age | Minimum- 18 Years, Maximum- 65 Years |
| Hospitalization Coverage | Up to Rs. 25 Lakhs |
| Health Coach | Personalized Health Coaching |
| Sum Insured | 4 lakhs, 5 Lakhs, 7.5 Lakhs, 10 Lakhs, 15 Lakhs, 25 Lakhs |
Key Features Of Niva Bupa Go Active Plan
The following are the key features of the Niva Bupa Go Active Plan:
Hospitalization Coverage: One of the salient features of Niva Bupa Go Active is that it offers a coverage of up to Rs. 25 Lakhs, making it a viable product to cater to your medical expenses if arise. The cover starts from Rs. 4 Lakhs – Rs. 25 Lakhs
OPD Coverage: Are you looking for the best health insurance that may offer to you every time you visit your doctor? If so, Niva Bupa Go Active has got you covered. The policy is liable to pay for all your doctor visits. With the plan, you are likely to get up to 10 OPD consults every year.
AdvantAGE: If you enter at or before the age of 35 years (as on your last birthday), you are likely to receive a 10% discount in the First Policy Year Base Premium and all subsequent Renewal Base Premium.
i-Protect Benefits: This is another feature of Niva Bupa Go Active that offers a 10% increase in cover every year.
Diagnostic Tests: With the policy, you can rest assured that the policyholder may get up to Rs. 25000 per person each year.
Family Combination Available: As discussed, the policy is categorized into individual and family options. Under the family option, the policy offers coverage for up to 2 adults and 4 children.
Health Checkup: Unlike other health insurance policies, you don't have to wait for the period where a health checkup comes in. With Go Active plan, the "Free health Checkup" is available every year from day one of the policy.
Niva Bupa Go Active Plan Details
Parameters
Base Sum Insured (SI) per Policy Year
Base Covers
4 Lakhs
5 Lakhs
7.5 Lakhs
10 Lakhs
15 Lakhs
25 Lakhs
In-patient treatment
Covered up to Sum Insured
Room Rent (per day)
Up to 1% of Base Sum Insured

No restriction (except suite or above room category)

(Limit included in-Inpatient Care SI)

Intensive Care Unit / Critical Care Unit charges (per day)
Up to 2% of Base Sum Insured
Covered up to Sum Insured
Pre-Hospitalization Medical Expenses (90 days)
Covered up to Sum Insured
Post-Hospitalization Medical Expenses (180 days)
Covered up to Sum Insured
Day Care Treatment
Covered up to Sum Insured
Living Organ Donor Transplant
Covered up to Sum Insured
Alternative Treatment
Covered up to Sum Insured
Emergency Ambulance
Up to `3,000 per hospitalization
Home Health Care Services and Domiciliary hospitalization
Covered up to Sum Insured
Re-fill Benefit (1)
Base Sum Insured
Pharmacy and Diagnostic Services
Available through a provider network

OPD Consultation (2)

(For 1A, 1A+1C, 1A+2C: Consultations limits per policy, per policy year)

3
4
4
6
6
6

OPD Consultation (2)

(For 2A and more: Consultations limits per policy, per policy year)

5
6
8
10
10
10
Health check-up(3)
Available
Diagnostic Tests(3) (Limits mentioned are per adult member) (Diagnostic tests applicable instead of Health check-ups through cashless and reimbursement facility)
Not Available
1,000
1, 500
2,500
Behavioral Assistance Program
3 consultations per adult per policy year
Second medical opinion(4)

Covered, One opinion per Insured Person per Specified

Illness / Planned Surgery / Surgical Procedure

AdvantAGE
Enter at or before the age of 35 years (as on the last birthday) and receive a 10% discount in the First Policy Year Base Premium and all subsequent Renewal Base Premium
Modern Treatments
Covered up to Sum Insured with sub-limit of `1 Lac on a few robotic surgeries
Optional Covers
Deductible
25,000 / 50,000 / 1 lac / 2 lacs / 3 lacs / 5 lacs / 10 lacs
I-Protect
Every insurance year at renewal, an additional 10% of the Base Sum Insured is added for the duration of the policy. This option is only available at the start. This option can be disabled at the time of policy renewal, after which it will no longer be available. If you pay the same additional percentage of premium as you did in the preceding Policy Year for this benefit, the accumulated Increased Sum Insured under I-Protect will: a. Not increase any further and remain constant, OR b. Be reduced to zero if you do not pay any additional premium for this benefit.
Health Coach (5)
Personalized health coaching

Personal Accident cover

– Accident Death

– Accident Permanent Total Disability

– Accident Permanent Partial Disability

25 lacs
25 lacs / 50 lacs
What's Excluded Under Niva Bupa Go Active Plan?
The following are the things that are not included in your Niva Bupa Go Active Plan.
Ancillary hospital charges
Hazardous activities
Artificial life maintenance
Convalescence & rehabilitation
Cosmetic and reconstructive surgery
Behavioral, Neurodevelopmental and Neurodegenerative Disorders
Circumcision
Conflict & disaster
External congenital anomaly
Dental/oral treatment
Obesity and weight control programs
Off-label drug or treatment
Puberty and menopause-related disorders
Eyesight & optical services
Experimental or unproven treatment
HIV, AIDS, and related complex
AYUSH treatments, except inpatient treatments taken under Ayurveda, Unani, Sidha and Homeopathy
Hospitalization not justified
Inconsistent, irrelevant or incidental diagnostic procedures
Reproductive medicine & other maternity expenses
Robotic-assisted surgery, light amplification by stimulated emission of radiation (LASER) & light-based treatment
Mental and psychiatric conditions
Treatment received outside India
Unrecognized physician or hospital
Non-medical expenses
Sexually transmitted infections & diseases
Sleep disorders
Substance-related and addictive disorders:
Unlawful activity
Permanent Exclusions For Accident Cover (If Opted)
If the claim is attributable to, based on, comes out of, or is directly or indirectly connected to any of the following, the firm is not obligated to make any payment under any benefits under the Personal Accident Cover:
Whether the insured person is medically sane or mad, suicide or self-inflicted injury.
Treatment for any damage or disease caused directly or indirectly by nuclear or radioactive emissions, war or war-like conditions (whether declared or not), rebellion (armed opposition to an established government or leader), or acts of terrorism.
Service in any country's armed forces or police organisation, whether at war or peace, or service in any international body's force, or participation in any naval, military, or air force action during peacetime.
Any change in the profession after the policy's inception increases our risk if it is not acknowledged and endorsed by us on the policy schedule.
Assaulting someone, committing a crime, or breaking the law with criminal intent.
Taking or absorbing any intoxicating liquor, drug, narcotic, medication, sedative, or poison, whether accidentally or intentionally, except as recommended by a medical practitioner other than the policyholder or an insured person.
Participation in aviation/marine, excluding as a passenger in an aircraft/watercraft authorized by applicable regulations to transport such people between established airports or ports.
Participating in or participating in professional/adventure sports or any dangerous pursuits, such as bungee jumping, parasailing, ballooning, parachuting, skydiving, paragliding, hang gliding, mountain or rock climbing requiring the use of guides or ropes, deep-sea diving using a hard helmet and breathing apparatus, polo, snow, ice sports, hunting, and so on.
Any sickness or ailment of the body or mind, unless the condition originates directly as a result of an accident within the policy period. This exclusion, however, does not apply to requests for the Permanent Partial Disability payment.
Premium Calculation Of Niva Bupa Go Active Plan
| | | | | | |
| --- | --- | --- | --- | --- | --- |
| Name of the Person | City | Adults/Children | Age of the Eldest | Choose Your Coverage | Payable Premium |
| Himanshu | New Delhi | 2/0 | 29 Years | 4 Lakhs | Rs. 12,031 |
| Priya | Mumbai | 2/2 | 39 Years | 5 Lakhs | Rs. 23, 490 |
| Rakesh | Bengaluru | 2/3 | 49 Years | 10 Lakhs | Rs. 50,851 |
Frequently Asked Questions
When you sign up for a new health insurance coverage, you may need a medical exam. Medical examinations, on the other hand, are rarely required for policy renewal. It is in your best interests to have a medical examination before enrolling.
Yes. Purchasing a health insurance coverage qualifies you for a tax deduction under Section 80D of the Income Tax Act of 1961. Every taxpayer is entitled to Rs. 15,000 annual deductions from taxable income for premiums for a self, spouse, and dependent children.
Under the GoActiveTM product, a Health Coach is an optional feature. This benefit is provided to the primary insured individual or the primary insured individual and his or her spouse (if covered in the policy).